COMMUNITY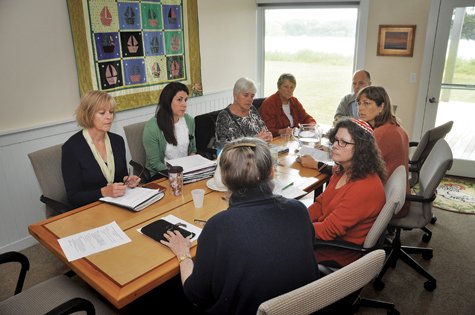 Hospice of Martha's Vineyard

The Village At the Other End
By Joyce Wagner
Tom Hallahan, Executive Director of Hospice of Martha's Vineyard, looks out the window of his office, his eyes reflecting the sun-blinking lagoon. "As a single dad," he says, "I knew there was a village here at the beginning for raising a child, but I didn't know there was a village waiting for you at the other end." He turns back to his visitor. "Hospice of MV is an important part of our Island community."

The sufferers of a fatal disease, the families of those afflicted with an imminent death, the widows and widowers and caretakers – can feel cut loose from their normal lives. They can become overwhelmed, exhausted, confused, grief-stricken, and altogether at sea. For them, Hospice of Martha's Vineyard can be the new tribe, the village that encircles them, and helps them adjust to their new reality.

Besides the expected end-of-life medical care and assistance, this organization – completely community supported – provides many other services. Some of them surprising. And, because it's not Medicare funded, it does so with few restrictions for its clientele.

The idea of hospice care isn't new. It actually predates the Crusades. Hospices, mostly run by religious orders, flourished in the Middle Ages. When these orders began to disperse, the hospice movement ebbed with them. Seventeenth century France saw a revival of the movement and, by 1843, several hospices were caring for the ill and dying. The nineteenth century saw hospices crop up in the UK, Australia, and the US. In more recent times, national and international organizations emerged to support the hospice and palliative care institutions and the discipline of thanatology – the scientific study of death.

In 1981, a group of Islanders saw the need for community supported hospice care. According to Tom Hallahan, "We chose and continue to choose not to be a certified Medicare hospice. There are only about 100 of us in the country, with only a handful having paid staff, of which we are one."

That said, about 10 years ago, Hospice of Martha's Vineyard encouraged HopeHealth, a Brown University affiliate that provides hospice, palliative, dementia, and visiting nurse services, to establish a Medicare certified hospice entity on-Island. Tom explains: "We needed (them) for those who are very clinically involved or have so much medical equipment that is covered by the Medicare hospice benefit." HopeHealth's hospice opened their doors here in 2008, just down the street from their non-Medicare counterpart.

Hospice of Martha's Vineyard's light-filled, cheery Vineyard Haven office houses a paid staff of ten – the executive director, the clinical director (an RN), four additional registered nurses, two licensed social workers, and two part-time receptionists. Also, associated with the organization are a chaplain and a medical director. Both receive stipends.

The funds for supporting hospice services come from fund-raising events (about 50%), grants, bequests, and a generous endowment. The late, Publisher and part-time Vineyarder, Katherine Graham and her family provided approximately $2.5 million to afford Hospice of MV the beautiful headquarters they enjoy today. A far cry from their previous home – a rusty, yet welcoming trailer at the Martha's Vineyard Hospital.

But what are the benefits of this for-profit organization? For the patient, it's practical and psychological.

For someone who is healthy, it's difficult getting to see a doctor. For the terminally ill, it can be logistically impossible. Hospice nurses are available 24/7. According to Lori Perry, a Certified Hospice and Palliative Care Nurse on staff at Hospice of MV, "There's always someone available. If (the patient) has a cold or something's happening with their leg, or they have a fever and don't know what to do, having someone to come to their home and check them out, and be a liaison between patient and doctor is very helpful. It's comforting. It's reassuring."

Through counseling, Hospice provides comfort and assistance in end-of life planning for the patient. Alan Brigish, a retired Island entrepreneur lost his wife, Joyce, in October 2016. She had been diagnosed in February of that year with mesothelioma, an especially virulent form of cancer. "Joyce was not introspective in terms of herself and the world," Alan explains. "She lived in the moment. All of a sudden she was catapulted into a situation that she had to think about."

"She was tremendously supported by Trudy (Carter, Licensed Clinical Social Worker with Hospice of MV)," he continues. "She would come and sit with her and would talk about Joyce's aspirations, her previous life, her childhood, her children and the kind of future that she wanted.

It may seem odd for a terminal patient to discuss the future, but it is very much a function of Hospice counseling. As Tom Hallahan explains, "We look at our hospice work as helping someone live until they're ready to leave us." But life does not go on as before – transforming dramatically, from the changes in his or her body, to confronting what amounts to an expiration date. It's important to make decisions on what that window will entail. Armed with a workbook called "Five Wishes," the social workers assist the patient in determining what they want from friends, family, caregivers, and medical professionals for the time they have left. It's a powerful self-examination and easier to accomplish with guidance.

Hospice also works to protect the patient. Trudy Carter asks, "How do you provide intimate care and not be too intrusive?" She answers, "We're so careful about who comes into the patient's field. If they have a treatment team around with nurses, doctors, and our nurse – sometimes that's enough. We don't necessarily have a social worker visiting the patient – only if they need or request it. It's (the patient's) space."

The social worker and/or nurse will also work to cull out family members who, although well meaning, can complicate an already complicated situation. And, when that end-date comes, the nurses (and counselors, if wanted) are there for support.

For the families of the patient the benefits are also physical, spiritual, and emotional. Imagine being a 24/7 caregiver and having a nurse arrive to help take over some of the day-to-day functions. Or by suggesting the best way to accomplish important tasks such as bed-making, clean-up, or administering meds. Or ordering meds. And even getting some respite from the often-overwhelming duties.

Lori Perry recalls, "A family member once said to me, 'Every time you come, I learn something new about taking care of her.' We assess what is the level of competency and what we can offer them to give better care or get some help so they don't have to be the full-time caregiver. They can just be the wife, the husband, the son or daughter."

Often, family members need counseling to cope with the changes in relationships and the difficulties on the horizon. Trudy sometimes finds herself advocating for a family member who is put upon by the others. "If we're planning Mom's future (after the father's death)," she says, "Mom better have a say."

And when the burden of attending to the terminally ill patient becomes overpowering, free respite care is available to give caregivers a break longer than a trip to the Stop and Shop or a night out for pizza.

Upon arrival of that fated end-date, hospice is as present as the patient or family wants it to be. Alan Brigish remembers, "From the time Joyce stopped eating and lost consciousness, June (Miller, another hospice nurse) would come every day. It was June that I called when she finally passed."

According to Lori Perry, the presence of a hospice nurse facilitates the immediate aftermath of the death. They can contact the clergy, pronounce the death (although the doctor is responsible for the death certificate), and can call the funeral home. They can assist in many of the mundane, one-foot-before-the-other tasks that often the family members are too numb and grief-stricken to think about.

And after? Bereavement counseling is critical to Hospice's work. Trudy Carter elaborates. "If you don't handle your grief well, it can lead to some serious emotional problems. If we can keep someone from falling into a depression, from feeling totally lost, I think that's good. We also help them through some of the traumatic experiences they've had just being in the medical system for so long."

Counseling can take the form of one-on-one, once a week, for as much as 13 months and/or in groups. And it's all at no cost to the patient and their family. "We never send out a single invoice," Tom says.

In spite of the sadness they face on a day-to-day basis, the staff of Hospice of MV is surprisingly positive. Tom Hallahan sees to their well being – enforcing vacations, allowing no-contact days. Counseling opportunities are also available for staff and volunteers as needed. All work together as a team, so one can step in when another is overly stressed.

But, as a whole, the staff sees their end-of-life presence as opportunity. Tom uses the word "privilege" a lot – as in "We are granted the privilege to come in to this sacred space."

Lori Perry agrees. "It's a beautiful thing, really – people saying good-bye and I love you and you meant this to me. I wonder why these people allow me to stay. It's amazingly beautiful and I'm able to bear witness."

But the benefits don't come free – not to Hospice – and the belt is becoming tighter. Fund-raisers account for only about half the budget, and the need continues to grow. More baby-boomers are ageing out and many more people are landing on the Island to retire. "We're seeing 33 or 34 patients at a time," Tom says. "Up from the low 20s last year." They'd like to continue to provide the level of service that has been their hallmark since their inception 36 years ago. And, ideally, expanding the "village at the end" to include more community education. But all this takes the support of the Island – the larger village of healing.