ARTIST PROFILE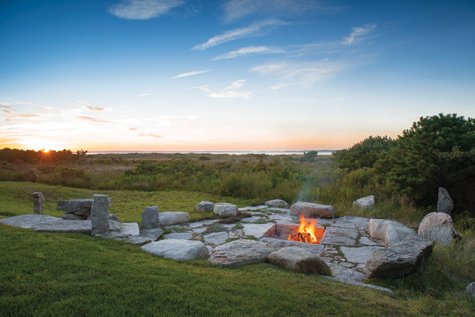 Sticks and Stones

Island Stone Builder Lew French
By John Budris Photography by Alison Shaw
When Lew French first came to Martha's Vineyard baseball made us fast friends. We coached our sons' youth league team together, and we often spent weekend afternoons shagging flies and hitting grounders with our boys for the pure joy of play. We talked about our work, our families, our backgrounds. We came from vastly different places; Lew from a small town in rural Minnesota and I from a tired factory city in Massachusetts. But we both shared a love for baseball and stone.

In some way, we even found a common thread between the two. Baseball games often plod on, inning by inning, with barely a raucous, and then all hell breaks loose. Balls are flying out of the park, players are sprinting around bases, and everything changes. In geological time, the dynamic is much the same for stone. Hundreds of millions of years can plod on, and then all hell breaks loose. Volcanoes erupt, continents collide, the earth splits open, rock is created and coughed up and everything changes.

On one of those summer afternoons, Lew asked if I'd like to see some of his work. We took a drive to Vineyard photographer Alison Shaw's house, where Lew had just finished one of his first Vineyard fireplaces. This was no ordinary collection of stones assembled together for the utilitarian purpose of keeping fires contained and safe. This was beauty and color and texture and design in the shape of a fireplace, much like a poet laureate's words when set in sonnet form.

We took a drive up-Island. As if Alison's fireplace was not enough magic for one day, Lew showed me stone walkways, courtyards, terraces, walls and benches he created from old rock walls trucked in from farm fields in Maine and New Hampshire. At that time, I'd recently written a few articles for the Boston Globe Magazine, and we thought that Lew's work would make a nice fit for the home and garden section. My editor at the Globe liked the pitch, and the story - and Alison's magnificent fireplace - made the cover. Lew was on his way to becoming - pardon the pun - a rock star.

That was a quarter century ago.

Lew's work now reaches far beyond Martha's Vineyard's shores to splendid homes and gardens across New England to New York and even Brazil. He's been featured in many prestigious national and international publications from The New York Times to Architectural Digest, and he was profiled by CBS Sunday Morning and National Public Radio. In 2015, he was inducted into the New England Design Hall of Fame. He and Alison Shaw have teamed up on two books published by Gibbs-Smith, Stone By Design in 2005 and Sticks and Stones, released last summer and winner of the INDIES 2016 book awards in the Home and Garden category.

But when Lew sees a stone, he still sees the same magic, no matter how large, small or where his rock elements may be. He gets close to the belief that stone is almost alive. "Stone has an energy, that's for certain," says Lew. "And when a fireplace or wall or sculpture is designed and put together the right way that energy multiplies." He then pauses and redirects his thought. "Maybe it's more that stone provokes an energy in the people who are looking at it, feeling it, touching it," he says. Add the elements of fire, water, and wood, and his creations seemingly take on lives of their own.

He stays with the notion of energy. "I would say my work has a more feminine energy than masculine, it's lighter, with a soothing rhythm - that's what I am trying to often achieve," he says. "Sometimes stone can have an oppressive kind of energy, and that's the opposite of what I want." A regal, three-story, interior wall he built for renowned architect Robert Stern perfectly exemplifies this "lightness" in something that literally weighs many hundreds of tons. Several other common denominators bind all of his work into a unified whole. "I try to use only stones in their natural states. If I have to alter the stone at all for fit, I'll carefully chip away at the back side that's set into the wall and never seen," he says. Some of his fireplaces actually require watering and feeding, so to speak. Stones with mosaics of lichens clinging to their surfaces are among his favored material, and these need just the right amount of periodic misting to keep the delicate greenery living and healthy.

Much of Lew's artistry demands that he selects the right stones among many thousands and then assembles them in his unique fashion. One special client with a five-acre mountaintop retreat in the Adirondacks tapped yet another level of Lew's vision. The site was dense with mature trees, which blocked the mountain views and breezes. Lew took the concept of subtraction to a new place. Rather than simply felling the trees to open the view, he brought in an array of equipment from massive excavators to simple house brooms and cleaned off many layers of stumps, roots, and accumulated soil to reveal a stunning stone-scape of bedrock. On these new outcroppings, he crafted pathways, trails, sculptural elements, sitting nooks and a stone cabin one might imagine in The Lord of the Rings.

Time and weather wear down both stone and the human body. In part, this may explain why in the last few years - with his 60th birthday looming - Lew has turned some attention to smaller works, many of which incorporate wood and other elements with stone. These sculptural themes are nothing new for him, as even his most prodigious, large works contain the same vision but on a grand scale.

Ask Lew what he is, and he fends off artist or artisan or author. Get him talking, and he sounds more the philosopher than stone mason. He often speaks about the impermanence and illusion of everything from human life to the very stones he hefts and arranges. Someday those massive boulders in his fireplaces and walls will succumb to wind, rain or some calamitous event - whether geological or human. Someday, sooner or later, his works of granite and basalt will crumble. For like baseball games, even things made of stone come to an end.

Stone by Design: The Artistry of Lew French and Sticks and Stones:
The Designs of Lew French are available at Bunch of Grapes Bookstore in Vineyard Haven and Edgartown Books in Edgartown and at www.amazon.com.