ARTIST PROFILE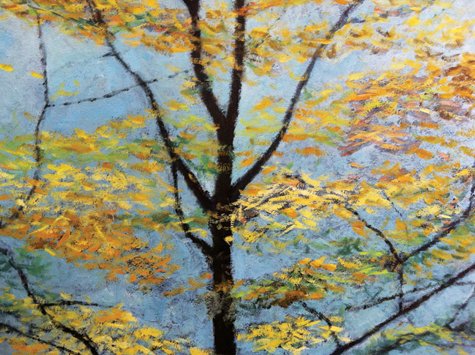 David Tierney

Under The Radar
By Gwyn McAllister
Take a close look at the paintings of David Tierney. Although his skillfully executed landscapes and colorful abstracts can be appreciated at a distance, it's really upon scrutiny that the scenes come to life, and one can appreciate the paintings on more than one level.

By incorporating the grain of various types of wood and, very often, building up an image with layers of oil paint, Mr. Tierney creates virtual three dimensional scenes that invite the viewer into his vision.

"I want people to feel that they can walk right in there," says the artist. "Texture gives life to a painting. It gives movement. Whatever it is – paint or wood grain – it seems to make the image move. It's almost a different dimension."

Mr. Tierney, who grew up on the Vineyard, has become very familiar with the properties of wood through his work in carpentry and fine woodworking. His father had an Island construction business, and the younger Mr. Tierney has continued on in the family tradition.

After studying at the Art Institute of Philadelphia and the Art Institute of Boston, and living in the Boston area for a few years, Mr. Tierney returned to the Vineyard, and to the family business.

It's not surprising then that his talent and training as an artist has collided with his appreciation of the properties of his chosen material. The bulk of Mr. Tierney's work is done on wood – reclaimed boards, driftwood or panels whose grainy surface arises from the sawing process. Some of his favorite pieces are those created by cutting a board with a band saw.

"A band saw is used for a type of milled wood," explains the artist. "It's the kind of wood I really like the most. The saw creates these vertical lines against the grain. It chafes up the wood and leaves a pattern. Depending on how hard the wood is, in different areas you get different looks."

One of Mr. Tierney's recent paintings, a seascape titled Island, makes good use of the irregularities created by the band saw. A rough section of the board has been transformed into the choppy shallows of a little cove as well as the grainy surface of the sandy beach. Striations in the wood help define the cloud patterns in the sky. Another textural area of the wood has been used to help create some scrubby foliage on a dune.

There's a tactile appeal to the painting as is the case with all of Mr. Tierney's work. This holds true in his naturalistic as well as in his abstract images. For the latter, the artist favors geometrics, creating various color planes with intersecting lines. What might look at first glance look like a two dimensional study in color, reveals the same sort of textural feel as one finds in the landscapes. In the case of the abstracts however, the grain and manipulated oil paint don't necessarily define the work as much as add another element and dimension.

David's painting Rising Sun, for example, is a kaleidoscopic arrangement of triangles each featuring different colors and patterns. When viewed simply as a flat composition, the painting is a fascinating study of color and design. However, an added element is found in the form of ridges and raised veins, produced using a unique painting process that Mr. Tierney developed on his own.

"With everything I do I'm experimenting with different styles and different processes," says the artist. "As with anything, you're teaching yourself as you go."

The abstracts often begin as a vague idea and develop along the way. "My contemporary work just evolves," says Mr. Tierney. "Rarely am I preconceiving what's going to happen."

And sometimes, the paintings grow to unanticipated proportions as the artist gets more involved in the work and his vision expands. Such is the case with a multi panel piece called Skyscrapers. Beginning with one small geometric painting, the work now consists of 17 individual painted squares. "The board at the top left corner was the inspiration," says Mr. Tierney. "When I started I was leaning toward structure of some sort. As it grew I figured out a pattern. I started mapping out these buildings. I imagined these abstract sort of geometric structures."

The piece eventually expanded into an entire city, whose evolution depended as much on engineering ingenuity as imagination. Mr. Tierney became somewhat obsessed with the technical side of the construction process. "The lines of the boards really got me to start measuring," he says. "I wanted things to hit on certain planes. The math had to work out."

The result is a sort of right brain/left brain collaboration involving both creativity and technical ingenuity. Of the construction process that Mr. Tierney has extended to his art work, he says. "I think that it's kind of related. You're building a painting. It's all angles and putting things together."

The landscapes too involve a building process - taking the wood grain and surface qualities and piecing together a painting from all of the properties of the wood, although in a less regimented manner.

"I enjoy both equally," says the artist of his abstract and landscape paintings. "Each has a different feel, a different appeal. My landscapes vary too. There are looser ones, then really technical ones with a lot of detail."

Mr. Tierney occasionally paints on canvas, but even then, he prefers to mount the material onto wood. "I like a solid surface," he says. " I don't like the bouncy quality of canvas. I like to have my hand on the surface. I'm just not painting, I'm constructing. Sometimes I can get a bit aggressive." Mr. Tierney describes an incident when his very physical approach actually helped in the creation process. "One time I put the brush right through the canvas. I tried to cover the hole up. I started manipulating the paint and I liked the result."

Mr. Tierney mines a variety of sources for his material of choice. The proximity of the ocean to his studio on Hines Point in Vineyard Haven has proven ideal for the scavenging artist. "I like to go down to the shore and see if I can find cool wood," he says. "I found a piece with some really chunky areas and I made them into trees. I just saw the shape of a tree in the wood. The wood gives the depth to the painting."

The artist's work as a carpenter has also proved very beneficial in acquiring interesting surfaces on which to paint. "I discovered all this reclaimed wood while working for one company," he recalls. "I opened up a trailer and it was a goldmine." Mr. Tierney offered to purchase the whole load of scrap wood. The treasure trove, which was gifted to the artist, has proven to be a wealth of material for his work.

Mr. Tierney has also found boundless subjects for his landscapes in his exploration of the Island. "There's just endless subject matter here," he says. "I don't think it's possible to really see the entire island in a lifetime. Every year I find a new spot that inspires me."

Mr. Tierney has shown his work at the former E'kaya Gallery on State Road Vineyard Haven and at the A Gallery when it was located in Vineyrad Haven. Last fall he was invited to join the group of artists who manage and exhibit at the Workshop Gallery on Beach Road in Vineyard Haven. He is one of four painters who maintain working studios there. Visitors to the gallery can drop in on any of the artists who might happen to be working in their studio at the time.

"It's great to be part of this," he says. "Surrounded by really talented artists, my energy level has just shot up." Mr. Tierney has kept his studio on Hines Point where he can work on larger pieces, but he spends as much time as possible at the Workshop. He's found that, despite the fact that his carpentry and caretaking work have kept him very busy, he's managed to be far more productive since joining the Workshop collaborative.

Mr. Tierney still enjoys working at his trade and has discovered that his natural affinity for precision work and his ability to visualize a project and make adjustments during the process has extended to his work as an artist. "I'm very detailed," he says. "I pay a lot of attention to details. I can be inspired at any time. Something I see might just jump out at me. Just walking down the street I'll often pick up on something. I'll take a lot of photos and go
through them."

"I was just meant to be an artist," says Mr. Tierney with conviction. "I love painting. One of the things I noticed at a young age was that I saw the world as a series of patterns. I believe there's a pattern in everything that's around us. It's like if you were to take a magnifying glass to anything in existence you'd see some sort of pattern there."


David's work may be seen at The Workshop, 32 Beach Road, in Vineyard Haven, across from The ArtCliff Diner, or by appointment, call: 508.560.5557, Follow on FaceBook: workshopmv.