GARDENER'S NOTEBOOK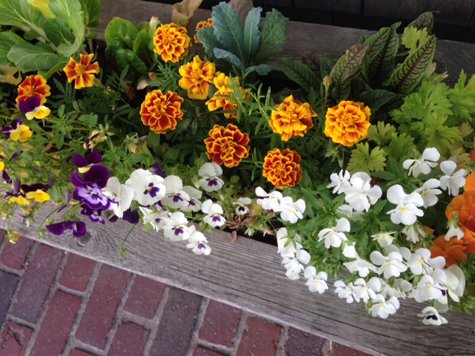 Windowboxes
By Mariko Kawaguchi
Every morning as I awaken to a new day, the first thing I see are my window boxes on my balcony, overlooking the front yard. As the old saying goes, a cobbler's child has no shoes, and my plant ambition certainly exceeds my spare time in the summer. But I feel that window boxes are a manageable project that I can maintain and control easily despite my crazy schedule. It is a great comfort to know that I can start my day off with visitations from hummingbirds, squirrels (being forgetful of last autumn's acorns), and a musical concerto of many wild birds from the neighborhood. A quick glance at the window boxes and I am off and running for the day. I have asked several garden professionals on the island for their recommendations and some tips for successful window boxes.

Mike Saunier of Heather Gardens offers some advice on plants that will attract birds:
"Use plants that will attract humming birds. "Vermillionaire' is a cuphea hybrid that the birds really love, and "David Verify" is another cuphea hybrid with reddish orange tips that humming birds will instantly gravitate towards. The Strobianthus "Persian Shield, Bideas, Dichondra "Silver Falls, are all nice alternatives to the usual window box choices. Also consider succulents like agave, echiveria, sedums and senicio as they are low maintenance in care Crotons make a great foliage plant. Edible plants are also quite attractive in window boxes, and flashy Trout Back Lettuce and rainbow swiss chard are both colorful and edible. "Mike's advice on plants that get too leggy or overgrown halfway through the season, "Give it a good hair cut; trim the plants down by fifty percent, add some fertlizer, and they will be just like new in no time".

The concept of window boxes and container gardening goes back to the time of ancient Rome and ancient Greece. As far back as 1st century BC, Romans were using Terra Cotta window boxes, and having cottage gardens for food, medicine and religious use. The Greeks cultivated miniature flower gardens that may have been the first gardens to contain potted plants. By contrast, in Asia the Japanese took the art of container gardening in a completely opposite direction with the creation of Bonsai.

To this day, historic European homes embrace the transition of bringing ones garden into the architecture of a living space in this manner. Container gardens and window boxes act as a transitional space, going from the garden onto a porch or balcony or home, and creating another plant plane in the process.

Everyone has time for a window box. It's my greatest delight in watching things grow; most of you would think that would be about just plants but it refers to people as well, including former employees from my long tenture at Donaroma's. Renee Clermont of Second Nature Designs captures creativity and color in unique plant combinations for many business and residential window boxes on the island.
Sue Weyl and I have had the pleasure of seeing Renee as a young designer who worked in the floral department with us years ago, eventually fly the coop to further her horticultural education.

I'd like to believe in my herart that Renee learned the fundamentals of shape, color and texture through our hands on tutelage at Donaromas, and merged her horticultural knowledge to become a professional garden designer. Many windowboxes on Main Street in Vineyard Haven are a testament to her creativity and plant skill

Renee's Clermont's insights into the world of windowboxes:
Alluring gardens in a miniature scale; that's the brilliant appeal of window boxes. The majority of us lack the time, money, or energy for that matter, to maintain elaborate flower borders. However, you can still enjoy colorful flowers and foliage in containers that are small enough to replant, easy enough to change out plant material and schemes for all 4 seasons and beautiful enough to give your home some updated curb appeal. But where do you start? There are some things to consider when planning your miniature gardens, like types and sizes of boxes, or combining colors and textures using different types of plants and the sunlight requirements for the selected spot.

Drainage: Proper drainage is crucial for plants to thrive in window boxes. Some come with holes in the bottom to allow excess water to run out and some don't. You'll need to drill holes in the ones that don't.

If that isn't suitable, using pebbles, packaging peanuts or plastic bottles laid horizontally at the base are options too.

Plant Selection: In the window box design world the 3 "ER'S" are used to consider plant choice, Thrillers,
Fillers and Spillers. To achieve proper visual balance, use a variety of plant types. Tall flowers or grasses add height and privacy. Low, leafy plants add shape and texture. Flowering species with complementary hues add bold splashes of color. Cascading plants will soften the edges of the boxes. Try using some less common flowers like Fancy leaf Caladiums in your box and fill in with less expensive flowers like petunias or Verbena.  I also like to "overplant" my flowers in order to get them to fill in quickly.  I can do this when the flowers aren't overly expensive. 

Fuchsias, Ferns, Asparagus Sprengeri, various tuberous-rooted Begonias, Impatiens and Torenia are flower varieties that fill out quickly and are great for shade. Petunias work perfectly when you want your window box to shine in the summer sun. Try cascading varieties, as well as multifloras, for all kinds of flowers in different colors. Other sun loving varieties are Lavender, miniature Roses and Dahlias, Sweet Potato Vine, Blue Lobelia, Plumbago, Stobilanthus and Lantana.

Using Gray foliage plants such as, Dusty Miller or Lambs Ear are perfect for alternating different varieties of flowers throughout your window box. Their silvery white leaves will help draw attention to the vibrant colors of the flowers on either side and are very durable.

Maintenance: We all want low maintenance, but as with any living thing, there needs to be some support system in place to prolong the life of the flowers. Window boxes require regular watering, more so in the heat of the summer. Feeding your plants is a sure way of boosting those blooms. Fertilize with a water soluble nutrient such as Miracle Grow or Neptune's Harvest Fish Fertilizer. Keep up on any insects or diseases that may come your way using organic products such as Safers 3 in 1 Garden Spray. Taking a little time to deadhead spent blooms promotes new flowers and will keep your boxes looking fresh.

Chris Wiley from Vineyard Gardens offers some helpful advice on plant choices and growing recommendations:
Get creative! Vines like morning glories and Thumbergia, better known as black eyed Susan vine can make your window box different. You can keep annual vines reined in by cutting their tips often and keeping them branching. You can trellis them up with bamboo stakes or train them to follow strings and make them go all around the whole window. Remember when the store in OB trained the licorice plant, which is also a vine to follow strings all the way up the windows. They grew like 6 ft up.!

I have also seen sweet potato vines grow and cascade way over the sides even in partial shade. There is one less known vine I want to recommend and that is convolvulus sabatius. It has small blue morning glory or campanula like small blue flowers and yes it blooms all summer. It works great in mixed containers.

Some other plants I can recommend for sunny window boxes are lantana, verbenas, evolvulus and brachycome  two sweet blue annuals, and of course geraniums work great and they were probably your grandmothers favorite. They will all bloom all summer. I also love heliotrope! It comes in purple and in white. As far as maintenance goes. Let the containers dry out between watering, don't keep them constantly wet. And deadhead whenever possible.... This can't hurt.

For shade I like begonias, impatiens, fuschias and lobelias for flowers and for foliage you can add coleus, , ivy's and vinca. The regular green and white vinca can  now be found in yellow and green like Wojo's Gem or a green bicolor called maculata.

For something completely different try abutilons or flowering maples. They are in the hibiscus family, probably the only member of the hibiscus family that can take some shade, they will supply beautiful flowers all season long.

Whether your container is in sun or shade try to use annuals because they bloom all summer and flowers are like a gift we get from nature. And do try to combine plants with similar needs, like similar amounts of sun and water requirements. Your choices are almost endless, like a candy store at the garden center

All of us can garden, and most of us have a window, to widen our expanse of bringing nature into our home. Or from the opposite end, peering out from our homes to see an extension of our garden, even if it's in a little box on a ledge. Everyone has enough room for a little garden in a window box.