MADE ON ISLAND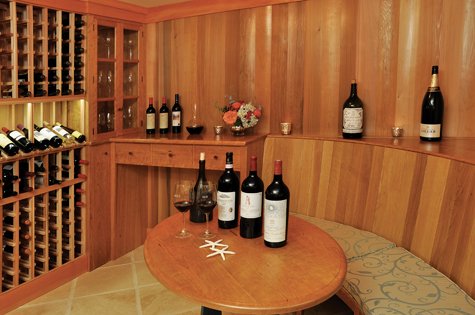 Handcrafted Furniture & More

The Inspired Works of Matthew Ray
By Molly Costello
It's not often in life that you meet someone who can say that they spend every day doing what they love. That is certainly the case for Matthew Ray. Matthew has always had a knack for woodworking. His interest in working with tools goes all the way back to his grade school days at the Tisbury School, where in 1981 Matthew Ray was awarded the "Golden Hammer" award.
Matthew Ray grew up on the Island into a family of builders, so as a child it was never far from his mind. He still has tools that were once used by his grandfather and father, which he uses today. Building, and now woodworking, have always been a family affair.
Since deciding that a big city law practice was not the right fit for Matthew and his young family, he has taken a hobby he has had since he was a child and turned it into a fruitful business as an adult. His projects include designing and building numerous styles of tables, chairs, small and large case pieces and beds as well as the custom interior of a client's wine cellar in Chilmark. Matthew refinishes and repurposes older furniture pieces, does finish carpentry work and has creatively designed and built outdoor showers, millwork details and custom cabinetry.
Matthew begins his process with a set of full-sized drawings enabling him to figure out the complex details of each project before putting saw to wood. Some of these details present Matthew with the opportunity to learn and try new techniques. For one job, Matthew built, and taught himself to use a vacuum press, which uses atmospheric pressure to bend wood in just the right way to produce a desired look.
Mathew's designs are creative and intricate yet maintain an artful simplicity in their lines and style. All the while, whether it is being repurposed, refinished or is an original design, his work is marked by his incredible attention to detail and quest for perfection. One such design involves a modern take on an historical piece of furniture, the Roorkhee campaign chair. Roorkhee chairs were used in military campaigns by British Army officers from 1898 to WW1 because of their comfort, fine appearance and the ease, and haste, with which they could be dismantled and transported. The draw for such a chair is not just its historic aspect, but its comfort and functionality. The Roorkhee chair is designed to conform to an uneven surface and not teeter. This is a casual, and functional chair that can be used inside or out. Mathew's modern take uses Teak, stainless steel and and an outdoor rated synthetic fabric making it much more weather resistant than traditional leather or canvas Roorkhees. The fabric comes in a multitude of colors and can be silk screened with names, dates, corporate logos or anything that you could put on a T shirt to further personalize each piece.
Mathew's campaign chairs, along with other examples of his work can be viewed on his website at
www.raywoodworking.com
. Mathew Ray can be contacted by phone at 508.560.2952 or by email at
matt@raywoodworking.com
.