CUISINE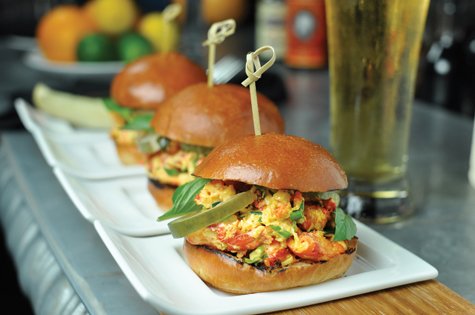 Great Food, Great Drinks, Great Coffee

Beetlebung Restaurant and Bar in Oak Bluffs Has It All
By Lisa Belcastro Photography by Charlie Utz
What do you get when you mix a fantastic coffee house, inspired craft cocktails, and delicious food? Beetlebung Restaurant and Bar in Oak Bluffs.
Now in it's third season, John and Renee Molinari's Circuit Avenue restaurant, bar, and coffee house is drawing crowds from early morning to late into the evening. The transition from the whir of coffee beans grinding and the enticing aroma of coffee scenting the air to mouthwatering delicacies and creative cocktails is seamless at Beetlebung.
"We started as a coffee house in Vineyard Haven that also served Paninis," said John. "This place is an extension of what we've been doing for ten years. It's vernacular Vineyard and incomparably cosmopolitan."
In keeping with their origins, Beetlebung opens at 8 in the morning to serve coffee and pastries. Coffee, in all its forms and variations, has been a point of pride for the Molinaris. Years ago Renee wanted to open a coffee shop. The couple agreed that coffee alone would not be profitable, even the best coffee.
"I had an office outside Milan and there was a coffee house that also served food. People came in all day long," said John. "We wanted the strength of Starbucks with food similar to Milan to keep the people coming in."
Today, the family owned and operated Beetlebung is serving Barrington Coffee brewed in triple-filtered water. While customers can enjoy coffee throughout the day, Beetlebung has gained fame for their cocktails, winning Yankee Magazine's 2015 Best Craft Cocktail in New England.
"We've always been about beverages first," said John, who bought the old A&P building on Circuit Avenue in 2012, excavated, and opened in June 2014. "We're a bar that also has food, and both are great."
All of the food is top notch at Beetlebung. John acquires the meats from small family farms, the greens are from Morning Glory Farm or homegrown, the seafood is from Menemsha House, and the cheese is from Grey Barn Farm. In addition to buying local, John is adamant that there be no artificial ingredients and no microwave in the building.
"We're about craft. We're about local quality. We're about exceptional ingredients," said John, who can just as easily be found tabulating the day's income or serving meals to customers.
The dinner menu has two featured entrees and multiple options to please nearly every palate. John loves Asian food, so there are quite a few Asian choices such as the wildly popular Drunken Noodles.
"Our menu is all over the culinary map," said John. "We wanted to be different in a way that would delight customers."
Chef Danny Fingers has worked at Chesca's, the Harborview, and Lucky Hanks. Danny's love of food is apparent in the presentation of every dish.
On a recent dinner excursion, we devoured the Lobster Deviled Duck Eggs, the Curry Lobster Salad Sliders, the Chef's Summer Rolls, the Fish Tacos, as well as an order of Truffle Fries. (Yes, we had leftovers for lunch next the day.)
Danny grew up loving deviled eggs. "My grandmother made them. She always had parties, and always made deviled eggs. I took them to a different level, a little touch of curry and mustard," said Danny, who spent six years in Switzerland where he studied international hotel and tourism management.
Danny shares his recipe with us, and it's a cinch to make. Equally easy, but also fabulously delicious, is Danny's Curry Lobster Sliders. The sliders are a perfect reason to stop into Beetlebung for lunch, or for their new brunch being served daily.
For all the pizza lovers, Beetlebung has a great selection of flatbread pizzas that customers love. "Not one flatbread changed on this year's menu," noted John. "If it ain't broke, don't fix it."
Danny was generous to share his most popular Big Country Flatbread as well as the Fun Guy Flatbread. For all you mushroom lovers, the Fun Guy pizza will probably become one of your favorites. Personally, I'll opt for the Big Country and Danny's herbed ricotta recipe.
Fresh ricotta is so easy to make and so delicious. "It's simple, keep adding lemon to your milk until all you have is leftover whey." Danny suggested using a fine wire-mesh strainer for the ricotta instead of a slotted spoon. He also recommended that you salt the milk "before adding the lemon otherwise the milk doesn't absorb the salt."
Personally I love fresh ricotta, but I learned something new from Danny that I'll be doing from this day forward: "The leftover whey is great for gardens, full of minerals." 
Either of the flatbreads will be wonderful for family or company this summer, especially when the heirloom tomatoes are fresh from the garden. You can also make Danny's ricotta and have it on hand for crackers, salads, or a snack on its own.
As summer temperatures rise and you're not sure whether you want to be in your kitchen, going out is always a sweet option. Whatever you're in the mood for – coffee, brunch, lunch, dinner, or cocktails, Beetlebung will serve you a drink or menu item that is sure to satisfy your taste buds.
Beetlebung Restaurant & Bar on Circuit Avenue is open seven days a week from 8 AM to 1 AM through September 6. Beetlebung Coffee House in Menemsha is open from 8 AM to 7 PM daily through Labor Day Weekend.
www.beetlebung.com
www.facebook.com/beetlebung
Cranberry-Pecan French Toast with Citrus Ricotta
Pain D' Avignon Cranberry-Pecan bread dipped in French toast batter and
fried in a skillet.
Ingredients:
Pain D' Avignon Cranberry-Pecan bread
Fresh berries
Citrus-Ricotta
1/2 Lemon
1/2 Orange
1 Tab. honey
French toast batter:
1 c. heavy cream
1 c. mixed eggs
1/2 tsp. vanilla
1/2 tsp. cinnamon
Method:
1. Mix batter ingredients
2. Dip Pain D' Avignon Cranberry-Pecan bread in French toast batter
3. Fry in a skillet.
4. Add to 1 c. ricotta, zest and juice of 1/2 lemon and 1/2 orange, plus 1 Tab. honey
5. Top French toast with fresh berries and Citrus-Ricotta