MADE ON ISLAND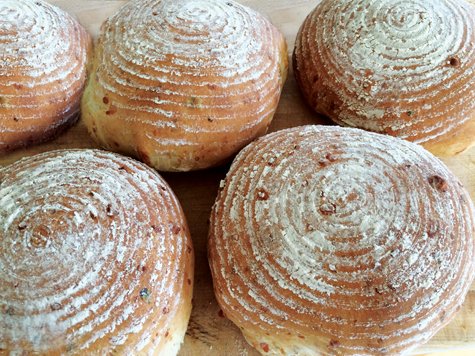 The Vineyard Bread Project

Fresh Bread, and so Much More
By Lisa Belcastro
There are few scents as enticing as that of bread baking in the oven or a warm loaf cooling on a rack in the kitchen while wonderful aromas promise the deliciousness yet to come.
Kate Warner, who founded the Vineyard Energy Project, knows this truth better than anyone. She discovered a love of bread making ten years ago after purchasing Richard Bertinet's Dough: Simple Contemporary Bread. Kate devoured the book, and then went to Bath, England, to take classes at The Bertinet Kitchen school. The following winter, Kate took the professional series of bread classes offered at King Arthur's Baking Education Center in Norwich, Vermont, and learned even more about bread and baking. Recently, she attended classes at the San Francisco Baking Institute to learn about baking with ancient grains.
Back on the Island in 2008, Kate began formulating a business plan for the Vineyard Bread Project. She baked twelve to sixteen loaves a week, and distributed them to friends for taste testing. At the end of 2014, she had a permitted kitchen and was ready to bake bread for the public.
These days, Kate is baking fifty to sixty loaves of bread on Thursdays, and the same amount every other Tuesday. Subscribers to the Vineyard Bread Project can join any of three groups and pick up bread every other Tuesday or Thursday or every Thursday. "It's a subscription service," said Kate. "I offer three choices every week: a multigrain, one white, and one specialty bread. Members must order at least two loaves, but they can order more."
Kate is also offering bread-baking classes. Her focus is to teach people how to make artisan-style bread using home equipment. She schedules open classes throughout the year, and also does private classes for families and friends, girls' night out, and local schools. If you've always wanted to learn how to bake good bread or you're looking for a fun and different activity to share with a few friends or family members, Kate's bread-making class is a winner!
To find out more about the Vineyard Bread Project or Kate's bread-making classes, visit her website at:
www.vineyardbreadproject.com
.