SCEEN & SCENE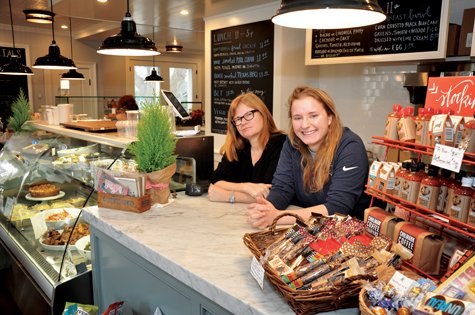 Rosewater Market & Take Away: A Back Story
By Tina Miller
A Few years ago when I was running Flatbread, the previous manager recommended I rehire back a young server named Julia for the season. He said she was very bright with a super positive attitude and was hard worker. I took his advice and rehired her back. She was all he said and more.
As the season progressed the summer shuffle began and I began losing staff. Julia, ever eager, stepped up and asked me if I needed any help. Soon she was a stand-in assistant manager and I hired her back the next season as the official assistant manager. She was very early twenties and that season had decided to make–her summer happy place–the Vineyard, her permanent home and move here year round.
Julia and I became friends and great work partners despite the fact I was old enough to be her parent. For what ever reason Julia and I are kindred spirits. Last fall we began looking at doing a project together and then we found 20 South Summer Street, across from the Charlotte Inn in Edgartown. This beautiful Mansard roof building was a market back in the mid-nineteenth century. We began imagining a place that would add to the downtown business community. A market and take-out serving all homemade breakfast, lunch, fresh baked goods along with interesting gifts from near and far and provisional market items.
We opened Rosewater Market & Take Away in the middle of July and are open year-round.
20 South Summer Street, Edg • 508-627-1270, and online at:
www.rosewatermv.com
Like them on facebook: rosewatermarket,and on Instagram: rosewatermv