CUISINE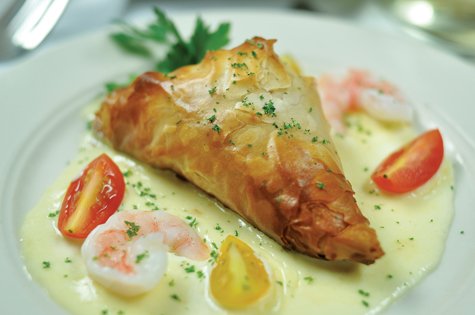 Good Food is the Main Event

Chef Tony Saccoccia Impresses All At The Grill On Main
By Lisa Belcastro, Photography by Charlie Utz
It's summer. Make no doubt about it: the Vineyard in summer is my favorite time and favorite place. However, the winter months have a few a perks: parking spaces, shorter lines (or no lines) in the grocery stores, and more time with friends to eat at more Island restaurants.

When I think about eating out, I think about dessert. Dessert should include chocolate. After all, what's life without chocolate? And one of the best chocolate desserts anywhere, and I mean anywhere on the planet, is Tony Saccoccia's Dark Chocolate Bread Pudding at The Grill on Main.

"Gourmet Magazine asked for the recipe for my bread pudding," Tony said, and then grinned. "I didn't give
it to them."

I couldn't pry the recipe out of him either, but I promise his baked apple tart that he did give to us at Vineyard Style is also delicious.

Tony grew up in a family that was immersed in the food industry. His dad owned a butcher shop/grocery store in Rhode Island, where he got his first taste of the business. Then his older sister married a chef, and at age 12 Tony discovered what he wanted to do with his life.

"I love the idea of being creative. I was never good with graphics or drawings, but I can express myself with food. I like baking and pastries, creating various shapes and sizes."

From a vocational high school majoring in cooking to the Culinary Institute of America, Tony pursued his dream of becoming a chef. He arrived on the Vineyard one summer for a job as a sous chef at The Feast in Chilmark, and fell in love with the Island. He went back to the CIA, graduated, and returned to The Feast the following summer. And never left.

Within a year, Tony had taken over the restaurant's lease and changed the name to The Feast of Chilmark. He bought the building two years later, and remained there for ten years until selling the property.

"Since the second I moved here, every one I've met has been wonderful." High praise from the man who's now lived on Island for twenty-seven years.

Tony took the winter off after he sold The Feast of Chilmark. He worked at the Vineyard Golf Club the next summer, and then it was time to settle down. By settle down, Tony meant opening another restaurant of his own. He scouted out locations, finally deciding upon 227 Upper Main Street in Edgartown. The Grill on Main opened in 2003.

"I've been here thirteen years, but we're always evolving, renovating, and re-theming. This year we added a new patio area. Now I'm looking at the bar area, considering the possibility of knocking down some walls and opening it up more," said Tony.

While the interior and exterior may change, the quality of the food and service remains constantly great. The menu at The Grill has a wonderful variety, from duck to shrimp Alfredo to lamb chops to chicken Saltimbocca, there is something for every palate.

As the seasons change, Tony varies a few of the offerings while keeping customer favorites. "I change the menu three or four times a year. In the summer we'll serve more seafood and lighter salads," Tony said. "Some items are always on the menu. If people are loving something, then I've got to keep what they like on the menu."

I mentioned to Tony that I'm a rather boring customer as I eat my favorites every time I go out. Occasionally I'll try something new, but normally if someone else orders it and I taste it via a small bite.

Tony didn't flinch at my confession. "I eat the same thing out every time. I'm a creature of habit," he said with his signature smile.

When I'm at The Grill, I have to have the Lobster Turnover with Shrimp and Lemon Cream Sauce. Tony generously included that recipe among the ones he picked for our VS readers. And, he gave me a few tips to make the cooking process easier.

"Don't overcook the lobster. Don't be afraid of the phyllo dough. It can stick together, and frustrate you. Keep a moist towel over it when you're working with it," he advised.

We also have a wild mushroom bisque for an appetizer, but you could also serve it for lunch, or have the bisque for dinner with a side salad and some crusty, buttered bread. Tony's tip for the bisque, and most soups, is one I've already used on a recent batch of soup.

"I start most soups with a decent amount of celery, onions, and carrots. Some people don't like to use carrots because of the color, but the bang for the buck is huge. With carrot, you get the sweetness, and there is such a difference in the flavor," said Tony.

I enjoyed Tony's Warm Pecan Crusted Goat Cheese Salad that last month. He suggested we, "Warm the pecans just before serving to bring out the oils."

The Tuesday before Thanksgiving I stopped into The Grill for dinner with a friend. Knowing I had a week of poultry and fish ahead of me, I opted for the grilled pork tenderloin. Yum!

The pork recipe Tony has provided here is easy to make, especially if you apply these tips: "After the pork is grilled, make sure you let it rest at room temperature for at least ten minutes, if not twenty. You want the meat to reach the same temperature on the inside as it is on the outside." Tony added, "If you purchase the veal stock, then all you have to do is trim, season, and grill the pork. It's the easiest dish to make, and good in summer and winter."

After you've served your family and guest all of the above, don't forget a scrumptious winter dessert. Tony's given us an apple tart recipe that is sweet, flavorful, and the perfect compliment to any meal.

"The tart uses a pastry crust, which is simple: cold butter, flour, sugar, and maybe an egg if you want. Make sure you still see pea-size pieces of butter when you're cutting the butter into the flour. You don't want smooth dough. The least amount of flour the better," Tony said.

All this talk of dessert has made me hungry. Might be time for another trip to The Grill for dinner. The Grill on Main is open Tuesday through Saturday for dinner. On Thursdays, Fridays, and Saturdays, Tony offers a Two-for-One entrée special. And, don't forget to order the Dark Chocolate Bread Pudding. You'll thank me!

Lobster Turnover with Shrimp and Lemon Cream
Serves 8
Ingredients:
1 lb. Cooked lobster meat diced
2 qt. heavy cream
2 scallions - chopped
¼ cup flour
Salt and white pepper
1 package phyllo dough
1 tsp. butter
2 oz. cooked shrimp - diced
½ lemon

Method:
Saute the scallions with the butter. Add the flour to make roux, whisk in 1 qt. cream, wine, fold in lobster meat and season to taste with salt and pepper.

Sauce:
Reduce the cream by half, add salt and pepper, lemon juice and shrimp.

Wraps:
Use 3 sheets of phyllo and brush with butter on each layer, cut in four lengthwise and put lobster filling in bottom of each and fold in triangles like a flag. Should make approximatly 8. Bake for 10 minutes at 400 degrees.