TRENDS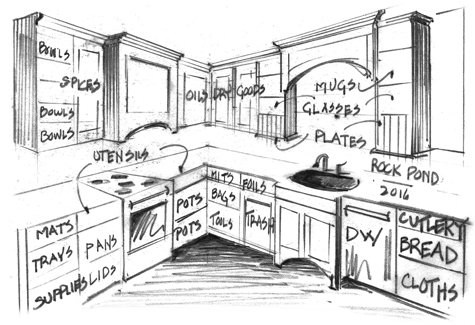 Designing Your Ideal Kitchen

Important Details to Consider
By Paul Lazes
Before you hire a Kitchen Designer, spend an little time to make a list of what you would ideally want in your dream kitchen. It's simple if you address the basic categories mentioned here:
STYLE
Go on-line and find one or two examples of a kitchen that appeals to you. That's all you need to communicate the style you want for your own kitchen.
Thoughts about the style of your kitchen A carefully selected variety of materials and finishes help create a more relaxed design and a comfortable setting. An Island or possibly one wall of cabinets of your finished kitchen are both easy places to introduce new materials (cabinets or counters) differing from the rest of the kitchen creating an appealing variety.
Try designing individual or entire sections of the kitchen as independent and discrete pieces of cabinetry to take on a sense of free standing furniture. This will break-up unnecessary monotony making your new kitchen more relaxed and interesting.
FUNCTION
Ask your designer to label what he or she anticipates what will be the use of each and every cabinet or drawer. By doing so you will be certain all your kitchen items have an efficient nesting spot.
What you need to provide for your designer:
Keep a note pad in your kitchen and note how you would describe what your particular interests and ­needs are.
Here are some useful examples of what clients have told me.
• "I like to bake, and want all of what I need located in one area. I'll also need a counter to kneed bread."
• "I like to cook with my spouse, so there has to be ample room for both of us to work together." I'm preparing super."
Make certain there are spots for the following:
Pantry Storage Cleaning supplies
Food Preparation Comfortable socializing
Desk area Kid's projects and homework
Cooking and baking
COMFORT
A kitchen needs to feel comfortable and inviting as well as being highly functional. It should have comfortable places for as many people you would want in your kitchen with you. Ideally its great to have soft seating – a bench or a small loveseat – if space permits.
All kitchens deserve a view, or better still, doors opening onto a patio or your garden.
rockpondkitchens@gmail.com