HOME PORTRAIT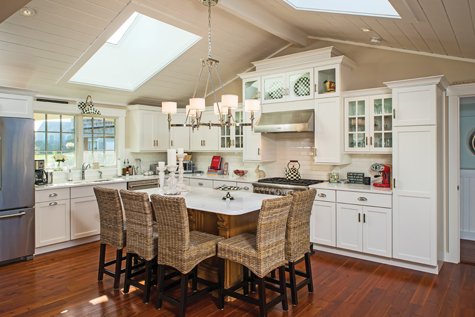 Solving Puzzles

The Quality Craftsmanship Behind D. Best Construction Company
By Nina E. Ferry, Photography by Gil Jacobs
Douglas F. Best and his company, D. Best Construction, Inc. have been valued members of the Island building trade for 15 years. Specializing in home renovations, D. Best Construction was started from scratch–one house at a time–fulfilling a boyhood passion of Doug's to be involved in the construction industry. Growing up in Colorado and Illinois, Doug experienced the suburban boom, often exploring construction sites and imagining a life where he worked with his hands. During his college years, Doug worked in the steel industry constructing massive storage tanks nationwide for a global energy conglomerate. Doug graduated from Western State Colorado University in Gunnison Colorado with a Bachelor of Arts degree with a major in Business and a minor in Economics. He started his career in the telecommunications industry, working his way to Senior VP of Corporate Development for cable TV giant Tele-Media Corp.
After years of traveling and a life in big business, he decided to settle here. Like many, he fell in love with the Island "at first sight," believing it was one of the most beautiful places he had ever seen. Relying on his philosophy that "perception is everything when it comes to our lifestyle choices–where our most valuable commodity is time, and what we make of it," he says. Doug left the corporate world behind for a quieter Island existence, he now helps clients find that same sense of peace, where they can actually enjoy their time here. Holding onto quality, client satisfaction, and a positive reputation, Doug believes in working for–and with–friends, family, and community members. "Our company is dependent on our large degree of depth and talent, where our clients really like our work and trust us to steer them in the right direction," says Doug.
After nearly 40 years of experience studying and renovating old homes, Doug has become expert in listening to the past in order to support the future structures of these homes. He says, "on the Island, the old-world craftsmanship evolved from boat builders, one can see how each house has been built in the manner reflecting the lives they emulated." Doug enjoys discovering what the old houses have to offer: integrity located in the sheathing, rather than the frame, unique structure and design aspects, original windows and other materials that have lasted hundreds of years, as well as memorabilia left behind by families of the past.
Doug's first home on the Island was a 1780s captain's home on North Summer street in Edgartown. Purchased in 1988, the house was on the National Historic Register. As Doug was renovating the house, he and his crew discovered a multitude of period clothing buttons made of whale bone and shell, porcelain, metal, and ceramic, as well as other materials, artifacts and hardware. When Doug was getting ready to sell the house, he boxed and framed the antique buttons along with a chronological nail collection, also discovered on-site, comprised of 17th century hand-forged nails and more advanced molten-poured nails. Doug researched and preserved them to add to the charm of the home. He gifted the collections to the new owners believing these artifacts should stay with the home to help maintain its history and character.
One of D. Best Construction's recent renovations, a Campground home facing Ocean Park in Oak Bluffs, began as a small referral and morphed into a full-blown renovation. Recommended by Robbie Gatchell, a well-known wood carver and Island craftsman, D. Best Construction began the intricate process of renovating the two-story rounded porch decking and railing on the Gingerbread Cottage that has affectionately been deemed the Cake House. However, after a month of activity and discussions with the homeowner, Ed Evans, it was clear the house needed more work. When Ed said to Doug, "I just want the floors to be level, what is that going to take," what followed was an 18 month-long renovation of the entire 3,000 square foot home. Filled with original accents, Doug worked with the homeowner to retain the home's age-old personality, while updating with modern amenities, wide-open spaces, and using simple, yet elegant materials. Always encouraging responsible construction through use of quality products, D. Best Construction recommended fir and mahogany to build a naturally weather-resilient deck. When working with old houses like this, "it's difficult to find a starting point and end point. Often with the best intentions, these homes are a hodgepodge of more than a hundred years of tinkering and renovations," says Doug. After fostering a successful working relationship with this particular client, Doug encouraged the homeowner to observe much of the activity and details. Mr. Evans became interested in the renovation business himself, relocating to Martha's Vineyard full-time, and taking a full-time job with Doug's company.
D. Best Construction has continued expanding over the last couple of years to meet client demands and is in the process of updating their web presence and digitizing their project history. Working with a 90% referral rate and existing relationships within the community, his company has twelve to fourteen full-time employees, some who have been with him for ten years. He has three foremen, carpentry crews, a paint crew, and office administration. D. Best Construction is an inception-to-completion company, working in conjunction with a number of local companies, including architects and designers such as Sam Sherman Associates, Stephanie and Ken from Mashek Maclean Architects and Dudley Cannada. Doug's company accepts a myriad of projects, including small jobs like custom sheds and decks, new construction, or challenging remodels. In fact, having just built a new home for his family, Doug who had promised his youngest daughters Hannah and Maggie a treehouse, put his energy into this custom project, while his crew worked on the main house. Now the small treehouse with antique windows, powered lighting and a sizable porch, the tree house sits adjacent to his new house, in the crook of an old tree, where it can be accessed by a ramp leading from a nearby hill.
Ironically, although Doug left the corporate life behind for a more hands-on work model, he finds he rarely gets to work with his hands anymore. The demands of the company are such that he rotates between job sites offering his construction expertise, and manages the overall design-build, as well as contracting other local companies such as Vineyard Heating and Cooling, or Fullin and Bettencourt Plumbing to assist with the renovations and new installs. Working with an extensive in-house directory of local businesses, generated by Doug, his company is able to formulate the right fit between homeowners, projects, and local contractors. For projects requiring a more comprehensive design service, Doug relies on interior designer Annie Parr of Island Interiors, and employs the landscaping services of Marek Tree and Land Company to augment the aesthetics of his projects.
Currently involved in seven large projects and numerous smaller ones, D. Best Construction is booked for the next year, but they never turn away a client. Best affirms that timelines and expectations vary, which is why the company always makes time to speak with anyone who is interested. To get in touch with them, or view a gallery of previous projects, their website is a good place to start. (www.dbestconstruction.com) Offering free consultations, Best works with many realtors and recommends all homebuyers consult a builder at the beginning of their purchasing process. It's often the keen and skilled eye of a builder that will offer information about renovation and home improvements, providing the comfort of an informed buying decision.
Although D. Best Construction does work with a number of architects, much of their work is done directly with clients, where they rely on email, internet, and pictures to communicate if the homeowners are not on-Island. Doug says, "when working with clients, I pose questions to get an idea of their expectations, as compared with the time and the cost," often resulting in drastically different projects than what was originally discussed. Working with engineers John Lolley and Casey Decker, who draw up plans for the construction company, they can utilize computer models generated by an AutoCAD system that produces 3-D images of the project, providing a more convenient way to visualize with a client before construction begins. With older homes, says Best, "it's like a puzzle; a challenge, including how to maintain the original structure, preserving any antique features, bringing the building up to code, and adding the modern amenities expected in prestigious historic homes found on Martha's Vineyard." Using quality materials and innovative carpentry, many of D. Best's houses feature custom built-ins, cathedral ceilings, natural light, original antique hardware, new lumber products, lighting and more. Essentially any vision the client has, or the intricacies of any existing structure, is a challenge accepted–and with the right balance of time and budget–is a puzzle to be solved.
Doug, who loves his work, likes to involve himself in community initiatives, he's proud to have taken an integral part in the construction of the YMCA of Martha's Vineyard complex, where he has been on the YMCA board of directors for seven years and is currently the Treasurer and Chairman of the Finance Committee. As an active runner and outdoorsman, Doug wanted to assist the Island community in creating a place for exercise, rehabilitation, year-round socialization, and remains committed to offering a healthy alternative for the Island community. When discussing how the Y came to be he says, "we envisioned a place that would be much more than a pool, a gathering place for young and old, where people could improve their lives both physically and socially." Doug and his company have been benefactors of the Y for years, working with other Island contractors to pull the project together, overseeing construction of the kitchen and teen center, to helping with the pavilion. Best sees community involvement as an integral aspect of being a business owner here, and continues to support many Island organizations.
Working alongside his wife Maureen and his long-time employees, Doug Best is assured he made the right lifestyle change. Owning and renovating numerous Island houses, including the Takemmy Farm in West Tisbury, built in the 1750s, Best has learned a lot about Island history and the evolution of local structures through the centuries. D. Best Construction is a company of quality, one that understands history and innovation, local and global footprints. In this ever evolving world, Best says, "We're a company that's here to stay. Our reputation speaks for us here, where we have deep ties to the community we live in and a history of meeting client needs and expectations."
www.dbestconstruction.com