ARTIST PROFILE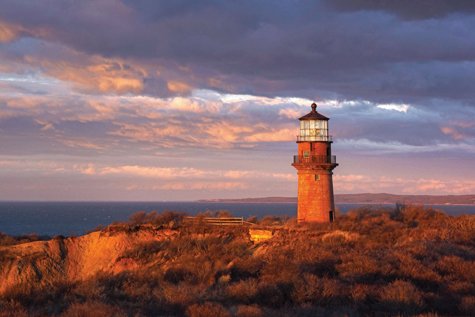 Waking Up At Magic Time

Capturing Moments
By Amelia Smith
The Island of Martha's Vineyard at daybreak holds moments of splendor, moments lost to most of us as we lie in beds asleep or gulping down a hurried cup of coffee. A few years ago, Yann Meersseman and Moira Fitzgerald missed most of those moments, too. Yann lived the harried life of a VP of sales for an off-Island software firm, a job which allowed him to live anywhere with a nearby airport. He and Moira, a local architect, were settling down in Oak Bluffs, renovating a house together, when the economy hit a rough patch in 2009. Yann was laid off.

"I wasn't too pressured in the beginning," he says. "It was like taking a big vacation, but after a while it gets a little worrysome." He began to look for work, he got a few offers, all of which would have required him to "go back to the continent," not a move that he wanted to make. About that time he noticed the contract to deliver off-island newspapers to stores and hotels was up for grabs, and he decided to give it a shot.

"The idea was to do that just as a temporary stop-gap measure, and later try to get a real job," he said, but that stopgap measure changed his perspective. "Once you start driving around the Island in the early morning, it's like a beautiful new place. It was actually quite a revelation to do this." In the meantime, some friends came to visit, friends who'd known Yann as a vice president in a big company. "They thought I was nuts," he says. "So I offered to send them some photos. 'Maybe that will help you see that I'm not crazy. Actually, I'm thinking that I am sane for the first time in my life.'"

Vineyard Colors began simply as a way for Yann and Moira to share the beauty of the Island with their friends and family, especially the beauty of the Island in the early mornings when the roads are empty and the sun is just rising. In the summer, it's impossible for one person to cover the newspaper route alone, so Moira joined Yann in his new business venture, delivering newspapers around the Island at the crack of dawn. Neither of them had set out to become photographers, and in the beginning they worked with simple point-and-shoot pocket cameras.

At first, Yann had ten or twelve people on his e-mail list, but as those few friends showed the photos to their friends, more people asked to join in. Gradually, the list grew to over 2,500 subscribers. All the while Vineyard Colors' business was expanding alongside. Yann and Moira now sell their images as large prints, greeting cards, and an annual calendar. The growth of the business, like its humble beginnings, came about organically and by happenstance. "We never would have done this without the newspapers. The newspapers get you out of bed and the results from the photography gives you the motivation," Yann says. "Truly, we didn't think our pictures were that good, we didn't think of this as a business." As he got comfortable with the newspaper route, he learned how to fit in more photography time. Now, he says that he can spend forty minutes taking pictures and still deliver the papers on time.

Taking photographs and sharing them every day led Yann and Moira to improve their skills as photographers as well as their technical equipment. Moira also had a good film camera which she'd used for architecture, and she'd even developed her own film, but had never done any photography on a professional basis. Yann soon learned that in order to take a good picture you have to take a lot of pictures. Going out every day in all kinds of weather and taking dozens of pictures was hard on their amateur cameras. "General wear-and-tear and the elements are rough on the mechanics, we would even drop them occasionally," Yann says. He has gone through three or four cameras in recent years, and Moira says that at first they were cautious about upgrading. "We wouldn't buy any new equipment unless the profit from sales were paying for it," she says. And paying-off it is. Now, with business growing, they've both upgraded to digital SLRs–a Sony A77 and a Sony A7rII.

Yann and Moira post at least one or two images every day, sometimes as many as seven or eight, usually with at least one photo by each of them. These, they curate further to choose some for cards, prints, and the calendar. "There's always some post-processing," Yann explains. "It's never exactly what you see, it's what the camera sees." The post-processing can include intensifying or de-saturating the color, cropping or straightening, and occasionally some filters, but mostly, it's about what they see in their drive around the Island. "You start paying attention to things that you never noticed before," Yann says. "I would always want a dramatic sky–a blue sky is nice, but for photography it's kind of boring." Over time, he says that he tries to capture the kind of light that people associate with paintings.

As experts on documenting the beauty of the early morning, Yann and Moira say that there is no single "best" sunrise spot. In winter, they suggest going to beaches that you can't get into in summer, like Lucy Vincent. Katama Bay is another one of their favorite spots, as is Pulpit Rock on Sengekontacket Pond. Harthaven and the new fishing pier in Oak Bluffs have their best angles on the sunrise during the summer months.

Yann and Moira's initial foray into making their photography into a business came when Jackie Korell at the Katama General Store suggested that they make note cards, which she said that she would like to sell. They wanted to do something a little different with the cards, so rather than make many copies of a few photos, they did fewer copies of more photos. In the first year, they made twenty copies each of sixty different images. Demand grew, and in 2015 they used over two hundred different images on their cards. To keep this process from getting too tedious and time-consuming, Yann wrote a computer program to automatically generate the PDF files to the printer's specifications. Stan Hersh at Conroy's in West Tisbury, who was also among the first to encourage them to make greeting cards, suggested that they make a calendar, too.

As the mailing list grew, business proposals came in from people beyond their morning rounds, people who knew them solely through their growing online presence. Julian Wise, owner of the Island Images Gallery in Oak Bluffs, invited them to be part of his new gallery. Moira and Yann have also photographed properties for real estate companies, which has introduced them to new corners of the Island. Early in 2015, the owner of the Kelley House asked them to help turn the hotel's lobby into a photography gallery, which now displays an ever-changing collection of Island photographers' work. Yann and Moira curate the collection which includes several framed screens featuring a rotating collection of dozens of photographs, as well as framed prints in the lobby and halls.

Vineyard Colors' 2016 calendar documents the year from icy January through the heat of summer and back again to holiday lights in December. It features a verse by Dan Waters for each month and images which their fans voted to select. The calendar is available through the website: www.vineyardcolors.com, where you can also sign up to receive the daily email of morning photographs. Meanwhile, Yann and Moira will be up before dawn through the coldest part of the year, sharing the sparkling light of the Island morning.