MADE ON ISLAND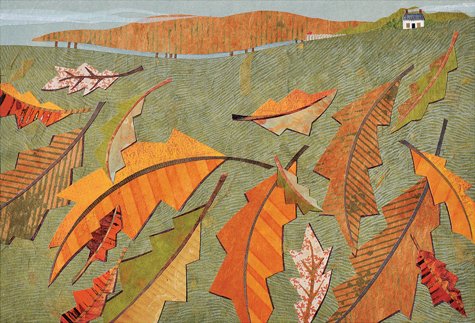 Susan Savory

Layered Paper Possibilities
Living on Martha's Vineyard, artist Susan Savory is reminded on a daily basis how very, very tiny she is against this backdrop of sea and land. She conveys this feeling through collage illustrations that are often no larger than a postcard. However, despite her creation of such small-scale art, Savory is able to depict the expansiveness of these settings while exploring larger themes of the natural world and our place in it.
Susan Savory has always found creative ways to make art from the seemingly disparate objects around her. "If I had not made art, it would have seemed strange," says Susan, a daughter of artists who earned her BFA in illustration from Parsons School of Design. As the children's book buyer for Bunch of Grapes, Susan's lifelong obsession with children's books also features heavily in her work. "Illustrators like Beatrix Potter and Leo Lionni opened windows for me into other possible worlds," says Susan.
Savory is currently using both hand painted and colored papers as well as found papers to create scenes inspired by the Vineyard landscape and vegetation. "The light and scenery here are a huge influence," explains Susan, "the subdued and muted colors fit my personal palette." Her process involves painstakingly "arranging and rearranging...until the right combination and composition appear and the work finds its voice." It is important to Susan that her pieces tell a story. For her it's the story of "discovery and finding the place where I fit," she says.
In her series, "Tiny House Hill," she draws on memories and dreams to create collage illustrations in which small houses are nestled into terrain rich in color and texture. The landscapes are reminiscent of the grassy fields, rolling hills, and mercurial seas of Cape Cod, where she summered as a youth – and of course – the Vineyard. "I feel so grounded in the geography here," says Susan. "You can stand at any given point and see field, fresh or salt water, scrubby oaks and the curiously beautiful, wind-blown shapes that things take."
Savory's collages are metaphors for how our worlds are constructed and shaped by found beauty. Through them she "leaves a tiny footprint," but, maintains, they are "just as much the viewer's story" as her own.
Susan's work has been featured in exhibits throughout New England and she is represented by Narrowland Gallery in Chatham.
For more information about Susan and her work can be found at
susansavory. wordpress.com
.