ARTIST PROFILE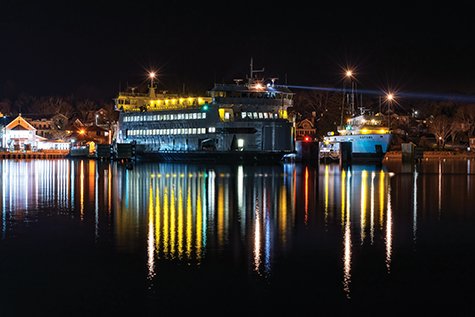 Decisive Moments

The Dynamic Eye of John Montes, Jr.
By Kara Goldfarb
Behind the photo of an exquisite orange-pink-purple-yellow-red sunset over the cliffs in Aquinnah, John Montes, Jr. is holding a camera and is soaked to his knees. Flashback to early 2020: The self-taught photographer, who began shooting in 2007, has an Italian excursion on the books. He's planning to go with a fellow photographer who he traveled to Iceland with in 2019. Meeting fellow photographers, joining groups of likeminded people, traveling to new locations…
These were the reasons Montes' passion for photography as well as for photography as well as his knowledge of the art grew. Flash forward a few months: The trip to Italy is canceled as a result of a new unprecedented pandemic sweeping the world.
What proceeded was a feeling of being cooped up. As a landscape photog-rapher whose style was to shoot from sunset to sunrise, and who wasn't partic-ularly interested in what the harsh day-time sunlight had to offer, Montes often visited Boston to capture the bold colors of that nighttime cityscape scene.
But back to that sunset photo. It was taken in the fall of 2021. Even though Montes got drenched snapping it, he says the shot was totally worth it. "It was probably the best sunset I had ever seen there," he says. The technique of basically wading in the ocean to cap-ture the shot is a new one for the experi-enced photographer. A Nikon user his whole life, Montes took a leap and switched to Sony. Some of the major dif-ferences are the latter's mirrorless sys-tem, the focusing system, and electronic viewfinder. For his style of shooting, the Sony focusing system works so much bet-ter with active shooting with a rapidly changing scene. "I was able to get a lot more shots that were usable" he says. He also added in a telephoto lens to his kit to capture the fishing boats heading out at sunset. Capturing the fishing boats under the sunset was a new perspective he wasn't shooting before.
Montes' decision to switch up the camera and the types of shots he was taking speaks to something bigger than simply trying something new. Like many people during COVID who had to figure out new ways of doing things, it speaks to working with the tools you already have. That doesn't necessarily mean simply switching to a nicer camera though.
"Investing in photography is not just about buying expensive equipment," Montes says. It's investing in workshops and tutorials and techniques. Again, uti-lizing what's there to create something new. When people see a great photo-graph there's sometimes a tendency to say, Wow, you must have a nice camera. Montes' reply: "Well the camera doesn't take the photo."
In fact, a big part of his learning curve was being able to heavily advance in the post-processing phase of photogra-phy. He explains that the post-processing is how you bring a photo to life after it's taken. "It makes me chuckle when peo-ple take a photo with a cell phone and say 'no filter'," he says. Because–with or without a designated Instagram filter–your camera, by default, compress-es the photo and adds all kinds of satura-tion to it. As Montes puts it, "The cam-era just can't see what the eye sees." In looking at his collection of work, you can really feel the images as though they're right in front of you. It might sound like an oxymoron, but that doesn't come from using a photo snapped right in front of you. He shoots in raw format–which is undersaturated and lacks contrast. The crucial step is the steps that come after. Sometimes that means taking two or three photos and blending them together. "Because the light is so harsh and your eyes can pick up all the different shades of dark and light, but the camera can't," Montes explains. So you've got to shoot in different exposures and "blend them together to make what your eyes see."
Another parallel between the Pandemic and the way Montes has been shooting these past few years: a certain clarity that comes with taking on a new-found perspective. Whether that means finding new things to capture within the seemingly small Island, or even finding new ways to capture similar scenes. Essentially, instead of changing the scenery, changing the way you view the scenery. This included the seemingly unlimited amount of photos you make just focused on the beach scene. One example is how drastically Aquinnah can change from day to day–one day the whole beach can be covered in boulders. Then there's a massive storm, and five days later the entire beach is solid sand. "You could go there three times in a week, and every time you walk out on that beach it's going to be different," he says. "So every time I go there, I never know what it's going to look like."
Montes' also discovered things on and about the Island that–despite being there all along–were brand new to him. The realization, for instance, that Martha's Vineyard is one of the few places where you can shoot the sunrise and the sunset in the same day over the water. "I could go to Edgartown and shoot the sunrise and the lighthouse, and then I can go to Moshup at the end of the day and get the sunset." It was some-thing he never really thought about until a friend who lives in Plymouth and only shoots sunrise pointed it out and said to Montes, "You're lucky."
As for entirely new scenery, there have been the birds. "When I had Covid I took the camera out and I was shooting birds." Montes took up shooting a lot of wildlife in general but had a particular focus on birds–something that was entirely different to him. "It's weird for me holding a camera and not putting it on a tripod," he says. Continuing, "I shoot almost everything on a tripod and now I'm holding the heaviest lens and a camera and trying to chase birds in the sky." One thing he's learned from this experience: the bigger the bird, the easier they are to shoot because they fly slow-er. So while something like an osprey might be very easy to snap, getting a good photo of a hummingbird requires "shooting on a continuous shutter, let-ting the camera fire as fast as it can fire on high shutter speeds."
Montes did manage to make it off the Island here and there. He spent some time in Vermont and New Hampshire where he was able to get out shooting. Staying in a hotel room that overlooked Mount Washington, he got a beautiful photo of the moon ris-ing over the Mt. Washington Observatory. He also got out for the first time to see Ice Castles in New Hampshire. But his upcoming trip is the biggest one by far. As the world continues to settle back, the canceled 2020 trip to Italy is back on. "We got the confirmation early April," he shares. The long-awaited journey will start by flying into Venice, followed by a three-hour bus ride into the Dolomites in Northeastern Italy.
"Did you ever think in your life-time you would see something like this?" Montes asks, in regards to the Pandemic. It's something many people would answer no to. Likewise, he never thought that Italy was going to happen once it was canceled. So the idea that a trip over two years in the making is actually coming to fruition makes it worth the wait, and all the sweeter.
Once in Italy, Montes will be essentially off the grid. There isn't going to be cell reception, there will only be wifi in a couple of locations and you have to pay for it. "Crazy enough, you even have to pay for showers," he adds. It may seem a bit superfluous to go off the grid after sev-eral years of people being made to do basically just that. But Montes can't wait to get out there. It's not connect-ing through zoom, or Instagram, or tex-ting. It's reconnecting with a longtime passion. It's–like taking that sunset photo with water up to his knees–con-necting with what's right in front of him, separated only by a lens. As Montes quaintly puts it, "I'm really looking forward to it."
For more about John Montes, Jr. photography click:
Instagram: @jmontesphotography, Website:
jmontesphotography.com
, Email:
info@jmontesphotography.com