HOME PORTRAIT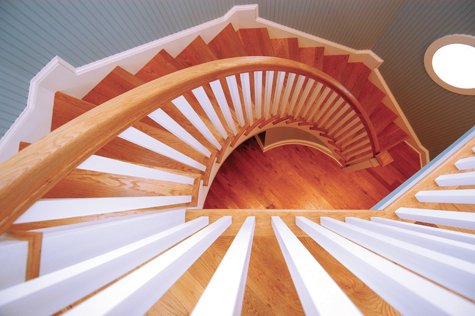 The Builder With An Artist's Eye

Master Builder Bob Avakian's Homes Stand the Test of Time
By Gay Giordano
Bob Avakian of Vineyard Construction Services, is not your typical builder. He hand draws construction details for his crew to follow, has a deep admiration for the art of using hand tools and marvels at anything made by hand. Add to that his profoundly atmospheric photography and you begin to see all the advantages of an old world perspective in creating things. His offices are even located in the magnificent mid-19th century Dr. Daniel Fisher House, right across the hall from the Martha's Vineyard Preservation Trust.

Bob lives in Edgartown with his wife Gail, the former Town treasurer; in a house he has been building over the years that he says is a true labor of love. His son Derek runs the business with him. His other son, Alex, is a chef at L'Etoile. He also has two grandchildren, Lilly, age 4, and Cooper, age 5. Lilly is already showing an interest in building and is enamored of the various uses of a hammer while banging around Derek's shop.

Bob'sstory about coming to Martha's Vineyard is a familiar one. He worked here in the summer of 1973 and never left. This "never left" should be the Island's official bumper sticker. As should the "no-plan plan" of taking on any work that comes along just to be able to stay. His first job on the Island was at the Post Office. The often-told tale of the Island choosing whom it accepts is certainly true in his case.

Bob has a degree in architectural engineering from Wentworth Institute in Boston with continued studies at Pratt in New York City. Discovering the Vineyard took the New York right out of him. He began to take on odd carpentry jobs and learned building hands-on from the ground up, pouring footings, building cement block foundations, framing, roofing, siding, insulation, sheetrock, even developing electrical and plumbing skills. But most important is his always-increasing knowledge of how to build beautiful things that work and endure. He takes great pride when re-entering a house he built years ago and sees how well it has stood up.

Every building is the sum of a client's needs, an architect's vision and a builder's skill.

Bobs favorite task is to work with the people transforming the architect's vision into the finished product. At the end of this collaboration Bob hand draws scale drawings that the workers can follow to produce the final product.

Architects and clients love to collaborate with Bob because of his problem-solving skills, management of sites, and vast knowledge of how things work. To this day he prefers to be hands-on at the building sites rather than sitting in the office. His crews are trained in the finer art of making things by hand. As he says, "If you give no thought to how things are made by hand, you have no opportunity to understand the essential basis of why you're doing it. The physical act of using your hands comes from your brain telling you how things work. You've got to learn how to cut wood with a hand saw and hammer with a hammer before you move on to power tools. These are skills that should be handed down.

Derek Avakian has learned from his father since he was a toddler accompanying him to job sites. He has always enjoyed working with his hands, playing in his father's workshop just as his daughter is now doing in his. As a teenager, he would spend summers working for his father, picking up invaluable skills from him and the rest of the crew. As the low guy on the totem pole, the building team would take him under their wings and teach him. He began to enjoy the idea of actually building a structure, taking it from a paper concept to a physical reality. He is both amused by his daughter's burgeoning interest and enormously proud. "It would be cool to have this business pass down through three generations!" He adds with a laugh, "Then again, she is only five..." (As women make up only 9% of the construction industry in the USA, let's hope she sticks with it!)

Bob's photography is another manifestation of his love for making things. He started taking photography classes at Pratt and became a street photographer in New York. After moving to Martha's Vineyard, he found it intimidating to photograph people clandestinely in such a small community. He realized he had never really looked at what he was shooting because the moments were fleeting and the results unpredictable. "Here, I learned to take my time and aim."

His love of structure and the art of building attracted him to photographing old houses on the Island. The farmhouse style of Grange Hall and the shingled flair of the Reading Room at Edgartown Harbor appear like favorite models in several of his pieces. "The thing with the Grange and Reading Room is that I see the spirit of those craftsmen builders. I like the thought that they were built using hand tools and the workers were mentored in the use of those tools. This attraction is linked to my development as a carpenter/builder." Immobile, graceful, and mutable in every light, they called to him from a new perspective. He could study the impressions made by things entirely independent of his own hands. Like an apprentice, he used his eyes to learn from what came before. He is now represented by The Granary Gallery and has many awards to his name. (Interestingly, the most prominent picture in his office is not one of his own, it's cut from a magazine, it shows a crowded tool room, with all the old tools beautifully arranged - something most people would not even register.)

He designed his own home in Edgartown in his late 20s and over the course of many years, it is still evolving. "In the beginning, I wasn't thinking about being old or getting up and down so many stairs, how much closet space we would need, etc. I designed it for intimate family use, with its spaces designed specifically for maximum use with minimum space. The heart of the house is the kitchen and family room. But I wanted the house to be adaptable to the changing needs of my family." As the designer/ builder, Bob could bend the standard ideals of spatial relations any way he wanted, resulting in an entirely singular, free-style home.

Some day Bob will pass the business on to his son (and hopefully granddaughter). He has seen many changes in the field, and thinks about what his son will be facing over the course of his own tenure at the helm. So constructing well built, well insulated, energy efficient homes is now the rule of thumb." But new materials, ever more sophisticated technology, and stricter environmental standards will offer their own opportunities for building in the future, "Luckily, it will never stop requiring creative thinking and your hands."

As for retirement, Bob thinks he is living it. "I do not have any other thing or place I would rather be now, but maybe a little rebalan-cing, a little more photography and of a few woodworking projects here and there." The manual and aesthetic skills that came to him naturally led him to a field where they dovetail perfectly.

With the hands of a master craftsman, the eye of an artist, and the problem solving mind of an engineer, his legacy will certainly endure.