ON ISLAND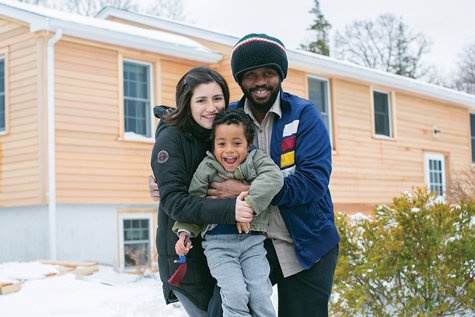 The Island Housing Trust

Building Homes and Preserving Community-One Family At a Time
By Amelia Smith
For those who live and work on Martha's Vineyard, finding housing can be an immense and sometimes insurmountable challenge. Young workers and families struggle to find places to live, and sometimes even move off-island due to the lack of available, affordable housing. It's a problem for the community as well as for individuals and families. When people move away, that can mean the loss of a stable and skilled workforce, not to mention friends and family members. The Island Housing Trust works to build and maintain permanently affordable housing, both rental and ownership. It's a Community Land Trust that works with Island towns, land conservation organizations, and other housing organizations to help meet our housing needs.
"It's about taking the land and making it a community asset rather than a commodity," says Executive Director Philippe Jordi. The first community land trusts were created in the south around the time when Habitat for Humanity was founded in the 1950s. Those first land trusts were founded on principles of land reform from India and South Africa inspired by Mahatma Gandhi. "The goal is to ensure that land remains working in the interest of the community and isn't lost to the marketplace," Philippe says.
Island Housing Trust properties include over 60 ownership units, some of which were built in cooperation with Habitat for Humanity, some of which as a result of bequests, and many of which were purpose-designed and built by the Trust. The Housing Trust is currently developing twenty affordable apartments in Tisbury and another 9 affordable apartments in West Tisbury, having completed 6 apartments near the Tisbury landing this summer. For the twenty apartments in Tisbury, the Island Housing Trust was able to purchase fifteen acres of land, with nine of those acres placed under a conservation restriction to be held by the Land Bank, allowing the conserved land area to count towards the required acreage for the clustered apartments. This combination of clustered housing with conservation land to offset the nitrogen load has served as a national model for affordable housing developments.
Funding for the construction of these apartments will come from Town, State, and private donations. "The goal is to raise one third from private donors, one third from the state, and the remaining one third from the towns," Philippe says. At November's special Town meeting in West Tisbury, voters unanimously approved $900,000 for the nine apartments there. These one, two, and three-bedroom apartments will be 100% designated for individuals and households with incomes at-or-below 80% of the area's median income.
To build the houses and apartments, the trust has worked with non-profit as well as for-profit developers. "What we do requires people who are highly skilled, yet are willing to not make as much money as they could elsewhere," Philippe says. The goal is to build houses and apartments that are not only affordable to purchase but are also affordable to maintain, use less energy, and are healthier. "We're here for the long term, we want these to be for generations of Islanders," Philippe says. "If you think about how much energy people put into housing, in terms of time and money, it's a huge loss. Lots of people can't sustain it and leave, and with that goes the talent and vitality of our community."
For those who do get affordable year-round housing, the new stability can enable them to make positive changes and move forward in their lives "often beginning families or starting businesses," Philippe says. Finding a secure, affordable place to live is a huge part of the puzzle of how to make a life on Martha's Vineyard, and one that the Island Housing Trust is dedicated to helping with for generations to come.
The Island Housing Trust is currently focusing on creating more rental properties but is also looking for ways to be more effective. It's a small organization with only four employees, three of them part-time. The needs are far beyond what they can fill using their current approach, so they're looking for ways to grow beyond simply building housing capacity to actively developing strategies and partnerships to make a bigger impact. In the search for a way forward, Philippe draws inspiration from the America's Cup. In 1996 the average speed of boats in the race was 10 knots, but a complete shift in technology and strategies meant that in 2012 the average speed was 40 knots. "How do we go from 10 to 40 knots, in a way that's sustainable?" Philippe asks. "How do we manage our enterprise? We have to be stewards of this Island forever."
To learn more about and donate to the Island Housing Trust please visit their website at
www.ihtmv.org
.