ARTIST PROFILE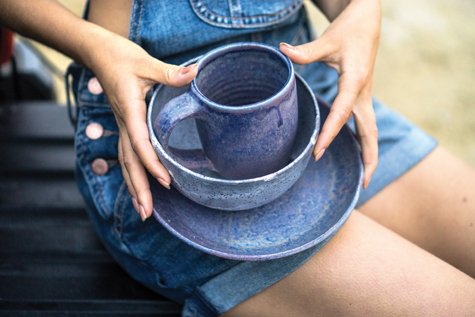 Island Inspired

The Creative World of Lainey Fink Scott
By Gwyn McAllister
Sometimes even people who work in a creative field, need another, completely different outlet for their inspiration. Lainey Fink Scott is one such person. She and her husband Ben Scott run a successful design business out of their home in Oak Bluffs. It's a full time job for the two graphic design professionals. Still, when she's done with her eight hour day, Lainey heads down from the couple's home office to the basement of their 1800s post and beam home to indulge in her other passion – ceramics.
"It's the nicest thing to get away from the computer for a while and use my hands," says Lainey. "It's good to get up and work at the wheel. It's physical. You're using your body, your muscles. I love having clay all over my hands and clothes. It feels like I'm working with the earth.
I love the fact that clay and glazes originally come from nature." Considering this passion, it's not surprising that Lainey draws inspiration from the natural elements – sea, sky and earth. She leans towards subdued less artificial colors and finishes. "I gravitate away from very glossy surfaces," she says. "I love the feel and look of a more satin piece."
The result is an appearance that emulates organic forms. Speckled beach stones, wood grain, striated rocks, tidal pools and celestial arrangements are among the things that her work brings to mind. There's a rustic elegance in the simplicity and subtlety of Lainey's work, yet her expertise and experimentation with glazes gives each piece texture and life.
After studying graphic design at Rhode Island School of Design (RISD) , and establishing Bluerock Design, a business originally based in Boston, the couple decided it was time to return to a rural area. The Vineyard proved to be the obvious choice. Ben was raised on the Island. Growing up Lainey spent summers on the Vineyard. The two met while attending RISD and soon discovered that they had more than just a profession in common. "We had this shared love for the Vineyard," says Lainey. "We'd been in Boston for about seven years and neither of us are city people. We looked around the Cape, the North Shore and Rhode Island, but the Vineyard just kept calling us back."
A return to nature is eventually what inspired Lainey's decision to relocate to the Island. The couple moved to the Island in 2014. They bought their home in March, got married in May, and then completed their family in September when they brought home Bodie, a chocolate lab. The Scotts live in a lovely historic home that was built in the 1800's on the farmland now occupied by Island Alpaca. At one point the house was moved piece by piece to its current location and it still retains its rustic feel.
The Scotts work out of a home office located in a solarium facing South with lots of light. Since they started their business in 2011, they have found that the partnership has proven an ideal arrangement. "We work really well together," says Lainey. "We both feed off of each other creatively. He pushes me and I push him." "I think it would be really hard to work alone in the design business,"she says. "It's great to have someone to bounce ideas off of and collaborate with." Bluerock's clients have included businesses from The Old Farmer's Almanac to Boston Harbor Distillery and Island projects such as The Harborview Hotel, Norton Point, The Covington, Morrice Florist and Island Grown, just to name a few. "We've worked with clients who have hundreds of employees to sole proprietors, and everything in between" says Lainey.
The move to the Vineyard inspired Lainey to pick up on ceramics – something she'd dabbled with a bit before. Soon a hobby became a passion. "I was always interested in ceramics," she says. "When I was in school studying graphic design I took an elective class in between semesters. I became so obsessed I just couldn't drag myself out of the studio."
Although that obsession lay dormant for many years while Lainey was working for design firms in Boston and eventually building up her own business, the passion was sparked once again shortly after moving to the Vineyard. "I started going to open studios at Featherstone and I fell in love all over again. I was making so much stuff that they told me, 'I think it's time you get your own studio!'" Lainey took that advice, bought a wheel and kiln, and set up a working space in her home.
The designer/artist refers to herself as "glaze obsessed." "I love glazes or glaze combinations that have a lot of depth to them," she says. "I'm very inspired by the colors in nature. I'm inspired by the ocean. I like more subtle colors and mottled looks that you would find in the natural world."
The matte feel of Lainey's pieces works very well with the organic nature of the glaze colors. She uses various types of clay – white (with and without speckles), a very dark brown and a lighter, nutty brown – and mixes or layers glaze colors to achieve a range of results. Some pieces have a speckled or mottled look. Others have an almost iridescent quality. For a set of dishes that she recently created as a gift, Lainey started with a matte black glaze and then added a bright green on top. The resulting effect, unexpectedly is one of weathered metal with copper and rust tones.
Although she never knows quite what to expect with various glaze combinations, Lainey carefully tests everything on small handmade tiles which she keeps organized as reference for future work. This combination of experimentation, careful planning, and meticulousness is typical of Lainey's process. "I'm definitely drawn to more clean lines. I spend a lot of time and energy cleaning the bottoms, outsides, and insides, making sure that each surface is smooth."
Her perfectionist tendencies are carried over from her professional work. "I work on the computer so much - designing logos, branding and design, with a focus on shapes and proportions - that I don't like it when things are off center. Everything must have its own hierarchy and weight, whether it's typography or photography. I think that bringing that focus into pottery is naturally what I gravitate towards – clean lines and making sure the design is balanced."
Her aesthetic aligns well with that of her commercial customers – some of whom are design clients as well. Her friend, Chef Nathan Gould commissioned her pottery for the restaurant at the Beach Plum Inn. When he moved on to his current position as Executive Chef at upscale sushi restaurant Oya in Boston, Chef Nathan continued his collaboration with Lainey who now provides the critically acclaimed restaurant with pieces that complement their artistic, visually striking food presentations. Other pottery clients include Lamplighter Brewing Co. in Boston and Morrice Florist in Vineyard Haven. Lainey's work can also be found at Behind the Bookstore in Edgartown. Her full time schedule has precluded the artist from expanding into full scale production but she does plan on opening an online store in the near future.
Lainey was raised in a creative environment. "My dad and brother were always building, working with wood and making furniture," she says. "My mom is a really amazing knitter. We were always doing all kinds of crafts when we were growing up. I developed a love of making things with my hands. After staring at a computer screen for so long, I think I was missing that. When I discovered pottery it opened everything up. I knew that this is where I'm meant to be."
When not working with Bluerock's clients or fixated on her ceramic enterprise, Lainey enjoys hiking the Vineyard's extensive trail system, Bodie in tow. "I love being able to be outside and go for walks and runs," she says. "There are so many amazing trails. When we first moved here, my Dad said, 'Promise me one thing, that every day you'll go out and experience a different part of the Island. I've been all around the world and the Vineyard is one of the most beautiful places I've been. Don't forget to enjoy it.'"
For more information visit Lainey's website at:
laineyfink.com
and check out:
bluerockdesignco.com
or you can directly contact Lainey at
laineyfink@gmail.com
. Instagram: @laineyfink and cell: (845)224-5644