MADE ON ISLAND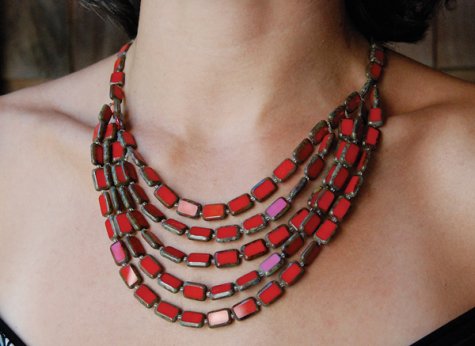 Back to Her Roots - Stefanie Wolf Designs
Five years ago, Stefanie Wolf had a major life decision to make. She had earned a Masters degree in counseling and was
prepared and qualified to begin a career as a therapist. But she was torn between that career path and her passion for making
jewelry – a hobby that began while working on Island during her college summers.
Stefanie gave herself permission to take a year off from being a therapist while pursuing her jewelry-making business. The business took of like a rocket and, as she says, "I've never looked back."
In a world where everyone who has taken a beading class considers herself a jewelry artist, Stefanie is a true professional. She has a refined and consistent vision, a keen sense of color and proportion, and, somehow, the ability to sell beautiful pieces at affordable prices. Her eye for design combined with her simple yet sophisticated artistry sets her apart from all the rest.
Among Stefanie's key collections are pieces made from colorful glass tile beads called 'Picasso Windows' for their painted edges and windowpane shape. Handmade in the renowned Jablonecs region of the Czech Republic where glass making is a centuries old tradition, their colorful geometry inspires her vibrant 'Trilogy' collection.
Also of note is Stefanie's 'Recycled Elements' collection, made by hand using recycled glass and sterling silver. Stefanie repurposes bottles, windowpanes, and construction scraps into jewelry that is eco-conscious, simple, and modern, while reducing waste that was destined for the landfill.
Stefanie and her husband Chuck decided to move back to the island when they were expecting their first child. Baby Sofia was born here, and will be raised on the Vineyard like her father. "We're here to stay and I'm so thrilled to have put down my roots both on this island and in this business," Stefanie said. Pleased that she has come "full circle", Stefanie is able to combine her creativity with her desire to connect with others, all while living in a place she loves.
When she was at that career crossroad years ago, Stefanie indeed made the right choice, one that combines the insight of a therapist with the creativity of a jewelry maker. Because when one puts on one of Stefanie's pieces, the wearer's mood can't help but lift immediately.
Stefanie crafts and sells her pieces at her studio in the Oak Bluffs Art District. Her designs are also sold at C.B. Stark Jewelers and a variety of stores and galleries throughout the country, via her website at
www.stefaniewolf.com
, at the Vineyard Artisan Festivals, and the Featherstone and Chilmark Flea Markets.
Stefanie Wolf Designs
90 Dukes County Avenue
Oak Bluffs (open daily in season and by appointment throughout the winter)