ARTIST PROFILE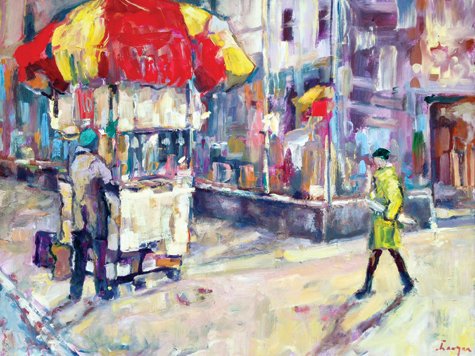 Observing + Painting

The Art of Traeger di Pietro
Profile by Amelia Smith
Traeger di Pietro's work is about play and discovery. He paints landscapes, animals, children and everyday life, and makes collages incorporating layers of meaning, one on top of the other. Canvases in various stages of completion lie stacked against his studio walls.

Traeger grew up in a working-class area of Swampscott, MA, where one of the family's neighbors was a fisherman. Traeger was fascinated by the nets and fishing gear strewn about the yard. He would often walk up the road to Fisherman's Beach to watch the commercial fishermen at work. These early influences spurred his lifelong fascination with fishermen, one of the frequent themes reoccurring in his work.

"I grew up looking at fishing boats," he says. "I can't imagine not living on the ocean. I get very inspired every time I see a fisherman in a boat."

In high school, Traeger played baseball, which led him to the University of New Hampshire, and from there to the University of Maine. He started off college splitting his energies between baseball and art. During college, Traeger's focus shifted from baseball to art. "I had some outstanding teachers and professors," he says. "They wouldn't tell you what to do or how to paint, they would only guide us, they would always say, "just keep painting." He's grateful that they encouraged experimentation. Traeger believes that if people feel the impulse to paint they should just do it, not to worry about whether or not they're doing it "right." He finds that many creative people feel intimidated, or self-conscious, about creating art, or that they're unwilling to start something because they haven't been taught exactly how to do it.

"If you love it, just create it, because there's no way you can fail" he says. "Art is about creating your vision. Maybe it's not perfect, but if that's your interpretation, then it's perfect." For him, ideas and inspiration take precedence. His playful, expressive approach to painting is backed by years of practice, and a deft technical ability is evident in his work. After graduating from college as a studio art major, Traeger came to Martha's Vineyard one summer. Fourteen years later, he's still here. By day, he drives a soda delivery truck, a job which takes him around the Island. "It's like getting paid to observe," he says. Simple glimpses of people in passing help him generate ideas for his paintings. "From the gesture of someone walking down the street, you can see how they're walking and almost what they're feeling," he says. Sometimes he photographs splotches on the pavement, or shapes in the trees. He sees shapes and hints of faces in the patterns of the bark and branches.

"When I'm driving the truck, I can see above everything," he says. His job allows him to view changing landscapes and people going about their daily lives, whether they're working or running their errands in the grocery store. "People don't see me, I'm just the delivery guy," he says. After work, he takes about an hour to shift gears and then heads down to his studio, where he paints late into the night.

"When I get home I don't waste any time thinking," he says. "I don't have time for that. I paint as long as I can. People have said I'm very prolific. The reason I paint so much is that I get so excited about the subject matter."

Traeger works on multiple canvases at any given time. When I visited, he had four small still wet landscape paintings he'd just started. He switched back and forth between those and several larger paintings, some further along in their evolution. One was a painting of his four-year-old niece carrying two stuffed toys. In another, a man in a suit danced through a cityscape. He had also painted the man in the suit before, directly on the studio wall, wheeling an ice cream cart with a rainbow on its side. The man in the suit is a theme in Traeger's work, an "Everyman" who's also a magician that brings happiness. Traeger says that the man represents anyone who works, anyone who fills a role. "We all wear different hats, but we're all equal," he says.

"I like to paint impressionistic landscapes in oil, which are more traditional and 'old school'. What you see is what you get," Traeger says. "Then I switch to mixed media, which is more contemporary and conceptual. These paintings bring up more questions – and curiosity to what the work actually means. It's great to be in both of these worlds."

In his mixed media art, Traeger uses newsprint, found stickers, and paper, "really anything that makes sense at the time," he says. "I'm delivering to the rear of stores so I usually see some pretty interesting things. I use old magazines, too. There's really no limit to what I will use, it just needs to feel right. I find there's always some symbolism in scraps of paper," he says. He puts them on the canvas and they get layered into the work. "As the piece builds, the relationships between the elements become more complex and interesting, but with more subtle nuance, until you only make the connection if you get up close to the painting and study it – really 'look' at it...or ask me what it means. Nobody will make the connection unless they were to really 'look' or to ask me. It's a way for me to bring my thoughts and ideas out and project something deeper than the actual painting itself. I also use charcoal, crayons, paint and more – basically anything that is archival and colorful."

Traeger works his day-job and paints year-round. "I'm always making new paintings," he says. "I like the pace of the Vineyard summer and the energy." In summer, he spends most of his time painting and getting pieces ready for galleries, while in the winter he is still painting, but also likes to travel. "Painting makes me feel better about everything. One of my main muses is observing everyday life, and seeing all the people while driving the truck. Sometimes he begins a painting then sets it aside for a while. "I start because I have an idea and I want to own it." He'll go back later to further develop the idea and finish the painting. "I've always experimented and just painted what I saw or what I felt. Anyone can paint technically, but for me it's about empathizing and putting myself in a situation where I can see both sides, whether it's a person or an object, like a boat. I empathize with my subject, I also love my subject. The important thing is to be passionate about your art."

Typically Traeger doesn't spend a lot of time trying to market his work. His paintings are shown at the North Water Street Gallery in Edgartown and the Field Gallery in West Tisbury, with a few paintings hanging at the Granary Gallery in the off-season. JCO's Place for Art in Los Gatos, California, shows his work and Traeger is finalizing an arrangment to show at a gallery in Boston. He also has his own website: www.traegerdipietro.com

"For now, I just want to create art, as much as I can," he says.

Last summer, Traeger collaborated on the Projected Painting Project with West Tisbury artist Ken Vincent. The two had been talking about a collaboration, possibly a mural. They asked if they could paint on the side wall of The Port Hunter Restaurant in Edgartown. That didn't happen due to town zoning laws, but together they came up with another idea: doing a painting and projecting it onto a public wall as people watched. Traeger described it as a combination of performance art and actual painting.

Projecting the painting, rather than painting it permanently onto a surface, opened up many more possibilities. The painters chose one of the largest white surfaces in town, the side of the Edgartown Lighthouse. A portrait of the Obamas was projected as they painted it. This public art performance was a way to raise awareness and funds for causes that they want to support. As of this writing, the original painting is still available at the Granary Gallery for a donation. Half of the proceeds will go to breast cancer research, and the other half will go to the Martha's Vineyard Public Charter School's art program.

"We knew we were going to get a lot of attention doing the event," Ken says. "It's a great vehicle to raise money and bring attention to causes." Ken and Traeger plan to continue their collaboration during the Martha's Vineyard Film Festival in March 2015 with other paintings and events scheduled for next summer. "As artists, we want to contribute and do something that really helps not only local, but global causes," Traeger says. "I want to connect with the bigger picture."

Traeger doesn't see the purpose in using other artists as a guide.

"I don't want to paint like anyone else. I like being really organic and gestural about the energy in my work. I don't borrow ideas or imagery from other artists because that belongs to them. "When I step up to the plate and start a painting I get caught up in the emotions of it, it has to be mine, my ideas, or it wouldn't feel right."

When Traeger was in college, he took his three-year-old nephew out for a pizza, and they both drew flowers on the napkins. "I made that my college thesis. We loved making those drawings, they weren't perfect, but perfect to us, I got a good feeling from that," he says.