DRAWING BOARD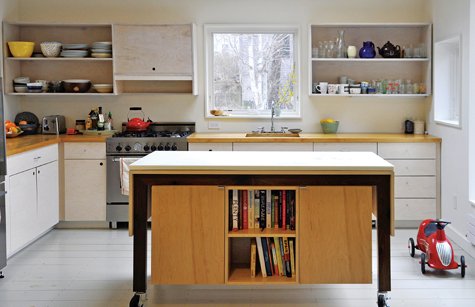 Constraint Yields Creativity

A Designer's Self-Made Kitchen
By Nina Ferry, Photography by Nick Waldman
Ever think think of building your own furniture, or adding a Design-Build custom kitchen onto your new house? For Nick Waldman, who has his Masters in Architecture from Rhode Island School of Design (RISD), these projects happen. Waldman says, "RISD teaches you how to design, it's about relationships. How does one piece relate to the other? It's the same with furniture and construction." Currently working for Breese Architects in Vineyard Haven, Waldman emerged on the Architecture and Design scene in 2007.
Initially working at a firm in Boston to garner his skills; Jeff Klug of Butz + Klug, became his mentor. Subsequently, he moved to Providence to go to RISD for graduate school and ended up working for HB LLC Design-Build, a small firm with "just four RISD guys doing custom fabrication and residential design," said Waldman. Working out of a full shop, welding and woodworking were done on site, giving them great control over projects—integrating design and installation.
InMarch of 2013, Nick and his wife Sarah purchased a 1924, 1,200 Sq. ft. Colonial-Cottage on Summer St. in Vineyard Haven. Although the house had character, it was in dire need of a new kitchen–a functional space. Working with a small budget of around $20,000, Waldman designed an addition and then collaborated with his father-in-law and Mike Larsen, his RISD classmate, to construct it. Although the project was fun, Waldman said it created stress because "the renovation started on weekends in April and finished by the end of August, the deadline being our second child–due in September. During the last two weeks, I was putting in 20 hour days - working full-time at Breese Architects, while painting and finishing the kitchen at night."
Anything except for a traditionalist, Waldman created the kitchen "as a modern box scabbed onto a traditional house." He said, "I designed it to look intentional, yet detailed in a way so doesn't look out-of-place. I like the idea of not trying to match what is already there. You shouldn't go backwards: move forward and make it interesting, while also respecting what's existing."
Preferring to work with a "simple pallet," Waldman used White Cedar Shiplap siding to blend "the box" with the Colonial-Cottage style. He and Larsen milled and routed the ends of each board to omit the need for corner boards, while using creative license to forego window trim. "By bringing the siding right up to the black window sashes, it reads like a hole punched into the side, rather than a framed window. It's a modern take on a traditional look, with a reveal in between each board to maintain clean, horizontal lines – a nod to the shingles of the rest of the house" says Waldman.
For him, working with constraints makes each project richer: breeding creativity and detailing. An important feature of the new 16ft x 10ft kitchen was ambient light to facilitate his wife Sarah's food blog, Two Blue Lemons. He said, "Light is huge. We wanted light from above to allow my wife to shoot photographs for her blog." Installing the largest skylight made by Velux, the 44in. x 45in. piece accents the wide windowsills and light-finish interior of the kitchen.
Buying most of his materials from Cottle's, Waldman used 2x10's to frame the space. Using the wide boards allowed for increased functionality with plumbing and insulation. The resulting deep sashes doubled as extra surface storage on the high windows, and a window seat for he and Sarah's two young boys, Dylan and Gray.
Use of simple materials allowed Waldman to save money, while giving the kitchen a designer-feel. The knob-less cabinets are made out of Baltic Birch Plywood, a sturdy 12-layer-solid-wood product coated with white wash and a poly-acrylic finish that doesn't need to be edge-banded. Each cabinet has a back-beveled hole routed into it and the standoff drawer-pulls, cobbled by Waldman, combine steel spacers and screws for a modern look.
Like all design-build projects, it was important to spend money where necessary. In this case, it was the windows, the range and the radiators. Installing all aluminum Marvin Ultimate clad windows and sleek Runtal Radiators, Waldman created a tight, well-lit space with efficient heating. The Bertazzoni Gas Range, having the look of a Viking or a Wolf Range, at half the price, is an Italian product, outfitted with only analog gauges and no moving parts. Waldman said, "We were lucky to get the one we wanted at such a good rate–it was the floor model at Crane Appliance in Vineyard Haven." Still an expensive fixture, it was necessary for Sarah's food blog and its sleek appearance accents the couple's new space.
Another great find was the one inch-thick, 300 lb. piece of Opaque White glass used to design and build the island. Passed onto Waldman from his previous firm in Boston, it was a perfect compliment to the gray-coated Knotty Pine floors and Butcher-Block counter tops, finished with Waterlox for durability. Building and conceptualizing the island around the glass by adding Maple Plywood, and a Walnut frame on Casters made it mobile, saving on electrical wiring because no outlet was required.
At 32 years old, Waldman is happy with his new kitchen. Eager to keep busy, he is always available for a construction project, commission piece, or a consultation. Contact him or view his work on his website:
nickwaldman.com
.