HOME PORTRAIT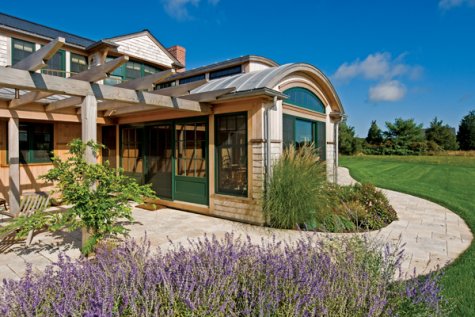 Architectural Designer Carole Hunter Turning Dreams Into Home Sweet Home
Profile by Moira C. Silva Photography by Gil Jacobs
With a chuckle, Carole Hunter, the principal of Hunter and Company, calls her self-designed home office a four-ring circus. Situated in the middle of a horse paddock and nestled in the woods of West Tisbury, her architectural office is tucked in the renovated hayloft of a horse barn. Three dogs play at her heels while an SUV pulls into the dirt driveway, kicking up a the dust.
Yet the purple and gold built-in desks lining the walls, the gabled ceiling and handcrafted windows set the perfect tone for efficiency, comfort and inspiration. Four-ring circus notwithstanding, Carole Hunter has the touch to transform spaces.
As a child growing up in a Pennsylvania mill town, Carole loved learning and the elements which would eventually combine into a career in architecture. In particular she enjoyed geometry, art, history and literature. But most of all, she has always enjoyed her horses. Although creating Hunter and Company was as natural to Carole as riding a horse, but she didn't discover her architectural and business talents until later in life.
Before washing ashore on the Vineyard, some of Carole's past jobs included working at a Pittsburgh steel mill, for the US Forest Service, on a dairy farm and at Moravian Pottery and Tile Works. She attended Penn State where she earned her B.S. in forestry and later, her M.S. in wood physics. All of these experiences have helped her with her architectural work. "When you're working on a dairy farm, you learn where the south side of the building is, how to keep the barn warm in the winter, how to be organized and efficient," Carole explains.
When Carole arrived on the Vineyard in 1984, she worked as a carpenter for Jack Gray and later did some contracting and property management. She began freelance work with several local architects, including Geoff Koper, and later worked for Hutker Architects, Inc.
Five years ago, she began Hunter and Company, a full service architectural design firm. Carole believes this is her final career, the one that best captures her past training and her current passion. The firm has designed projects of all scales to meet client's various needs, from small additions to grand manses. She explains, "I've been fortunate to have wonderful clients with varied tastes who have allowed me to do so many different things."
Carole continues to be fascinated by and grateful for the skills of the stonemasons, cabinetmakers, builders and other craftsmen who execute her designs into reality. "These relationships are built on honesty. We push each other and consequently, we've pulled off many challenges together, like installing wooden ceiling trusses after a roof was built," she explains. Once, while facing a looming deadline, Carole and her team were forced to begin construction and later move a hearthstone in through a living room window. No doubt Carole's sense of humor was a required tool in such predicaments.
Hunter and Company is equipped to do as much or as little of the project as a client desires. "I can work with people so they get more of what they want than what I want. I can work with any budget. I can do permitting through dinner service. This allows more people to have some advice on the design end and understand more about the possibilities," Carole explains. Sometimes, Carole finishes a home down to the interior furnishings and grocery delivery and other times, she may offer just a few consult hours.
Since Hunter and Company is not attached to a particular architectural movement or style, Carole works with clients to get the results they want. She believes this is what sets Hunter and Company apart. Carole seeks to design homes that suit the physical landscape and the internal landscape of people who inhabit her homes. Since so many styles can fit a space, she tries to help her clients envision their personal dream spaces. Carole also tries to employ green building principles by offering suggestions for saving energy, using recycled materials, creating efficient spaces and more.
For some clients, small touches make the difference. It could be as simple as surprising paint combinations that freshen up a bedroom or a redesign of a few windows to capitalize on views. In one home the open door to a windowless bathroom was the central focal point when coming up the main staircase. Carole suggested lowering a high towel bar and putting a vibrant print in its place. Once they changed the focal point in the bathroom, the entire space around it blossomed.
"There's nothing I love better than turning a sow's ear into a silk purse," is one of Carole's favorite lines. "Hiring an architect or designer does not have to be a luxury or cost a lot of money," Carole explains. "People have trepidation about change, but working with a design professional helps them to see the possibilities in their space, even the simplest shifts."
"I love bathrooms and kitchens. Although I don't spend much time in either, I adore working with these spaces," Carole shares with a laugh. In one bathroom renovation, Carole used black granite around a bathtub and complemented it with polished chrome fixtures. Adding warm woods and tile helped her to balance this space. The bathtub now has a window overlooking a lovely meadow. Her client had been collecting unusual, local stones for a few years. Every time she came home from the beach, she would drop some stones in a glass jar next to the front door. When she met with Carole, they decided to use them for her shower floor. "It's really fun to incorporate very personal things for people. Transforming that pokey little bathroom space now lets my client and her family spend some more time there, if that's their inclination," Carole explains.
More recently, a client approached Carole about designing a home with a few specific goals. He wanted to create a space large enough to suit his extended family, while including an existing structure. All the while, he wanted the new house to maintain a modest exterior.
Suiting the family meant including all generations in the plan by creating places for children to play, a first floor bedroom for a grandparent and areas for everyone to congregate. They decided to create three separate family quarters. Carole's design called for low, connecting roofs to create the illusion of a more modest cluster, which served to camouflage its 8,000 square feet. The long house creates rooms that allows them see a distance and feel airy and comfortable at the same time. "They wanted a cozy, warm, appealing feel, not cavernous and overwhelming," Carole explains.
After construction began around the existing house, hidden structural issues required its demolition. "Originally, we had part B and needed to make parts A and C fit; now we were re-designing mid-stream," Carole smiles, "Sometimes, you just have to work backwards. Having strong relationships with clients and craftsmen has allowed me to develop new plans when necessary and pull off these challenges."
They then collaborated on the dining room. The client envisioned a long room with windows on all sides and curved, wooden beams overhead. Working with Tim Bickford and drawing on her own expertise in wood physics, they created a truly custom look using douglas fir beams and cypress sheathing. Because wood does not naturally bend in such proportions, Tim sliced a huge beam into "flitches" that were then glued together to form each curved beam. Such was the exact space her clients had been seeking – a quiet room surrounded with natural light and graceful, arched ceiling beams. It's a room that draws everyone in their cross-generational summer home together.
The finished exterior look is so understated that this up-Island masterpiece seems to melt into the meadow. With a pleased client, was but one of several projects she has consulted with him on in a five-year period.
"I love doing the details that are a little more than average," Carole shares. She was excited to have an opportunity to explore this passion when another repeat client approached her about designing a small Island home. They love antiques, and were looking for efficiency and character. For their kitchen design, Carole included custom Shaker style cabinets and heartland appliances to give the home a rustic feel. Carole's design also called for a wooden library ladder leading up to a loft, which added a unique accent while offering practical access. A faux Shaker bureau opens into a closet, which is a sweet surprise and maximizes storage. While planning their small bathroom, she thought first about how to make the cabinets work for the room. She used the often ignored space around the window and above the toilet to continue the lines of the cabinets around the room.
Hunter and Company's expertise, imagination, flexibility and collaboration, and of course, Carole's sense of humor, has taken the firm a long way. As for what's next, Carole says, "Not as much as there used to be." Work has slowed down a little due to the current economic climate, but Carole remains positive. "I still have never advertised. I could, but it's all okay. Now, I have this garden," she continues, pointing beyond the horse paddock to her beds of peonies, roses, herbs and more. It's clear that Carole is someone who can make the best of things, and nothing could be a more essential quality in an architect.
www.hunterandcompany.biz