HOME PORTRAIT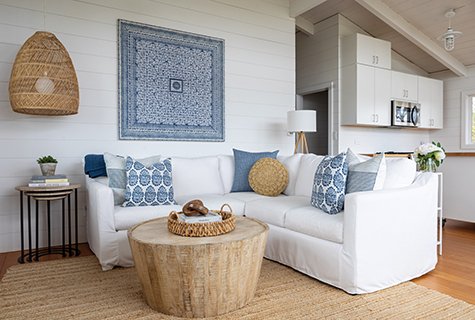 The Surf Shack on Pilot's Landing

The Innovative Range of Talent, from Unique to Chic, at Vineyard Decorators
By Allison Roberts
Aquinnah is full of rugged beauty and sands-wept dunes. It is home to the indigenous population of the Vineyard and residents who found a peaceful and secluded area to enjoy their Island home. "It's a very special place," says Sophia Brush Warren, Chief Operating Officer and Creative Director of Vineyard Decorators.
The homeowners of the Pilots Landing project approached Sophia to work with them on a restoration of a newly purchased 864 square foot surf shack in Aquinnah.
"When it comes to interior design, we would be remiss to not take into consideration the geography and landscape around the home," says Sophia. The Pilots Landing project honors the natural beauty of Aquinnah while still feeling true to the client's vision. As supporters of local business, the homeowners loved that Vineyard Decorators was a family business rooted in community.
Vineyard Decorators has always been a family business. The original founder, John Parker, who still works part time as the Master Upholstery Craftsman, built the business in the 1970s before selling it to Sophia's brother, Whitney Brush, in the early 2000's. After buying the business Whitney recruited his sister Sophia to move home from Los Angeles to help lead the re-branding and expansion of the company.
Today, Vineyard Decorators is a bustling business, providing interior design services, custom window treatments, and custom upholstery services. Their furniture showroom specializes in fully furnishing a house from top to bottom using the in-stock offerings on expedited timelines.
Interior Designer Nina Hitchen started working for Vineyard Decorators in 2016 and was instrumental in spearheading the growth of the Interior Design Department.
Before going to design school, Nina owned a construction business. Her 10 years of building experience gives her a unique and invaluable perspective when executing a new build and communicating with clients and builders.
"When I was on my own, I felt a little lonely working at home," Nina said. "Here, we collaborate - bounce ideas off one another, brainstorm together, and support each other. It's really helpful to get other people's insights and suggestions and so great not to be working in a bubble."
Unlike many interior design companies, Vineyard Decorators' Interior Design Department is located in-house.
The team is housed in Vineyard Decorators' 20,000 square foot furniture showroom, located on Airport Road in Vineyard Haven. With four interior designers - Sophia an honorary fifth - they share an open room, allowing for ample opportunities to collaborate while working on current and upcoming projects.
The Interior Design team provides a wide range of services to clients throughout the East Coast, including renovation and new construction, as well as furniture selection and styling. Their goal is to create a cohesive space, weaving together form and function, and they do this by meticulously considering every detail.
"We're often designing second homes for clients," Nina said. "What's fun about this is that the client is sometimes seeking something very different from their main residence. They're open to playing a bit, exploring less traditional elements and utilizing color in different ways."
Often Nina and Sophia will spend an entire day with a client, gathering as much information as possible. "We try to understand the psychology of the client. We ask dozens of questions, like what are your hobbies? Do you like open spaces or do you want separate rooms for more privacy? We even take into consideration details like how tall the client is and if they're right or left-handed," Sophia explained. "These details make a big difference in creating a space that meets the unique needs of that particular client. Through this process we learn what you need from us as a design partner, and ultimately what you need from your home."
Nina also collects information about the space itself – number of windows, basic measurements, lighting, wall space or lack thereof, size of the residence, the landscape surrounding the house, etc. She takes into consideration the sustainability of materials whenever possible as well, utilizing natural resources like rattan, which can be grown and gathered within a few years unlike many hardwoods which can take up to 30 years. Nina then takes all this information back to the studio and comes up with a plan.
Depending on the scope of the job, the design and implementation process can vary greatly. "Ideally, we're brought in well before construction starts, or, even better, when the architectural plans are being developed - in which case it can take a few years from beginning to end. But other projects are fast-tracked, because we're brought in last minute, just as (or even after) construction starts," Nina explained.
A wonderful example of a successful second-home remodel by Vineyard Decorators is their Pilot's Landing project, a Mid-Century Modern, 864 square foot, 3-bedrooms/1-bath home in Aquinnah. "Pilot's Landing really honors the Island's authenticity," Sophia explained. "The owners are environmentally minded and really wanted to keep the integrity of the existing home, landscape, and community." Originally built in 1969 the home hadn't been updated over the years. It was like stepping into a time capsule.
The owners of this tiny but lovely home hired Vineyard Decorators to create a welcoming coastal-living get-a-way, while also helping them best utilize the small space for themselves and their three grown children. Drawing inspiration from the north shore, the cliffs and culture of the island, Vineyard Decorators brought the tranquility of the beach into this little surf shack. After all there are few things in the world that conjure peace quite like the sound of waves crashing on the shore.
The design is influenced by the rich coastal tones of the deep blue ocean, washed and worn driftwood gathered on the beach and textures of dune grass. The neutral tones throughout the home along with blue palette blend the outdoors into the interiors seamlessly. Natural textures of grass, rattan and jute are staples in Vineyard Decorators design aesthetic.
Nina and Sophia succeeded in maximizing the space and sleeping capacity by adding built in twin beds in the boy's room, aqueen/twin bunk bed in the daughter's room, built-in cupboards and bookshelves for storage space throughout, and custom furniture and décor fit to scale. The original paneled rooms were painted white, brightening the space immensely, and making the rooms appear larger. The wood accent tables are from Indonesia, sourced by Whitney Brush from his travels. Woven jute rugs can be found throughout the house as well as many Mid Century Modern elements. New light fixtures were installed, as well as a bright new kitchen with white cabinets. Shiplap was added to the walls and ceilings, and the color scheme in the living room was centered around a textile wall hanging from India that the client's Dad had given her. Outside, whimsical navy and orange Adirondack chairs surround the fire pit on the patio, while a cozy cream-colored couch, with blue throw pillows, provides a comfortable place to relax while taking-in the magnificent view.
The final product is a compact but comfortable surf shack that evokes the feeling of a relaxed pair of denims, effortless yet put together. After a long day at the beach returning with sandy feet, the bleached floors are a warm welcome to home. It wouldn't be Vineyard living without an outdoor shower, a favorite ritual of the homeowners before sitting on their north shore porch watching the sunset over the coastline. Everything just fits. Traditions and little pleasures make a house feel more like a home.
Up next for Sophia and Nina, is a playful and colorful vintage cottage renovation in Oak Bluffs, with Sullivan Associates and Perdomo Construction. They will also be collaborating with architect Patrick Ahern, landscape architect Dan Gordon, and general contractor Whitla Brothers on an addition and renovation of a home off island in Wellesley, MA. Lastly, they will be tackling a historical home on Williams Street in Vineyard Haven, working with Tristian Atwood of Martha's Vineyard Engineering and Design, and Todd Debettencourt of TD Builders.
Overall, Sophia and Nina strive to honor the feel of the Island by incorporating elements that reflect the spectacular landscape, while also respecting the unique personalities of each client. "Instead of chasing trends, we're inspired by our clients. We always learn something from them and gain new perspectives," Sophia said.
"Seeing things come together is really exhilarating," Nina says. "Reveals are so much fun. You get to see the client see everything finished for the first time, and that's when they understand the level of detail and how everything comes together. It's all so worth it in the end."
To find out more about Vineyard Decorators, Web: vineyarddecorators.com, e-mail: sophia@vineyarddecorators.com, Instagram: @vineyarddecorators, 508.693.9197, 35 Airport Rd, Vineyard Haven, MA