GARDENSCAPES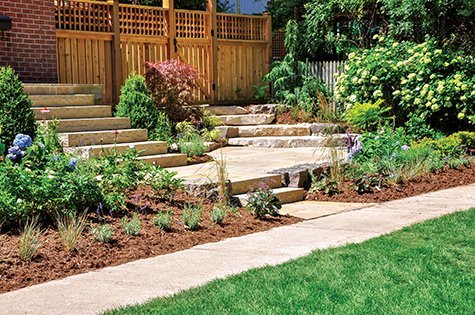 Infinity Landscaping

For Two Island Entrepreneurs, Business is Blooming.
By Tessa Permar
It began with a lawn full of leaves, as it so often does on Martha's Vineyard. It began with a leafy lawn that needed clearing, a client looking for landscaping help, and two friends with an incredible breadth of skills and experience and a desire to build something new together. Russhae Hall with his business partner Sanjae Garwood, built Infinity Landscaping, Inc. literally from the ground up. Using only their hands and minds, they created a company whose name is becoming synonymous around the island with dependability, trustworthiness, and care. "We have a high standard of work," Hall shares. "We never miss a point." It is this rigorous work ethic combined with patience, transparency, and a clear communication style that continues to bring clients to Infinity.
Infinity Landscaping Inc. provides a wide range of services to the towns of Vineyard Haven, Edgartown, Oak Bluffs, West Tisbury, and Chilmark. They offer outdoor property maintenance, plantings and maintenance of shrubs, lawns, and gardens, irrigation services from installation to monitoring and repairs, pest control, and tree trimming and removal. In addition to softscape, they also specialize in the design and installation of beautiful hardscapes, including pavers, patios, walkways, driveways, barbecues, and other outdoor spaces. Their website and social media depict Infinity's signature crisp lines, perfect edges, and rich vibrant colors. This attention to detail is part of their process from start to finish.
With their range of services and the quality of their work, Infinity Landscaping Inc. could be one of the island's most established names in landscaping, and no doubt they will be. However, the company is surprisingly young. Before they even imagined a joint business, Russhae Hall and Sanjae Garwood were J1 visa students from Jamaica working as dishwashers and landscapers from Martha's Vineyard. They connected while working together as landscapers back in 2017 and became fast friends. After a year of working together, Hall ventured off to work at Landscope where he honed his skills for the next five years.
While working at their respective companies, Hall's landlord asked if he'd consider doing some leaf cleanup and maintenance on the landlord's other properties. Hall and Garwood agreed. They continued to stretch the sunlight after their day jobs to pick up more work. They worked straight through their weekends. They designed a logo and printed some business cards, and word began to spread. For the next three or four years, Hall and Garwood worked and saved, adding a website and some merchandise to their informal but expanding business plan. Finally, they pooled their savings to purchase a pickup truck.
In 2022, with their freshly-decaled work truck, "it was time to step this thing up a notch" Hall recalls. They revamped Infinity Landscaping Inc's logo, social media pages, and merchandise. They completely redesigned their website. They connected with the Chamber of Commerce and became honorary Sharks sponsors as well as a featured partner of "the base magazine" for Wallace & CO. Sotheby's International Realty. Hall has taken on management of the marketing, accounting and payroll, as well as developing proposals whilst Garwood takes care of interfacing with clients, estimating and managing the work onsite. As so many business-owners on Martha's Vineyard know, it is a mammoth and momentous stage in the process.
One of Hall's and Garwood's biggest strengths as well as one of the core values of his business is connecting with people. They attribute much of their growth in the field of landscaping to their strong education and communication background. Hall explains, "By profession, I am an architect and also a teacher and my partner [Garwood] is an engineer." Not only do they have the vision, organization, and expertise needed to create impeccable outdoorscapes, but they know how to establish sound relationships with staff, contractors, and clients. "We get to meet so many people," Hall shares. Perhaps this emphasis on communication is why clients consistently describe Infinity Landscaping Inc. as dependable, thorough, honest, and fair.
Hall emphasizes the importance of providing complete proposals for clients no matter the size and scale of the project. He shares that clients deciding between companies are often ultimately swayed by Infinity Landscaping Inc's proposals which include itemized lists, fees, and comprehensive details for the project. Infinity meets the deadlines outlined in the proposal and delivers a meticulous herringbone brick path, lush sprawling lawn, or blooming front garden, and word spreads.
"Our goals are to exceed customer expectations and consistently deliver client satisfaction."
While their elevated quality of work is apparent, and business is expanding, Hall remains humble and curious about the process. "Every year, there is some sort of growth," he explains. "Sometimes it's businesswise, sometimes learning something new." Through Infinity Landscaping Inc, Russhae Hall and Sanjae Garwood share their humility and their passion for bringing beauty and artful order into people's lives on Martha's Vineyard.
For more information or to contact Infinity Landscaping, Visit: infinitylandscapingmvy.com, E-mail: infinitylandscapingMVY@gmail.com, Phone: (508) 333-1071, They're on Facebook & Instagram