HEALTH + FITNESS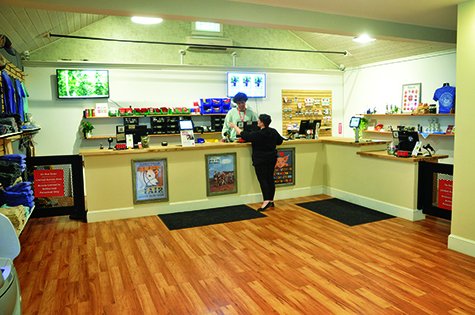 Fine Fettle

The Island's Medical+Adult Use Cannabis Dispensary
By Kara Goldfarb
Fine Fettle is a medical and adult-use cannabis dispensary in West Tisbury that opened on Martha's Vineyard in the summer of 2021.
"Our whole thing is about providing a wholesome down-to-earth experience within cannabis and helping people find the right solution for their needs," explains Amanda Notarianni, Fine Fettle's Retail General Manager. That includes creating a welcoming environment, superior customer service, and a knowledgeable team.
Being the only cannabis cultivation facility on the Island comes with a certain responsibility. While some locals were anxious to have this service brought to the Island, others were more skeptical. Some had concerns over Fine Fettle being a Connecticut-based company. Others weren't sure what types of people the dispensary would attract.
Young cleared up a few of those concerns. "From an economy standpoint, having the cultivation on the Island employs a number of people," Young says, stating that a majority of the employees are lifelong or year-round residents. Additionally, Greg Rubick, Fine Fettle's Cultivation General Manager, is a native Islander. Rubick places a big emphasis on community camaraderie, ensuring that the fabric of the island stays intact.
There is also the sustainability element. "We're literally growing, harvesting, processing, packaging a few miles down the road in West Tisbury and driving it right to the store," Rubick says. That means a very small carbon footprint, as well as a product that is incredibly fresh."We turn the inventory very frequently and they bring in new products and new production every week to the store," Rubick adds.
Though the facility is a relatively small one, it's extremely efficient. The team makes use of every square foot in the building. In addition to the core menu and favorites, Fine Fettle will be introducing new products throughout the summer. Most recently, they've also just rolled out a line of tinctures.
Something else in the works: transitioning the West Tisbury store into a more accessible community gathering space. The goal is to create weekly events during the summer and ideally through the fall where local small businesses will be invited to do pop-ups. From artists, to bakers, to farmers. "Whatever small businesses are interested in coming over and kind of make it more of a fun festival type of idea," says Notarianni.
As for concerns by Islanders unsure of the kind of clientele a dispensary would attract, Notarianni says she thinks one of the biggest misconceptions is who the consumer of cannabis is. As she puts it, "Cannabis is such an interesting industry because it's all walks of life." Age, demographic, income— there is such diversity because it serves so many different needs. "Whether it's an alternative to prescription medicines, or for people who are maybe suffering from anxiety or depression, or they just have localized pain and want to use a cream."
For those interested in dipping their toe into the cannabis pool, but don't know where to start, Notarianni simply suggests coming in and asking. Crediting the dedicated team and budtenders working at Fine Fettle, a cannabis-curious person should feel at ease coming by and sharing what they're looking to accomplish. As Notarianni mentions, the crew "really takes the time to talk to customers and patients to really understand kind of where they're coming from and help find the right solution."
For more information about Fine Fettle visit their website: finefettle.com. The Dispensary is located: 510 State Rd., West Tisbury, E-mail at: mv@finefettle.com, or by phone at 508-687-0131