SCENE + SEEN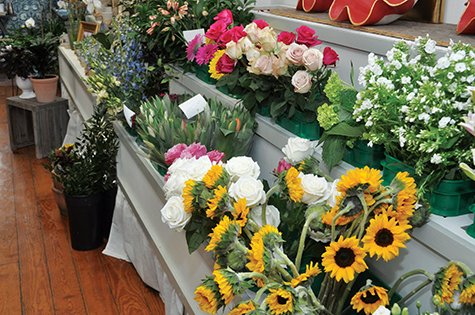 Juniper & Co.

A Branch of Donaroma's, A One Stop Shop for Flowers, Local Art and More.
By Kara Goldfarb
Aubrey Sirois worked as a florist for Donaroma's for six years before she took the plunge and started her own floral company, Aubrey Maria Designs, focused on event florals. In February 2020 she signed a lease for a location to do events out of. In March 2020, the pandemic hit.
"We lost all of our weddings," Sirois says. She found herself in a position where she had to pivot and get creative. After the pandemic, Donaroma's purchased Juniper which consisted of the store and the event floral company.
Not only does Juniper offer a large arrangement of flowers, a full flower bar, and fresh plants and shrubs, it also has a huge curated selection of items from local artists–for instance, JK design clay-based mugs–as well as items that you wouldn't be able to find on Island otherwise, like Louis Sherry gourmet chocolates from New York City. You can also find painters, photographers, gift baskets. "And then on top of that we have beautifully curated purchased items from the actual big trade shows in Atlanta and Vegas," Sirois says.
"People either love that or hate that," Sirois says in regard to the mix of local and outsourced items. "but the store has so much to offer."
Now that things have returned to a more normal state after the pandemic, events are taking center stage once again. "We still make arrangements in our design studio to source for the store, but we really focus heavily on our weddings," she explains.
Combined with her six years at Donaromas, Sirois has been doing weddings for over a decade, totaling over 800 weddings. So she likes to keep a fresh perspective when it comes to each event. "It's important to remember every wedding is a special event celebrating the couple's love and commitment. We really like get to know our couples and their families," she says. Working in this industry and particularly on the Island, where weddings are ubiquitous, it can be easy to get into a rut. Remembering that each wedding is singularly unique and that every flower selection is different helps to ensure that sense of freshness and excitement.
The final piece of the puzzle in this continuously growing shop and floral company is a focus on sustainability. Because the floral industry isn't necessarily the most sustainable industry all the time, Sirois is working with Donaromas, who are making a conscious effort to make it more sustainable. "It's been really fun partnering with them, starting to grow flowers and all of that."
Compared to that initial lease signing in February 2020, things are looking brighter than ever for Juniper and Aubrey Maria Designs. The goal is continued growth. Considering how much has been achieved in these past three years, it seems that the goal is right on track.
JUNIPER & CO. ~ A BRANCH OF DONAROMAS 18 North Summer Street, Edgartown Email: events@donaromas.com, Phone: 508-939-4098, www.junipermv.com, On Instagram & Facebook