ARTIST PROFILE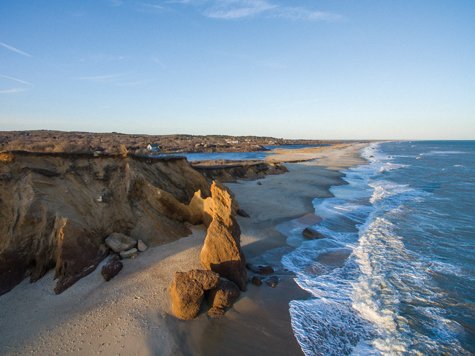 Above It All

Three Drone Photographers Take Their Vision to New Heights
Denys Wortman
Denys Wortman is a photo enthusiast, former Tisbury selectman and pilot living in Vineyard Haven. He's also Board member of The Martha's Vineyard Museum.
When asked how he got into drone photography he says, "Photography has long been a hobby and passion of mine and I have been a licensed pilot since I was 19. Drone photography is a great way to combine both passions–now that I have given up actual flying–after undergoing bypass surgery 10 years ago. Looking down from above puts a new prospective on how one sees our Island and our world. When I was actively flying I always enjoyed taking friends up and showing them an incredible view from above. I am now able to do that with my photographs."
One of his favorite drone photos (shown here opposite far left) is one he took of his wife last summer while they were at Sebec Lake in Maine. "Marilyn was out in our 100 year old rowing canoe and I photographed her from directly above. I yelled "Look up" and when she did I took the picture. When we retuned to the Vineyard I showed a few friends the picture and they encouraged me to enter it in the Ag Fair photo exhibit and darn if it didn't win a blue ribbon."
For more information contact Denys at
dwortman8@gmail.com
.
Michael Blanchard
Michael Blanchard has been photographing Martha's Vineyard for the last six years and is the owner of the Crossroads Gallery in Oak Bluffs. Michael is an author and writer, and attaches words to images on social media to inspire individuals with addictions to seek help and pursue recovery. "Michael Blanchard Inspirational Photography" on Facebook, has over 50,000 fans and serves to connect people seeking help, using the power of imagery.
When asked how he got into drone photography he says, "I have the emotional brain of a 4 year old and it seemed like a really cool thing to do!!! I have a child-like curiosity and wanted to see Martha's Vineyard from an entirely new perspective. I also like to play with cool toys!! ." He intends to get into videography and make short clips that can be used to motivate people with mental health and substance use issues.
One of his best drone photography stories goes like this: "On my very first flight, I crashed and completely dismembered my drone!! But before I crashed (right next to a horse), I recorded a 2-minute video as I flew over Herring Creek Farm. I posted the video on Facebook, kind of as a joke. Three weeks later, I received a call from Paul Singer's assistant in Manhattan asking if they could buy the film? Mr. Singer had just purchased Herring Creek Farm and wanted a video that showed the parcel before the new construction was started. Lesson learned – never throw away a film, even when recorded while crashing!"
For more information contact: Michael R. Blanchard, Photographer & Owner of The Crossroads Gallery
57 Circuit Ave • OB •
blanchardphotomv.com
, www.facebook.com/blanchardphoto
mblanch601@mac.com
• 617-448-3934
David Welch
David is a full-time professional commercial, editorial and fine art photographer as well as a FAA licensed remote pilot (sUAS). He started his commercial photography business in 2006 on the Vineyard and began offering drone photography and video services in 2015.
"I got into drone photography while working on the Island's HGTV Dream Home project back in 2014," David says, "they hired a film crew from Utah and I was able to assist them as they used their drone to film various places on the Vineyard which help the filmmakers get supplemental footage as a background 'portrait' of the Island. After that, I was hooked and purchased two drones the following season."
Along with his still photography business he now offers aerial drone photography and video services including drone surveying, mapping and modeling services.
"I've had no mishaps to speak of yet," he laughs, "I try to be super careful and abide by all FAA regulations. I call the MVY airport tower for ATC (air traffic control) flight approval whenever I'm planning to fly in Class D airspace (all subject to ATC clearance), which is a over a large portion of the Island.
For more information or to contact David Welch:
mail@dwpmv.com
;
dwpmv.com
; instagram: @leftfork or @dwpmv, 508-939-3438