ARTIST PROFILE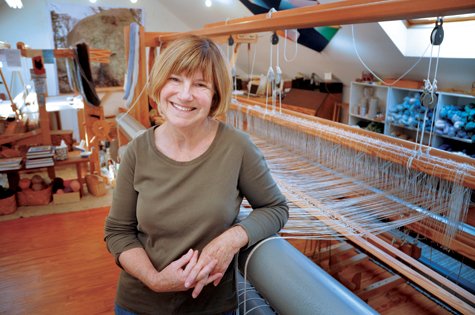 Tradition

The Natural World is Woven into the Tapestries of Islander Julia Mitchell
By Gwyn McAllister Photography by Gary Mirando
Tapestry artist Julia Mitchell uses a loom and thread the way a painter would use canvas and paint. During her time in high school, Ms. Mitchell notes, "I started out wanting to make art and this is the medium I learned. I moved from drawing straight into weaving."
One look at Ms. Mitchell's work makes it clear that there's a lot more to her beautiful pieces than simple craft. She takes advantage of the texture that weaving affords, the slow painstaking process that allows her to immerse herself fully in the work, and the subtlety in color and reflectivity that can be achieved by using a variety of types of thread.
Her large scale tapestries combine color, form and composition with an artist's eye. Her subjects tend towards nature and antiquity. "As tepestry has caught on with weavers most poeple who do it, do it because they like to weave." says Ms. Mitchell. "I do it because I like to make art."
An ongoing series of Ms. Mitchell's depicts images inspired by cave paintings. In one piece - bulbous bulls with delicate legs intersect with a parade of elk. Hieroglyph style symbols punctuate the scene. While not a direct represen-tation of actual cave paintings, the series captures the look and the mystical quality of prehistoric artwork.
Oneof the reasons that Ms. Mitchell chose that particular subject is that it lends itself well to her medium. She finds a similarity in her craft to the work of ancient artists. "I think tapestry is such a great medium for interpreting those distressed surfaces," she says. "The rock surface is three dimensional and they used that to infuse the animals with life. The creatures on those walls are so animated. It's just incredible what people were able to accomplish using torches and raw pigments. I was interested in transferring that idea to my work. It's sort of a time play thing for me."
Although she also has a series on ancient Roman wall paintings, nature has generally provided inspiration for Ms. Mitchell. On her website she writes, "My subjects are from the natural world and concern the effects of wind, water, light, and shadow over time. I try to show the beauty that surrounds us every day, whether we live in cities or suburbs or surrounded by meadows. My goal with every tapestry is to reveal my subjects' inner essence."
At her studio, on a beautifully landscaped property, surrounded by woods in West Tisbury's Indian Hill, Ms. Mitchell took time out from her work to talk about her inspiration and her process.
"I'm just fascinated with the way things grow and the way things react with each other in the physical world," she says. "What nature is capable of is just miraculous to me. The beauty of nature takes my breath away every single day."
Ms. Mitchell uses the uneven texture of tapestry to capture the look of things like tree trunks, grassy marshes, sand, clouds and rocks. One of her latest interests is erratics – glacial boulders.
Recently she has begun a series of images of iconic Vineyard rocks "I've become really interested in erratic granite boulders," she says. "There are a lot of rocks on the Vineyard that are named – big freestanding boulders that the glacier carried along with it and deposited."
In her sunny second story studio, located in a barn like building on her property, hangs an enlarged photo of a craggy, lichen covered boulder named Signal Rock. "Native Americans used to send smoke signals from the top of that rock," says the artist, explaining the name. "We used to have picnics on top of it."
Ms. Mitchell begins the process by sketching the image onto paper that is then attached like a pattern underneath the work surface of her loom. This preparatory blueprint is called a cartoon. However, the drawing just serves as a place keeper. The process itself involves a lot of creativity. Ms. Mitchell interprets the image, adding details as she goes, and creates variegations in the color by using three to five threads bundled or sometimes twisted together – in the same way that a painter would mix his colors.
"Each bundle is a mixture of silk and linen and wool," Ms. Mitchell explains. "I get this wonderful combination of color and luminosity. You can just really play around with shadow and light. You can lay it in flat or you can twist it. By doing that I can get a ton of variety in the texture and nubblieness of the lichen."
The boulders are just so old and so permanent," she says. "I like that they have living things growing on them. It's like an entire ecosystem."
It's not surprising that Ms. Mitchell feels an affinity with the past. The art of tapestry goes back as far as the 3rd century BC and tapestries were an integral decorative element in palaces and castles all over Europe during the the 14th, 15th, 16th and 17th centuries, and beyond. The labor intensive nature of the work made tapestries very valuable–a sign of
great wealth.
The process today is almost identical to that used for hundreds of years. A wooden loom is prepped by securing a series of vertical threads from top to bottom. These will serve as the form over which the design will be woven. This structural basis is called the warp and does not show at all in the finished product, unlike most fabric weaving where both the vertical and horizontal lines are visible.
The horizontal threads – the weft – are interlaced into the warp to create the image. It's a time consuming process where an image is built up almost in the way that a pointillist painting is created through tiny steps. Ms. Mitchell considers a half inch of tapestry in an eight hour day, good output. "It's extremely slow and infinitesimally fine," she says.
"As a weaver I choose forms that particularly lend themselves to being woven," she says. I limit myself to shapes that lay themselves in naturally. I'm actually building the structure of the object while I'm making the image. The image is the structure. I weave subject and style. It's not a painterly style. It really is a different look. You can do certain things with it to get effects of a painting, but that looks stilted to me"
"In the baroque period they tried to transcend the limits of tapestry," she adds. "The work became more and more painterly. I thought it lost a lot. At that point - why not just paint the image?"
"William Morris, a 19th Century English textile designer, poet, novelist, and socialist activist, was associated with the British Arts and Crafts Movement. He was a major contributor to the revival of traditional British textile arts and methods of production. He was partly responsible for revitalizing the art of tapestry. Now its very popular again. People are more cognizant of trying to weave work that is distinctly designed for tapestry. Not for painting."
Many of Ms. Mitchell's designs incorporate linear images. Images from a series called Edge of the Pond features tall grasses reflected in still waters. Trees and other plants make frequent appearances.
Not sticking precisely to a blueprint allows the artist to exercise her creativity. That's what keeps her engaged though she generally puts in long days. "There's a lot of improvisation that happens within certain constraints," she says. "Discovery is what really keeps the process interesting. Often I put a couple of colors together and the back hairs just stand up on my neck. I always make a note and a clipping. I document everything." The process also requires a lot of calculation and preparation. "Tapestry is very highly technical," says the artist.
Ms. Mitchell has two looms in her 600 square foot studio and is usually working on a rug and a tapestry simultaneously. The rug loom is massive –more than eleven feet wide. On a recent visit she demonstrated the process of tapestry weaving with a seaweed themed rug in process. She has a layout pinned underneath. For each row she interlaces the appropriate colored threads–made from Swedish cow hair weaving yarn–through the weft linen warp. Then she lowers a very heavy wooden bar that sets the work in place, before raising it mechanically to start on a new row.
The process of creating the warp is called dressing the loom. "It takes forever," says Ms. Mitchell. "It's very exacting. You have to calculate it. This becomes the skeleton. The whole frame is here to keep it under tension."
The process requires physical as well as mental effort. "It's very hard, demanding work," says the artist. "I'm on my feet most of the time. It's especially hard on the back. I get very tired. I go to a chiropractor every week."
Ms. Mitchell comes from an artistic family. Her mother was a painter. Her father was a woodworker, wood sculptor and furniture maker. Nature and art played a large part in Ms. Mitchell's upbringing. "Our house was full of Japanese prints, netsukes, and fabrics, and my earliest memories of these still influence my view of what is beautiful," she writes in her artist's statement.
After spending many summers on the Vineyard, the family moved full time, when Ms. Mitchell was 4, into the Island home that has been in the family for four generations. Ms. Mitchell recalls days often exploring the woods and
fields of West Tisbury.
She attended a private high school in Western Massachusetts where she was introduced to the craft of weaving. She fell in love with the process and was soon experimenting with designs. "I sort of went off in my own direction," she says. "At first I was weaving landscapes and rocks and eggs and birds. I thought "aren't I clever." Then I figured out that it was actually tapestry that I was doing."
Ms. Mitchell attended the California College of Arts and Crafts where she studied under Trude Guermonprez and then continued her studies at various craft institutions.
She has developed a distinctive style which, at times, emulates Japanese prints with their simplicity, serenity and an honoring of nature. The artist has made a name for herself in the tapestry world – showing her work in numerous museums and galleries across the country. On the Vineyard she has been represented by the the former Etherington Fine Art, the Shaw Cramer Gallery in Vineyard Haven and, more recently the A Gallery in Oak Bluffs.
It's on the Island that she continues to find inspiration in the landscape. Her artist statement elaborates on her mission.
"I create my work for its own sake, with the underlying message: 'Hey! Wake up, people! Our world is so fragile, and understanding and preserving it is very, very necessary to the human spirit."
For more information on Julia Mitchell: Web:
juliamitchelltapestry.com
, E-mail:
jmtapestry@mac.com
For the A Gallery, Oak Bluffs:
agallerymv.com