CUISINE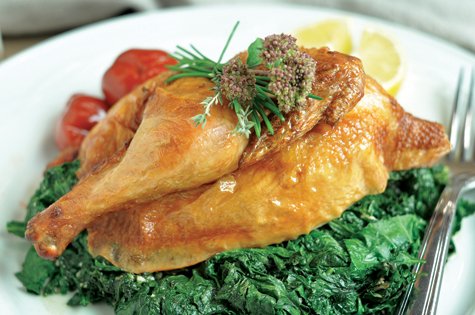 The Larder and Scottish Bakehouse

This Joint Venture is a Gift That Keeps on Giving
By Lisa Belcastro Photography by Charlie Utz
So ideas are, quite simply, great. When Jefferson Munroe of The GOOD Farm and Daniele Barrick of Scottish Bakehouse discussed a joint venture, Island chefs, bakers, and residents were gifted with The Larder. The Larder is part commercial kitchen, part specialty store, part butcher shop, and part gourmet farm stand. "It's a culinary playground," said Jefferson, who moved to Martha's Vineyard in 2007 and opened The Good Farm in 2010.

Imagine the laughter of children on playgrounds and the joy on their faces, and you'll have a grasp of the environment and energy at The Larder in Vineyard Haven. "The Larder is so much fun. I wanted to remind myself of the fun in food," said Daniele, who purchased Scottish Bakehouse in 2005 after working at Art Cliff Diner and Bongo.

The GOOD Farm is located on State Road across from Scottish Bakehouse, which made it easy for an organic poultry farmer and a restaurant owner to connect. Jefferson had earned a reputation for raising fantastic poultry, while Daniele was famous for her fresh to-go meals and pastries. Neither needed a new venture, but they both had dreams.

"Jefferson and I talked. We dreamed out loud. We came close to acquiring one building, then it didn't work out and we dropped the topic. We picked up the conversation again months later and heard about a new listing. Jefferson said, 'let's just go look at it.' We went. We both looked at each other and said 'we have to do this.'"

Jefferson and Daniele bought 342 State Road in the fall of 2015. Their vision was fairly simple: a commercial kitchen to create and a retail space to sell. "Daniele and I purposefully did not have a clear vision of what we wanted so that it could organically grow."

And grow it has. In addition to Daniele's catering for Scottish Bakehouse and Jefferson's creations – soups, broths, brined chickens, and more – that he sells in retail section, The Larder now rents out their kitchen to bakers, popsicle makers, kombucha creators, and private chefs.

Every aspect of The Larder has been well received by Islanders and tourists, but the best part for Daniele and Jefferson may be offering pop-up dinners. "I was dreaming of having a dinner restaurant," said Daniele.

Daniele presented an Indian pop-up in June and sold out in two hours. She's offering another Indian pop-up in November, and is "toying with a real Italian pop-up." Jefferson hosted a taco pop-up in August and a turkey dinner pop-up in October. "I got into farming for my stomach because I love eating so much. I also love to cook," said Jefferson.

If Jefferson ever decides to give up raising chickens, he should become a chef. His Chicken Tagine and Potato-Turnip Gratin are so good I'd be willing to give up dessert, even the very best chocolate, for another serving of the main course.

Jefferson has shared four recipes with us. His special brine recipe is easy and straightforward. It's not unusual for Jefferson to brine a chicken for two or three days. "The longer they're in there, the more tender the bird," he said. Whether you brine for twelve hours or three days, be sure to take your chicken out of the brine at least three hours before roasting.

When asked about his roast chicken, Jefferson said, "I roast a chicken pretty close to how Julia Child did, except I cook it at 400 degrees all the way through." And like Julia Child, Jefferson does a lot of basting, using either butter, chicken fat, or olive oil.

You can serve the roast chicken with Daniele's Sautéed Kale. Daniele gave us a few tips to perfect this "quick and awesome" recipe. First, cut the kale before you wash it. "The kale needs a little water to it." Then be sure your pan is "hot, hot, hot," before you put the kale in because you "want to hear the kale sizzle when it hits the pan."

While I love roast chicken, I'm torn between the Moroccan Chicken Tagine or the Potato-Turnip Gratin as my favorite. Fortunately, I don't have to choose and we can all enjoy these great recipes.

Jefferson recommends using drumsticks for the tagine. "They're inexpensive, easy to portion out, and they release so much gelatin when cooking that the dish is really rich without being overly fatty."
A typical tagine recipe calls for browning the chicken first. Jefferson prefers to roast the drumsticks instead. "Roasting speeds things up."

I'm all for speeding up the production of this delicious meal! And equally enthusiastic about making Jefferson's Potato-Turnip Gratin. He suggested using orange turnips instead of white ones for the color they'll add to finished product.

The gratin has no diary in it, although you can use butter instead of chicken fat (schmaltz) if you prefer. "Using a flavorful stock and good chicken fat gives great flavor. They combine into this wonderfully thick sauce," said Jefferson, who added, "Once the potatoes are soft, crank up the oven heat to make the top crispy."

When you're planning out menus with Jefferson's chickens, we've got three yummy desserts to top off a great meal.

Daniele, who has more loved desserts at the Scottish Bakehouse then we can list in this space, gave us their frangipani tart and the chocolate nut tart. "We don't use a lot of white sugar at the Bakehouse. We use maple syrup in the chocolate nut tart. You only need a sliver it's so good."

The secret to both tart recipes is the crust, of course. All crusts at the Bakehouse are hand-pressed. So roll up your sleeves, and press on. Be sure your butter is cold. "Cold, really cold," said Daniele. "Cut it, and then put it back in the refrigerator. Don't let it sit out. And cold tap water, not room temperature."

The frangipani tart is a nod to Daniele's Italian upbringing. "It's so good!" said Daniele, who learned a great deal about cooking from her Italian grand-mother. You can use any fruit you like with this almond tart. Daniele does suggest using a fruit-only jam such as St. Dalfour.

Baker Olivia Pattison of Cinnamon Starship, is one of the many Island foodies leasing kitchen space at The Larder. Olivia, 31, bakes breads (about 200 loaves a week) and pastries that she sells at the Farmer's Market, Scottish Bakehouse, Ghost Island Farm, and The Larder. "I wanted to be a vet and/or an artist. I woke up one day and I was a baker," said Olivia, who moved to the Island when she was twenty-two after earning a degree in print making and photography from the University of the Arts in Philadelphia.

Olivia baked a fabulous Tarte Tatin for our Vineyard Style photo shoot and has shared the recipe with us. "It's amazing. It's one of my favorite recipes," said Olivia, who was the pastry chef at the Beach Plum Inn for two years. "The tarte is a real showstopper lookswise, but is super easy to make."

As easy as Olivia's recipe is to make, she's offered a few hints to help us bake the best tarte we can. Absolutely use a good heavy skillet for your tarte, and "take the caramel off the heat prematurely as it continues to cook." She also suggests using "apples with more internal structure. Belle de Boskoops are the best. Granny Smiths will work. I used Ginger Gold today."

With the fall season in full swing, what could be better for dessert than a hot Tarte Tatin? After you've made this delicious recipe, let us know whether you like it plain, à la mode, with a slice of cheese, topped with whipped cream, or all of the above.

The Larder is located at 342 State Road in Vineyard Haven, where you can purchase your roasting chickens, chicken thighs, chicken stock, and chicken fat for these recipes as well as others. You can also purchase some Scottish Bakehouse sides to compliment any of your chicken dishes. The storefront is open Friday through Sunday in the off-season, and also by appointment. Jefferson is now taking orders for Thanksgiving turkeys. Fresh chickens and other products are available every week. Call ahead to schedule pick up: 714-785-0112. If you follow The Larder on social media, you'll be in the know for the next awesome pop-up dinner.


Potato Turnip "Gratin"

Ingredients:
4 pounds potatoes, peeled and sliced thinly (1/4" on a mandolin works well)
2 pounds turnips peeled and sliced thinly (I prefer orange turnips for color but white work just fine)

Schmaltz, butter or olive oil
1-2 quarts chicken bone broth
3 onions, sliced thinly
One bunch fresh thyme leaves
Freshly ground black pepper
1/4 cup dry white wine
salt

Method:
1. Preheat oven to 325 degrees.
2. Spread onions over bottom of a 9"x11" roasting pan.
3. Add wine to bottom of pan, distribute half the thyme and a decent amount of black pepper over the onions.
4. In a bowl, heavily season the potatoes and onions in salt, black pepper and the remaining thyme leaves. Let sit for 5 minutes.
5. After 5 minutes, coat the potatoes and turnips in the fat. Use a fair amount and try to make sure each slices is coated.
6. Next, stack the potatoes and turnips on their side on top of the onions in the pan.
7. Add bone broth so that the liquid comes 1/3 of the way up the potatoes.
8. Cover with aluminum foil and cook until the potatoes and turnips are soft, 45-60 minutes.
9. Take the foil off of the potatoes and increase the temperature to 450 degrees. Put the pan back in the oven for 10 minutes or until the tops have crisped up. Enjoy!