DRAWING BOARD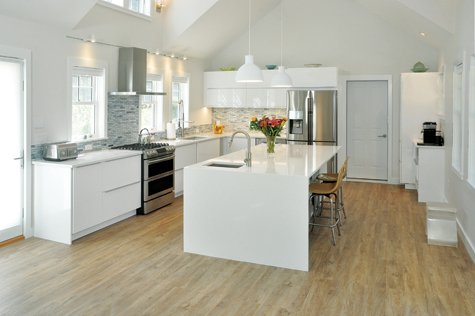 Coordinated Collaboration

Debra Cedeno, AIA Provides the Magic to Realize Her Clients Dreams
Story and Photography by Charlie Utz
With more than a quarter-century of experience in residential architecture Debra Cedeno is a licensed Island architect whose business bares not a trace of her own name. "I chose Architecture+Indigo because it's not about me, she says, "it's about the work and the process." Debra's mission is to promote her unique vision of International and New England inspired Residential Architecture. She heads a dedicated team with an attention to detail and a true passion for their work.
"I've been doing this for almost 30 years," she says, "my work is about the client, and making their wishes and dreams come true."
On this project Debra's clients, Chip and Pam Coblyn, had been thinking about their addition for a number of years. By happenstance they contacted a friend in the building trades, hoping for leads as to who would be the right match to help them realize their dream. "We need someone who is really thinking outside the box," they told their friend. They spoke about their project and their plans to be on the Vineyard a significant part of the year–summers and into the fall–and they didn't want just a cookie-cutter solution. They wanted something dynamic, owing to the fact they are artists, both graphic designers, they wanted a space that was more dynamic in form, with a strong quality of light component. This friend who also knew Debra, quickly recommended Architecture+Indigo.
This recommendation put into motion what would become not only a good business working relationship, but the basis for a sincere friendship. "I have become very fond of Chip and Pam," Debra says, "they are a great couple, they not only appreciate architecture, and architectural design, but appreciate the attention to detail offered, being designers themselves."
Listening to the Coblyns, Debra could tell they were really invested in the Vineyard, as patrons of the community with a strong desire to create the kind of environment they would be happy living in. Chip had actually studied architecture. "He was very passionate about the project, which always makes it fun," Debra says, "it was fun for Chip too, for six months during construction he lived in the house next door and contributed his decision-making energy and enthusiasm."
From the beginning Chip knew what he wanted, and wanted to get started. Following Debra's initial presentation, Chip and Pam immediately gave the "go ahead" to begin work. The scope of the project consisted of renovating and expanding an existing two-car garage and auxiliary one bedroom apartment with a kitchen and bath.
With the concepts agreed upon Debra created drawings and began the approval process with the OB Building Inspector and Zoning Board. After a few design reviews, we found the right approach that met all the code and budget requirements. "We were able to maintain the important factors that support the dynamic design, the quality of light and that clean zen feel to the space," Debra says, "we were restricted to a 1000 sq. ft. footprint, the final design resulted in a 998 sq. ft. addition" she chuckles.
The goal in her design was to incorporate as much natural light as possible, "to synthesize form and space, she says, so one doesn't have just a cathedral ceiling or just a flat ceiling or just a dormer. The clients wanted a unique design the space actually felt larger than what the it actually was – and also felt connected to the outside. And one of the best ways to do that is to have light sources on both sides with cross ventilation. The four dormers achieve this, also drawing the eye upward to visualize a sense of even more space."
"We offer comprehensive architectural services," Debra says, "with a focus on personal and stream-lined communication, which are key factors for a project's success." Schematic Design, Design Development, the Contract Documentation, Bidding and Negotiation, Construction Observation and overall Project Administration are all key Architectural services provided by Debra and Architecture + Indigo.
Chip's long-time friend Adam T. Hayes of Adam T. Incorporated was the General Contractor on the Coblyn project with co-partner and craftsman Jesse Ward providing the day-to-day job supervision with the ability to come thru with many custom solutions. Operating his Island based business since 1991, Adam enjoyed working with Chip and Debra tackling the challenge of creating a thermal boundary and installing equipment to meet the high efficiency and comfort that Chip imagined. "Chip wanted energy efficient, high performance construction techniques that promote; air tightness, superior indoor air quality, cost-effectiveness, heating & cooling efficiency, utilization of green materials and practices," Adam says, "and that's what he got from us, including lower utility bills."
The design of the interior elements was a close collaboration by both Debra and the Coblyns. The owners wanted to select much of the fixtures and finishes and did their research and their ultimate selections from their off-Island home in Maryland, ordering and shipping as close to the schedule as possible. Debra advocated to maintain the structural details and materials with many final decisions on actual brands made by Chip and Pam. An avid cook and chef, Chip was particular about the kitchen appliances, fixtures and the cabinets. He ultimately went with a cabinet style and brand featuring large pull-out fronts and multiple lighted drawers within.
In the open and spacious bath Debra also convinced the Coblyns to keep two strategic windows above the two-sink vanity where normally a large medicine cabinet or mirror would go. Chip and Pam ultimately agreed, later Chip discovered and installed two ingenious mirrors that pull away from the wall and swivel. A recessed lighted shelf in the shower was carefully designed to hold shower products.
In the end the concept and design was realized, with all parties grateful for the success that comes from collaboration and cooperation on a project such as this. Debra is proud of the results and Chip is thrilled to have the space to fulfill his culinary dreams and yummy creations. Bon Appétit!
For more information contact:
Debra Cedeno, AIA
Architecture + Indigo, LLC.Residential and Sustainable Design
378 State Road, VH • 508-687-9531
Web:
Architecture-indigo.com
E-mail:
debra@architecture-indigo.com
Adam T Hayes, HERS, BPI
Adam T Incorporated
455 State Rd, #303, VH • 508-693-3733
adamtinc.com
•
info@adamtinc.com
Loewen Windows and Doors
Marc Lima, Rep. • 775-563-0355