ON ISLAND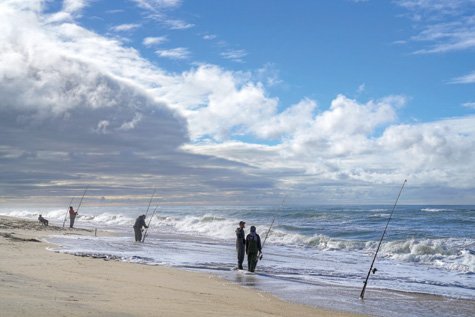 The Derby Scholarship Program

This Year's MVHRS Recipients
Since its establishment as a nonprofit organization, the Martha's Vineyard Striped Bass & Bluefish Derby, Inc. has awarded annual scholarships to Martha's Vineyard Regional High School and Martha's Vineyard Public Charter School graduating seniors. The total amount of money donated since 1986 now exceeds $500,000. Qualified students are recommended by the schools and selected by a Derby subcommittee. With the continued support of the Ann E. Clark Foundation, Vineyard Vines, and the Dougherty Family Trust, in 2017 the Derby was able to award two $10,000 scholarships, two $5000 scholarships, and two $2500 scholarships to the deserving students featured on this page. One of the scholarships has been named in honor of island artist Ray Ellis, whose contributions to the Derby made the scholarship program flourish.

It's no surprise the Derby President and the Derby Chairman are former educators, one a retired Edgartown School Principal; Ed Jerome and the other; currently Tisbury School's principal, John Custer. Both are avid fishermen.

"Among the many positive aspects of the Derby provides, the Scholarship Program truly stands out." says Chairman Custer, "Our Spon-sors and participants recognize the importance of this program, and it continues to be strongly supported."

The Derby Committee and all Islanders wishes these graduates success in their educational endeavors in the years to come.

Mitchell Chaves
A member of the National Honor Society, Mitchell also received sportsmanship awards for his exemplary presence in athletics. In an essay he wrote as part of college application, he described learning patience from fishing, and how he applied this in other areas of his life. He enjoys the water, and appreciates having grown up in a nurturing Island community. Mitchell will attend Roger Williams University.

James Kelliher
Throughout high school, James maintained a focus on math and science courses, including being active in the Engineering Challenge program. He enjoyed opportunities to examine situations, problem-solve, and discuss solutions. James was a member of the Peer Outreach program, chosen by his classmates for his considerate, sensitive nature. He will attend the University of Vermont.

Lena Hanschka
Included in her college applications, Lena wrote that she is sincerely interested in studying the environment because "it is changing the places I love." She has taken advantage of opportunities to travel, and has volunteered with the Appalachian Mountain Club in the White Mountains. She participated in the National Outdoor Leadership School in Alaska. Lena will attend Colby College.

Elias Fhagen-Smith
Elias excelled in athletics in high school, earning praise for his leadership and sportsmanship on the field. In the classroom, teachers noted his strong work ethic and ability to manage time effectively. He was a member of the National Honor Society and an active participant in the MVironment Club. Elias will attend Babson College.

Julian Carter
Julian demonstrated his interest in the marine environment by taking high school classes in auto-marine mechanics, marine biology, aquatics, and maritime science. With a goal of obtaining his 100 gross ton Masters License, he will attend the Chapman School of Seamanship in Stuart, Florida. He wishes to pursue a career involving fisheries and conservation.

Timothy Peters
Tim appreciates having grown up on the Vineyard, surrounded by the ocean. His love of fishing is apparent, and he demonstrated keen problem-solving ability in his high school classes. He enjoys working with his hands and helping others. Tim will attend the Chapman School of Seamanship in Stuart, Florida.