SCEEN & SCENE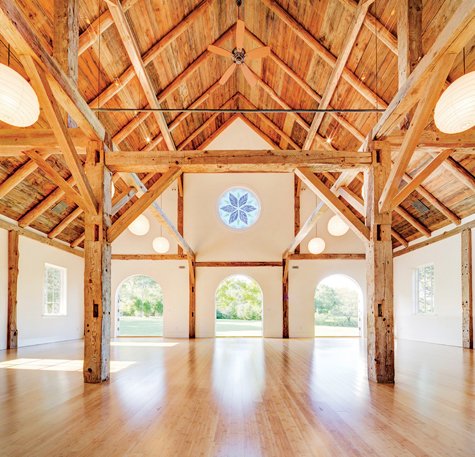 The Yoga Barn
By Amelia Smith
The Yoga Barn is a restored Vermont dairy barn in West Tisbury, a space dedicated to the transformational practice of yoga. The studio is a cathedral-ceilinged room with windows on three sides looking out across rolling meadows. The Yoga Barn opened in 2008, and it's been a dedicated yoga studio ever since. For Scarlet Johnson, opening the barn was part of the natural progression of her decades of yoga practice. "I find that yoga really does help me to be a more responsive, kind, less reactive person, and I want everybody to have that," she says.
"I was always kind of a natural seeker," Scarlet says. "In college, I studied acting at NYU. They offered yoga as a way to strip away socialization and get to a more pure way of expressing oneself." She kept practicing through her 20s and 30s, until Carl Kleme, one of her teachers, started asking her to substitute teach and also suggested that she take the yoga teacher training at Kripalu. She completed her training in January of 2005 and moved to the Vineyard the following summer.
The Yoga Barn currently has a total of nine different teachers and offers two classes a day, year-round. They cover a variety of styles, from the more athletic Vinyasa classes to the softer Kripalu and Yin styles, plus aerial and kids' yoga. There are also two bodywork rooms for acupuncture, massage, and other healing work.
On the winter solstice, Scarlet offers a special class where yoga practitioners will gather to do 108 sun salutations. "It's my idea of a yoga party," she says. Classes go on as usual through the winter, with a special offer of a flat rate for unlimited classes in January, February, and March. Gift certificates are also available, and you can check the current schedule at
www.marthas-vineyard-yoga-barn.com/yoga-classes/