TRENDS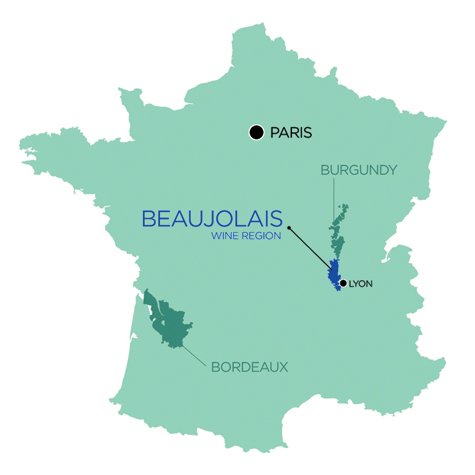 Beaujolais Nouveau
By Francois Gautier
The Beaujolais Nouveau is bottled and released for sale the 3rd Thursday of November every year in France. This is an opportunity to have a big party in every city in France.

In 1951, the Beaujolais winemakers negotiated to change the day of the year the wine could be released because it was December 15th at that time. Because Beaujolais is ready in October, it seemed too long to wait for wine makers. The rest is history…It became an occasion for a big party every year to celebrate the arrival of the new wine, a success that was greatly supported by wine companies like Gorges DUBOEUF.

The process of winemaking for Beaujolais Nouveau is immediate after the harvest in September. Whole grapes are loaded in tanks to undergo a special fermentation process known as "carbonic maceration" for 4 days, and then bottled by the end of October. This brings up a light, fruity, easy-drinking wine. The reasons for its success are that due to the speed in which it's made, distributed and sold. The Beaujolais Vineyards are well-known for Beaujolais Nouveau, but also produce ten other varieties or "crus" (10 different terroirs–soils and climate–with their own characteristics) as well as Beaujolais Villages, made from old vines (most of the time), which produces a more structured, complex wine. Santé!

Some Beaujolais Nouveau suggestions – You must consider

Robert PERROUD
Robert is a generous man, in many ways, and you will find that generosity in his Beaujolais nouveau: very fruity (ripe, red fruits), typical of the terroir where it is from. The estate turned organic a long time ago, contributing to its amazing production and success.

Jean-Paul BRUN
One of the most talented winemakers in Beaujolais. His wines have pureness and intense aromas from the soil where the vines are grown. He started in 1979, taking over after his father and today his Beaujolais Nouveau is highly sought after and recommended!