HOME PORTRAIT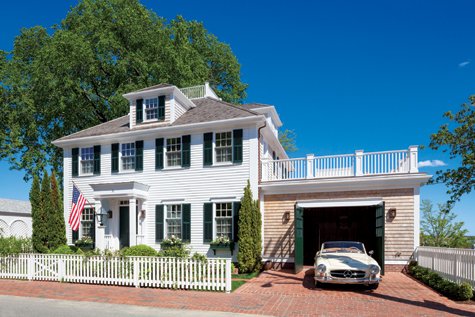 Going It Together

Colonial Reproductions Builds Relationships
By Gwyn McAllister, Photography by Greg Premru
Norman Rankow, owner of Colonial Reproductions, Inc. is clearly a people person. He's open and friendly, someone who listens and is enthusiastic about offering an opinion but with an open mind and sensitivity to his listener. His tone switches easily, depending on the topic, from conversational to professional, from informal to technical. A very slight accent, as well as a directness and a sly sense of humor betrays his New York upbringing. Mr. Rankow was born in Manhattan and raised in Queens. However, he's lived on the Vineyard since 1978 and raised three daughters here.
Given his charm and affability, it's not surprising that Norman, or Norm as he is known to many, has made a lot of friends in a business that can often find emotions running high.
As one of the premiere general contractors on the Island, Colonial Reproductions has built or renovated hundreds of Vineyard homes, a number of which have been featured in national design magazines.
Most of Norman's high-end clients have become close friends. He's kept in touch with many of them and been invited to stay with former clients in their other homes in New York City, Beverly Hills and elsewhere. On display in the newly renovated Colonial Reproductions offices in downtown Edgartown is a Boston Celtic's jersey signed by Larry Bird–a gift from a client who knows of Mr. Rankow's obsession with the team.
Norman went to college on Long Island and got his degree in Automotive Technology in 1974. "I wanted to design cars or work in R & D" says Norm. After graduating he got his start in the construction business working for Contractor's Supply Inc. as a sales rep covering all five boroughs of New York City, Nassau and Westchester Counties.
After visiting the Vineyard for a number of years in his teens, Norman fell in love with the Island and decided to move here permanently in 1978. He built his first home on land owned by his parents and launched his own business on a very small scale. "I started out as a one man show with a pickup truck, no dog" he says. "I think I was charging $5 an hour."
From those early beginnings, Norm has built up a business employing a staff of six full time employees and utilizing dozens of local subcontractors–framers, electricians, roofers, landscapers, etc. Colonial Reproductions manages and oversees projects ranging from totally new construction to additions, including partial and full renovations. The company's specialty is historically motivated architecture. Some of the most interesting examples of their work include both complete historic preservations and homes designed to emulate period buildings.
Colonial Reproductions' new location at 140 Cooke Street, Edgartown–an office building, purchased and remodeled just this past year, offers a good representation of some of Norm's signature design elements including coffered ceilings, antique beam detail, mahogany wainscoting, custom panelization and built-ins. It's a very attractive workplace, that provides a spacious and pleasant working environment for the whole team, who Norm is clearly very proud of.
"I try to surround myself with the best team I can," he says. "We all enjoy working on a project–from getting it out of the ground to turning it over to the owners. We enjoy the process–working with our clients and the architect. Our clients are very discerning. It's always about the details from start to finish. Our goal is to not just meet, but to exceed our clients' expectations. I look to the support of our entire team, our staff, the architect that we work with, and our longstanding subcontractors. I've been using pretty much the same trade companies for over 30 years. The members of my office team have mostly been with me for more than 10 years. We are family."
Norman is firmly entrenched in the community and his involvement with the Vineyard extends to his philanthropic work. His civic contributions include memberships on countless local boards and committees. He has a reputation for providing financial support to many other Island organizations including the Preservation Trust, MVYouth and high school sports teams. Affordable housing is a cause which Norman has targeted and supported enthusiastically over the years. Colonial Reproductions, Inc was a major sponsor along with Plum TV and Comcast for the Houses on The Move telethon initiative.
"When I'm asked, I get involved, certainly in those issues that are germane to what I do," he says. "Housing is critical to the Vineyard. It's a really important aspect of our Island culture. That's how I was raised–anything you can offer back to the community whether financial or in-kind is important. Every bit helps."
Award winning Architect Patrick Ahearn who, as Norman puts it, "has been influential in capturing the Vineyard vernacular and making the older homes and properties great again" has designed many of the houses built by Colonial Reproductions over the years. The two men have become close friends. "I grew up on Long Island. We come from similar backgrounds," says Mr. Ahearn. "That commonality between us shows in our approach to business. Cut to the chase and get the job done, but make it perfect."
Mr. Ahearn favors Norman's work particularly for historic renovations, something that both architect and contractor have established a reputation for. "These have involved a lot of issues that have made managing the projects very difficult," says Mr. Ahearn. "Norman has the patience for this kind of work. There are a multitude of decisions to be made on an hourly basis. It's complicated. Not everyone has the stomach for that. It's what separates the men from the boys."
As a final word of praise for his friend's work, Mr. Ahearn says, "When it came to building my own house I could have used anybody. I used Norman."
After all these years, Norman continues to display a rare enthusiasm for his work. "I still love what I do," he says. "I plan to still be here 20 years from now. I've surrounded myself with good people. We've worked hard to position ourselves in this great place we can call our home."
For more information on Colonial Reproductions, visit their new offices at 140 Cooke Street, Edgartown, by phone: 508-627-5100 or find them online at:
ColonialRepro.com
.