CUISINE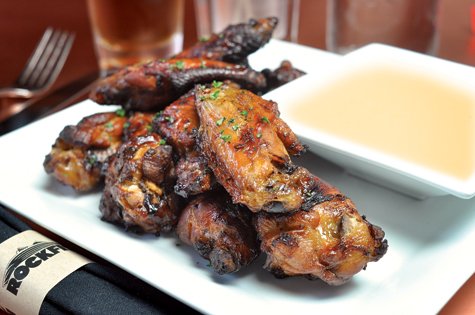 Culinary Delights

Chef Craig Decker Brings His
By Lisa Belcastro, Photography by Charlie Utz
This past winter I discovered a new jewel in our Island restaurants: Rockfish on North Water Street in Edgartown. The food is fabulous. The drink selection is impressive. The atmosphere is fun and exciting, and the staff is always friendly. Walking into Rockfish can be a step into relaxation or a night of entertainment or both.

With a bar downstairs along with the pizza bar upstairs, the two-year-old restaurant has quickly become an Island favorite for locals and visitors alike.

"We have a social, fun crowd," said Chef Craig Decker, who started working at Rockfish in March of 2015.

Craig is no stranger to Island restaurant fans. He's well known for his ten years as the head chef at Alchemy, though few may know that he started at Latanzi's. Craig came to the Vineyard in 1999 for a weekend getaway. He fell in love with the Island, went back to the bistro he was working at in New York, gave his two-week notice, and moved to Martha's Vineyard. He started at Latanzi's in Edgartown, working the summer and into fall. At the end of the season, he enrolled in the Culinary Institute of America.

In 2000, Craig returned to the Island and began work at Alchemy as a line cook. In the winter months, he and wife Chanda went south to Palm Beach, Fla., and worked at The Breakers. Craig and Chanda moved from the Vineyard, back to New York when Chanda was pregnant with their first child, and then to Springfield, Mass., for a few years.

Chanda missed the Vineyard, and in 2004 Craig accepted a position as the sous chef at The Wharf. The following year, Craig took over the kitchen at Alchemy, where he created culinary delights for ten years.

Today, Craig and Chanda work at Rockfish together. Chanda is the pastry chef extraordinaire, creating delicious endings for customers at Rockfish as well as baking for Edgartown Meat & Fish. "I'm constantly cooking," said Chanda.

The Deckers are definitely busy. Craig works for the Coogan family at both Rockfish and The Wharf, while Chanda is baking for two places, and they have two children, Sophia, 13, and Liam, 10, who are their top priority.

Twenty years ago, cooking was a merely an occasional activity Craig enjoyed with his grandmother. The sciences interested Craig, and he began his college life as a pharmacy major, then switched over to biology and chemistry. Everything changed during Craig's junior and senior years when he worked as a line cook at a local restaurant. Working in the kitchen, Craig discovered what he really wanted to do with his life.

Brainstorming recipes and menus for Rockfish is one of the many highlights of his job. When asked what his favorite item on the menu was, Craig didn't hesitate. "Pork Belly."

Customer favorite? Pork Belly. I agree, and I'm grateful Craig has shared his recipe with us. He said this dish is best when started the day ahead, and noted that we may be able to purchase pork that is already smoked. Once you braise your pork, be sure to "put a sheet tray on top of the pork with some weight to level it out. Then put it in the refrigerator to chill. It's much easier to slice cold."

Be sure you save the braising liquid. "Reduce the liquid down, and then finish the pork with the reduction," said Craig.

When you're serving up appetizers, be sure to include Craig's Brussels sprouts. I know lots of folks avoid Brussels sprouts, and they can be a mushy, tasteless mess, but I guarantee Craig's Brussels sprouts will change your mind! Maybe it's the bacon (and decadent grease), maybe it's the smoking process, or maybe it's a combination of smoke, bacon, and cheese, but Craig's Wood Oven Charred Brussels sprouts are my second choice for appetizers at Rockfish.

The sprouts are fairly easy to make at home. "Blanch, dry, season, and put on the grill to smoke. Then they're ready," said Craig. At the restaurant Craig serves this appetizer over mashed potatoes with a side of creamy Roquefort fondue. If you're like me and not a fan of Roquefort, you can substitute Gruyere or cheddar.

I love a great filet, and tend to order one when I'm at Rockfish. Craig's trick to a great filet is to start on top of the stove with an aggressive sear, and then transfer the beef to a five hundred degree oven for delicate even cooking. And, "let the meat rest so the color goes back."

If you're a wing fan, Craig's recipe will delight your family and friends. Be sure to start the day before, as the chicken needs to marinate overnight. "You can smoke them first on the grill, and then marinate overnight. The next day, roast them in a skillet, and they come out crispy and so good," said Craig, adding, "Make sure the marinade is off the wings when you put them into the hot skillet to crisp them."

The appetizers and entrée might give you the illusion that you've had enough. Whatever you do, leave room for dessert. Chanda's decadent and delicious chocolate framboise cake is worth every calorie. "To find a good chocolate cake recipe is such a struggle," said Chanda. "One day this recipe finally came together when I combined two others. Because of the labor involved, I'm proud of it."

The recipes Craig and Chanda have shared are only the beginning of the taste temptations at Rockfish. If you haven't been, now is the perfect time to try it.

"I want people to leave here happy and think about when they're coming back again," said Craig. I'm thinking Saturday night for some Brussels sprouts and a filet. Maybe I'll see you there.

Charred Tuscan Style Jumbo Wings

For 1 dozen chicken wings
Marinade ingredients:
1 Tblsp garlic, chopped
1 tsp red pepper flakes
¼ cup lemon juice
1 cup apple cider vinager
1 cup Worcestershire sauce
1 Tblsp fresh oregano, chopped

Method:
Combine all ingredients for the marinade. Smoke wings on the grill or in a stone oven for 1½ hours until skin is brown and crispy. Be sure to turn the wings over half way through the smoking process. Wings should be cooked all the way at this point. Place cooled wings in the marinade over night.

In a hot skillet, add 2 tablespoons of oil. Add wings to the pan. Make sure the wings are dry from the marinade to avoid any grease splatters. Place wings in very hot 500 degree oven. Bake until wings are heated through and the skin is crispy.