DRAWING BOARD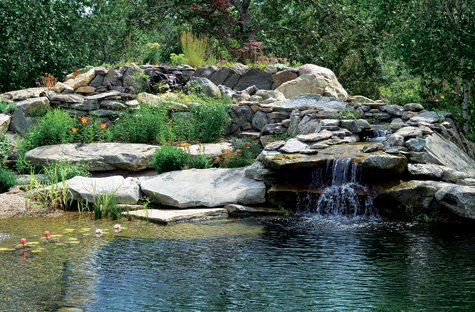 It's Only Natural

Introduces the Next Generation of Swimming Pools and Water Gardens
By Amelia Smith
A Natural Pool is more than just a place to swim. It can also be a flower garden, a rock garden, and a vegetable garden; a place which nurtures wildlife as well as the people who design, build, and enjoy them.
Daniel Whiting grew-up on the Vineyard, studied Environmental Science at Green Mountain College in Vermont. He returned to the Vineyard and went to work for his father, who is a general contractor on-Island. He gained broad experience in all phases of construction and soon became licensed as a general contractor himself, all the while continuing to look for ways to express and explore his passion for the natural world.
Daniel Whiting's interest in water gardens began with a single flower. "I saw a water lily in Maui, and when I came home I couldn't get it out of my head." He sold his sailboat and built a pond in his back yard in order to grow the lily and do more water-gardening for himself, as well as for his clients. In the process of exploring water gardens, Daniel discovered natural swimming pools and studied with Chris Rawlings at Waterhouse Pools in Western Massachusetts. After learning the philosophy and science, Daniel decided to start his own company.
Next Generation Natural Pools, Martha's Vineyard's first and only locally owned and operated natural pool company became a reality.
This project began with the owner's desire to add a water feature to her garden, and it was an active collaboration between the owner and the contractor from the beginning. Cynthia Bloomquist is an avid gardener who volunteers at the Polly Hill Arboretum and is a member of the Martha's Vineyard Garden Club. So when she wanted to add a water feature to her garden, her friend Judy Worthington, a former MV Garden Club president, introduced her to Daniel. "I had an idea of what I wanted it to look like, but I had no idea about the engineering," Cynthia says. "It became a collaboration, Daniel has the knowledge and a great artistic eye."
As the water garden grew from its original sketch, Daniel suggested that it was getting big enough to turn into a "natural" swimming pool, as well. The first Natural Swimming Pools were built in Austria in the early 1980s. From there, they spread throughout Europe, coming to North America–and West Tisbury–only in the last few years. Although most natural pools are attached to private residences, there are over a hundred public natural pools in Europe. Natural pools can be any size, as long as there is adequate space for natural systems to work, which most often include large shallow regeneration areas for varied water plants such as lilies and irises.
This water garden and pool relies on a delicate balance of microbes, biological filters, and water plants to maintain its water quality. "The West Tisbury well water was perfect to start," Daniel says. Well water varies from place to place, though, so it's important to test it for suitability.
Water is pumped up to the the top of the rock garden from the pump house below–dubed the "Hobbit House"–which houses the water control system and is guarded by a whimsical Swedish Hustomte (garden gnome), named Alfred. The pump house was inspired by the old cold storage houses found around the Island, it also features a small "window," which covers a electrical panel. The pump runs at varying speeds year-round, depending on the garden's seasonal needs. Its sound is muffled by the Hobbit House's stone walls and earthen roof, which is a succulent plants garden.
Filtered pool water is pumped up and gently cascades down through a curving stone brook with three waterfalls wrapping around a quiet nook with a stone bench where Daniel's clients love to relax and hear the water falling around them and look out at the pond. Watercress grows in the stream along the rocky banks of its terraced pools, and there's a bonsai tree tucked into a nook against one of its banks. These pools and the wide shallow areas around the pool's edges nurture wildlife, too. Last summer, dragonfly nymphs grew in the pond, and a few frogs have moved in. Cynthia says that there is increased bird activity all around the pond and garden.
Massive stone steps lead down into the swimming pool section of the pond, which is eight feet deep. The larger stones came from various sources around the Island. "We pulled together quite an interesting group for natural materials," Cynthia says, drawing on the strength of her own network combined with Daniel's colleagues and friends.
"The beauty and challenge to the whole project is to make everything cohesive," Daniel says, "the humans want to enjoy their chemical-free swimming, the plants and microbes need to thrive, the whole system becomes a balancing act. There are some equations that help with that balance. One can find those equations in nature, in the type of plants and the water depth at which they grow," Daniel says, "a natural pool is about re-creating what you would find in nature, then engineering it to provide a crystal clear water experience. All of that has to be figured out in advance, before you break ground."
Cynthia and her partner, Thaw Malin, have been enjoying the many facets of their natural pool. "It's a lot of fun. It's not just a new garden, it's about new things to learn," Cynthia says. On an early spring day, she and Daniel circle the pool, checking on the water plants, seeing what has spread and survived over the winter season, and thinking of what to change and adjust in the garden. Daniel's enthusiasm for the project is infectious. "At the beginning, building the pool and its ecosystem is a lot of work, but it's fun and interesting work, and in time, maintenance decreases as a cultivated natural balance settles in."
Daniel says that every natural pool is different. He clearly looks forward to the challenges of his upcoming projects, and doing his part to protect the environment and educate future generations. vs
Daniel Whiting can be reached by phone at: 508-566-2166, or e-mail: daniel@nextgenerationnaturalpools.com. To find out more about Dan's company Next Generation Pools click on:
nextgenerationnaturalpools.com