ARTIST PROFILE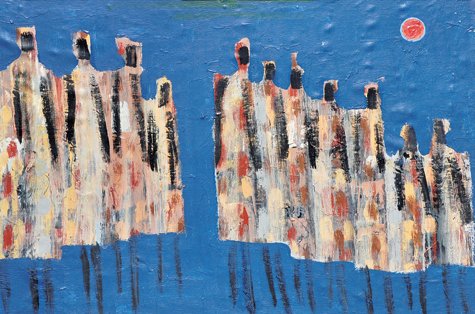 Finding Ed Schulman
By Gwyn McAllister
This past spring painter Ed Schulman took his first art class–a course on abstraction at New York City's Art Students League.
Not so remarkable an endeavor unless you consider that Mr. Schulman is already an accomplished artist who has built a reputation on the Vineyard and beyond, and has already sold hundreds of paintings–all without receiving any formal training.
The Vineyard Haven based artist has only been painting for five years, yet his work displays the talent of a seasoned professional. His style might be described as primitive expressionism–simple brush strokes creating far more depth and detail than one might imagine–but there's nothing amateurish about Mr. Schulman's work.
At his studio/gallery off Martin Road in Vineyard Haven, Mr. Schulman paints from memory or imagination. His themes include cityscapes, seascapes and featureless, indistinct human figures – often in multiples.
The artist's work is reminiscent of some of the 20th century expressionist painters who favored the conceptual over the perceptual. One might describe his work as primitive or folk art but it's hard to pin a label on his style. However, whichever school of art one might associate him with, Mr. Schulman is very much a contemporary artist, something which sets him apart from the pack of popular Vineyard painters.
Mr. Schulman explains his intuitive, as opposed to cerebral approach, "It's not the kind of process where you look at something and try to recreate it. I get an impression of what I want to portray and allow myself to reproduce it in very broad strokes. Before I know it the subject projects a meaning or has a life of its own. It goes wherever it feels like going."
There are many elements of Mr. Schulman's history that have informed his genesis as an artist. Only recently, thanks to his daughter's gift of a DNA profile, the Brooklyn native discovered his true heritage.
Mr. Schulman's story reads like something straight out of Dickens. Discovered on the steps of a church as an infant, the foundling was adopted by Russian Jewish immigrants, who kept his true parentage a secret until the night of his bar mitzvah. Even then, he was told that his mother was Jewish, which, as it turns out, may or may not be true. "It was a convenience of kindness," says Mr. Schulman. "To make me feel a part of, and to establish my place in the Jewish community." Although Mr. Schulman's mother's identity is not known, he has since discovered that he is half British and half Italian.
"Until now I was very, very short on identity," says the artist. "This information is somehow coalescing into my creating images for the past five years. Now I'm at the end of a funnel. I'm finally settling in with this new information about my background. I see this as another new beginning. My life has always been truncated by revelations."
The themes that Mr. Schulman returns to again and again are driven by his personal history. The cityscapes were the first to emerge on canvas. Having spent his early life in Manhattan, Mr. Schulman has the city in his bones, which is quite obvious in these scenes which are as emotionally charged as they are brilliant juxtapositions of color and shape.
His was a childhood of privilege with a focus on the arts and culture. He attended the prestigious Woodmere Academy where Mr. Schulman has fond memories of school outings to various museums – the Metropolitan, MOMA, the Smithsonian, as well as visits to the theater and opera.
"The exposure my parents provided was a very important part of my life," says Mr. Schulman. "They introduced me to so much art, literature, philosophy. It balanced the confusion. I found examples of what I was feeling in the artwork and literature."
Women–sometimes in groups–are another favorite subject in his work. In these, the emphasis is on the style, color and motion of the clothing. Mr. Schulman credits his mother and two aunts as influences. "I've always had an eye for fashion. I was surrounded by women. My mother and her two sisters attended galas. Each had her own dressmaker. They were very competitive with each other." Mr. Schulman's mother was a frequent visitor at Gracie Mansion where she played mah jong with the wife of then mayor Abe Beame.
Another source of inspiration came later on in life, when Mr. Schulman visited his granddaughter's birthplace in the Caribbean. "All of a sudden I was a member of a family down there," he says. "I absorbed it very quickly. I saw a kind of rhythm to the people, even when standing at a bus stop." His elongated figures of Caribbean women often feature a little more color than the artist's usual muted palette.
Another series of paintings depicts boxers in much more of an outsider or folk art style. "My father was a street fighter in Brooklyn," recalls Mr. Schulman. "He was a very good athlete and a bruiser. His best friend was Rocky Graziano. I used to go to all the fights. I witnessed some of the greatest fights and fighters of all time - Jersey Joe Wilcox, Floyd Patterson and Sugar Ray Robinson.
As counterpart to the paintings of women, a male figure series honors another side of the artist's businessman father, as well as his grandfather, who established a very successful scrap iron business that still exists today. One series Mad Men – after the popular TV series set during the advertising world of the 1960s – features repetitive male figures dressed in suits. The Mad Men paintings, offer a glimpse of the dapper nature of male attire of the day, as well as an observation on the uniformity of the corporate world.
More recently, Mr. Schulman has started creating seascapes. These simple yet effective impressionist images display a new direction in the artist's work. Simple brushstrokes delineating the sea, land and sky manage to create a surprisingly evocative image. Mr. Schulman's characteristic greyed down palette suits the subject very well and the simplicity of these works perfectly captures the enigmatic lure of the rugged, untarnished Vineyard landscape.
Images of multiple sailboats are another popular theme for Mr. Schulman. In these, one sees the artist's fondness for repetitive vertical line imagery. They are good examples of his effective use of very limited detail.
For any collector of Vineyard scenes, one of Mr. Schulman's quietly captivating seascapes will add some dimension to a selection of work by other Island artists.
The artist's love affair with the Vineyard began in the late 1960s when he made a trip with a friend to deliver some boat sails. "Moving to Martha's Vineyard was the most important decision I ever made in my life," says Mr. Schulman." I knew right away that I wanted to be here. Its was an escape form the metropolitan area and the confusion of my life. I found people who were incredibly independent and very comfortable in exercising their characters without conformity. The back to earth movement was well established here. My work really mirrors that vision."
However, Mr. Schulman didn't start painting until he was encouraged by another artist, Ruth Adams of the former Treehouse Gallery. "I wanted to open a space that would give first time artists the chance to show their work," says the artist. "Ruth suggested that I try my hand at painting." He did, quite prodigiously, from the very start.
Since his tentative beginnings as an artist, Mr. Schulman has gone from selling his work at the Chilmark Flea Market to showing at a few local galleries and other venues on Island. Through this limited introduction to the public, Mr. Schulman has earned a small devoted following. And he's happy with his positioning in the Vineyard art scene. He prefers to maintain a low profile, selling directly to clients through his studio space ArtCorner, located next door to the American Legion building on the road near John's Fish Market
"I've got the quiet recognition that I actually appreciate very much," says Mr. Schulman. "I'm focused on being productive and affordable. I don't want to distance myself from the people who have supported me up to this point. When people buy a painting from me they become family. "
Mr. Schulman is constantly experimenting and exploring new themes and new surfaces. "I paint on everything," says the artist, who has created some of his most interesting pieces on glass, decking and old boards. He also makes many of his own frames from scrap lumber, a nod to his past work as a carpenter and a perfect complement to his rustic style.
Collectors of his work can always expect something new from an artist who is forever exploring his memory and his psyche. "I'm a composite of all the experiences that happened to me–like we all are" says Mr. Schulman.
From wanderer to committed artist, Mr. Schulman has made the most of his past, his talent and his unwavering curiosity.
"I'm a very lucky person," says Mr. Schulman. "Finding the art, finding Martha's Vineyard, learning more about myself through my DNA so I can actually be sure of something. It's like opening an old book with new chapters yet to be written."
Ed's work may be seen at The ArtCorner in Vineyard Haven, by appointment, call: 508.560.2425 or e-mail: artcorner2010@gmx.com. Check out his web site at:
artcornermv.com