MADE ON ISLAND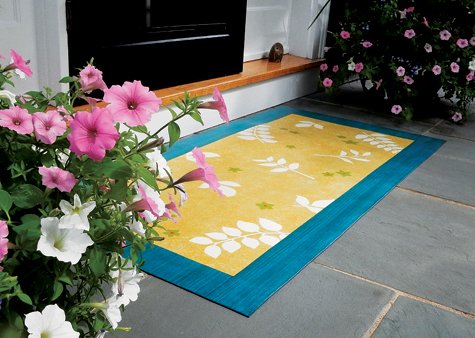 Prepare to Be Floored

The Canvas Creations of Cecily Stibitz
By Molly Costello
Cecily Stibitz, like so many, is a transplant to the Island. She found herself on the Vineyard one winter weekend and eventually came to call the Island home. One of her earliest childhood memories is of sitting in her grandfather's home in New Jersey, staring at a mural her Grandmother had painted depicting Hyannis Harbor. At the time it would have been impossible to imagine that one day she would be living, not far from the Cape, and creating her own art . . . floorcloths.
Floorcloths, offer the perfect alternative to a carpet, jute or thistle rug, owing to the endless variety of colors and patterns imaginable, not to mention, their durability and ease of care. Cecily began creating her unique form of art in 1996 and has since been perfecting her technique, most reciently, expanding her line to include tabletop runners, placemats and pet placemats.
Cecily begins by sizing, cutting and stretching each canvas mat, she then uses acrylic and latex paints to create different designs. Cecily prefers lighthearted and bright designs that are often inspired by nautical themes popular on the Vineyard. Often, her floorcloths are commissioned and made-to-order. Clients can work with Cecily to customize a design unique to
any home décor.
Following the painting, the mat is then sealed with five coats of marine grade poly sealant insuring durability–able to stand up to the wear and tear of foot traffic–and requiring little maintenance beyond the occasional swipe of a mop. Floorcloths are then hemmed and backed with a non-skid material. The versatility, durability and affordability of floorcloths make them a great solution for both art and utility in any modern home.
By incorporating her flair for whimsical design and bright color, Cecily has mastered a technique that has existed for hundreds of years. Floorcloths date as far back the 1400s. They flourished in colonial times and would often be found in homes of important persons, even presidents, including George Washington, Thomas Jefferson, and John Adams.
In Adams' case this meant that floorcloths must have graced the original White House.
Cecily's floorcloths, tabletop runners, placemats and pet placemats are available throughout the summer at the Vineyard Artisans Festivals, at the Grange Hall in West Tisbury, 10-2 on Thursdays and Sundays. Cecily's work can be seen on her web site:
www.seasillydesign.com