SCEEN & SCENE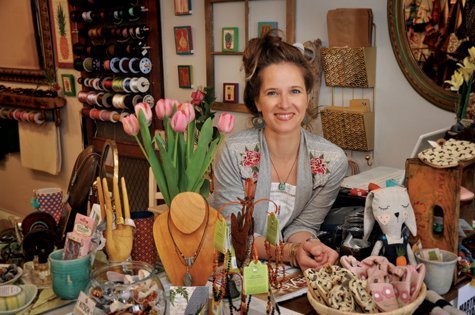 Imported, Local, and Inspired
Amelia Smith
Emma Kiley opened Citrine almost a decade ago in West Tisbury. Now located on Main Street in Vineyard Haven, the boutique includes children's clothing and toys, handmade jewelry, accessories, women's clothing, and more. The children's section is full of hand-made toys and clothes of organic cotton, made not-too-far away. "The kid section is so fun, it just makes everybody happy," Emma says. She got her start as a jewelry maker at the Chilmark Flea Market and Artisan Festivals, both she and her store manager, Ali, can create custom pieces for customers right in the store.

The store showcases local and hand-made work by artisans working on-island and nearby, or those with local connections. "We represent over thirty local designers and that's a huge part of what makes our collection unique," Emma says. Some artisans who sold their first pieces here have gone on to sell nationwide and make a full-time living with their work, including Emily Prescott the founder of Vaalbara designs, who came in a few years ago with only five bags to show, and Jessica Kramer of Hawkhouse, who makes raw crystal jewelry in Aquinnah. Other fine art includes jewelry by Leslie Freeman, folkart prints by Althea Miller and the amazing hand and shoulder bags of Kate Fornier of Noepe Designs

Although Citrine still sells some imports and manufactured clothing, Emma is focusing more and more on supporting small home businesses focused on quality and individuality. "I love buying local and supporting small," she says.