CUISINE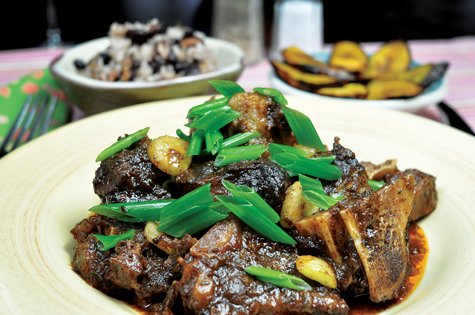 From the Islands to the Island.

Chef Deon Thomas Imports His Unique Flavors to the Vineyard
By Lisa Belcastro Photography by Charlie Utz
Cool autumn breezes are reviving our bit of paradise on Martha's Vineyard, and with the departure of the summer crowds the opportunity to enjoy a great meal at local restaurants is better than ever. If your palate is looking for a change of season, say a bit of Caribbean spice, head on over to V.F.W. in Oak Bluffs.

The VFW, you ask? Yes! In the fall of 2012, chef Deon Thomas stepped into the kitchen at the VFW on 14 Towanticut Avenue, and revitalized the menu.

Hmmm, since there are no paper menus, perhaps I should say that Chef Deon creates new and inventive daily offerings. When Deon started at the VFW, he served what they'd always served: fish and chips, Rueben sandwiches, hot dogs, burgers, and broiled cod. For a chef who'd spent twenty-two years cooking in the Caribbean during the winter months and the previous ten years earning accolades on the Vineyard, the VFW menu was a major shift.

"No jerk chicken, nothing Caribbean on the menu because I didn't know which path I should go. This community was new to me. I had never spent a winter here, never known the local community," said Deon, who for many summers was the owner, operator, and head chef at the Cornerway Restaurant in Chilmark, Deon's in West Tisbury and Deon's on Circuit Ave, Oak Bluffs.

Three years later, Deon has transformed the nightly offerings at the VFW to include and reflect his native heritage in the New American/Caribbean offerings. Born on Jamaica, Deon grew up amidst a large extended family. He watched his mom and grandmother harvesting and cooking everything they grew on their farm. "I was at the right age to pick, chop, cook, and braise. I regret I didn't pay more attention to my grandmother before she passed. She made wines from every fruit we grew."

After going to college in Kingston and working in the hotels on Jamaica, Deon left for America with dreams of becoming a chef. He "sowed his royal oats" in the Bronx during a work program, and then attended the Culinary Institute of America. From there he moved to Long Island, eventually landing a job with Cyril Fitzsimons.

Cyril, who later became Deon's brother-in-law, owned Cyril's Fish House on Montauk and taught Deon the business. The two then opened Cyril's Fish House on Anguilla. During one winter season, Deon met some Vineyarders who suggested he should bring his talents to our Island.

In the years since, Deon, his wife Emily, and his two children, Ellie and Shawn, have divided their time between Anguilla and the Vineyard. For years, the dual island life worked for them. Though he worked extremely hard to maintain a fine dine restaurant on the Vineyard and a beachfront restaurant on Anguilla, Deon loved his life and hoped to continue for many years. "Other chefs I went to school with would say, 'man, you're living the dream.'"

Then Mother Nature dealt him a blow. Or two blows to be more accurate. And then the economy tanked. "The last four years I've had to smell the coffee," Deon said.

In 2007 Deon and Emily opened Deon's in West Tisbury. A year later, fire ravaged the kitchen. With his usual positive outlook, Deon cleared through the losses and opted to open in a new location on Circuit Avenue in Oak Bluffs. He operated at that space for three years until he lost out on the renewing of the contractual lease agreement. He left for the winter season on Anguilla uncertain what he would do on the Vineyard next summer. A few months later, a hurricane wiped out the beachfront restaurant on Anguilla.

The double blow, along with a poor economy, left Deon wondering what to do. Emily and Deon conferred, and decided to make the Vineyard their fulltime, permanent home.

"I intended to do away with restaurants and just do event catering," Deon said with a hearty laugh. "Here I am seven nights a week. The restaurant is open year-round, rain or shine."
The VFW is a decidedly "dine -in" model, but Deon persists in building and meeting the needs of an ever-evolving catering business. This past summer was his busiest catering season to date. "It blossomed this year. We did many special events, and it's all possible because of Deon's creative reimagining of the VFW space."

In his down time, Deon is working on a couple of cookbooks. He's completed his first one: Martha's Vineyard Conch Cookery. Now he needs the time to finalize the publication, hopefully being able to release it before summer 2016.

Chef Deon has shared with Vineyard Style a few of his famous recipes, and the inside scoop to insure you have cooking success at home. The oxtail is "easy to do" whether you use an electric pressure cooker or the stovetop. If you're cooking on the stovetop, "it burns easily because of the collagen, so watch it!! Lots of stirring, and make sure the braising liquid is above the bone," said Chef Deon.

My personal favorite, though I'd never had it before, was the curried goat. I confess that I was leary about the goat, but boy oh boy was it delicious!!
"There is an art form to goat. Everybody thinks their goat is best. I'm not the authority, but I know how to cook it," said Chef Deon.

It is essential to draw the gaminess out of the goat. Chef Deon recommends soaking your meat in the refrigerator for an hour or two. For every pound of goat use a half-gallon of water and two tablespoons of kosher salt and a cup of the "necessary" white rum. When you braise the goat later, do not add additional salt.

Do you harvest conch here on Island? We have an abundant supply, and Chef Deon is providing us with two great recipes. "Conch is easy to work with. When I'm dissecting the meat, I save the tenderloin for more delicate dishes and use the harder muscle for soups and fritters," said Deon, who hopes to publish his completed conch cookbook and teach classes on cooking conch.

For those of you who enjoy a little, or a lot of, spice in your food, Deon's jerk chicken is a must. He's sharing his special recipe with Vineyard Style, but you can also buy Chef Deon's Jerk Seasoning ready to go. However you chose to make jerk chicken, "it can be as spicy as people want, or not too spicy. I recommend one tablespoon per pound of chicken."

Chef Deon is cooking at the VFW seven nights a week. If you haven't been, treat yourself. If you've been, then you know how good it is!

Farm Institute Grassfed Oxtail Hotch Potch
with Black Beans and Rice and Sauteed Plantains Serves 6

Ingredients:
4 lbs Oxtails, (trimmed extra fat removed)
1 lb. onions chopped
2 bunches green onion chopped
2 cups diced carrot
4 cloves garlic crushed
1 bunch thyme
4 oz. tomato paste
¼ cup kitchen bouquet
¼ cup kosher salt
¼ cup vegetable oil
2 tbsp all spice
2 bay leaves
2 pieces cinnamon sticks
1 gallon boiling water chicken or beef stock
1 cup broad beans cooked - reserve

Method:
Bring braising pot to searing temperature with vegetable oil add oxtail and salt stirring occasionally to brown pieces evenly. Add tomato paste, herbs, spices and vegetable stirring to incorporate.

Cook uncovered for 10 minutes at high heat to caramelize vegetables. Ladle on 2 pints of hot water or stock or just enough to cover the meat, stir, cover tightly reduce flame and braise for 30 minutes before adding more liquid. Stir and cover tightly once again and continue to cook at low heat for another hour.

Remove lid, stir let simmer for an additional 10 minutes before adding the broad beans. Taste and make adjustment if necessary.