MADE ON ISLAND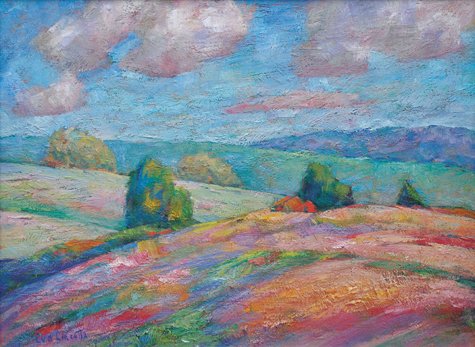 Curator. Teacher. Artist.

The Artistic Crescendo of Eva Cinotta
When asked how long she's been painting, Eva Cincotta says "since I was three years old." You know, finger painting, crayons on the living room wall, in kindergarten and beyond.
Fast forward several decades Eva finds herself living the artist's life in the seaside city of Gloucester, MA, the mecca of nautical and coastal painters, where she raised a family, and joined the prestigious Rockport Art Association.
When the kids were launched, Eva took classes at The School of the Fine Arts Museum in Boston honing her skills and immersing herself in art and the art community. After graduation Eva would often drop-in on figure drawing and painting classes around the North Shore.
Eva also loves to paint "en plein aire," actually painting on location, outdoors, where she was discovered by Kevin Butler, a gentleman seeking artists to hang paintings in his newly established gallery in Edgartown. The Kevin Butler Gallery on Dock Street was just starting and needed talent, but also needed "Island paintings" for sale. Eva jumped at the opportunity, and was offered housing by Kevin for a painting sojourn on Martha's Vineyard.
Like many, Eva fell in love with the Vineyard, and was soon offered a job working in sales at the gallery, where she stayed for seven summers. "I loved interacting with customers and promoting the art and painters of Martha's Vineyard," she says. All the while, painting as often as she could, in her off-time, and her work sold well.
The Kevin Butler Gallery ultimately closed its doors, but Eva continues to summer and paint here. In the off-season she lives in Melrose, MA and teaches art at the North Shore Community College in Lynn, MA.
"I can't teach students to become artists," she says, "I try to instill a vision, opening a door, if you will, to a life in art."
During her summers on the Vineyard, Eva teaches, May thru September, at The Featherstone Center for the Arts, she conducts painting workshops for the the Martha's Vineyard Art Association, and also does private teaching. 
You might catch her painting "en plein aire," and can see her paintings at The Field Gallery in West Tisbury, at the Old Sculpin Gallery in Edgartown, and on-line at www.fieldgallery.com.
To contact Eva directly call 978-277-8137 or e-mail at
ecincottagallery@gmail.com