ON ISLAND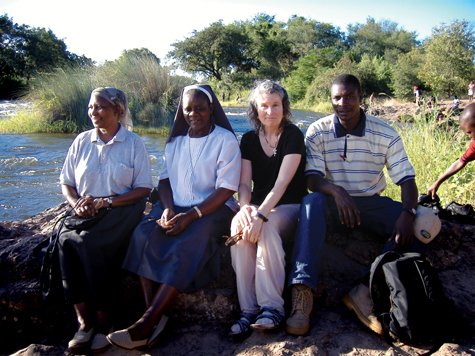 Hands Across the Waters

The African Artists' Community Development Project
By Amelia Smith
In the late 1990s, Islander Marsha Winsryg's daughter, Gia, took her to see the Great Zimbabwe ruins. She went to Africa as a tourist, but by the time she came home she'd begun a humanitarian project that is still going on, and growing. At Victoria Falls, Marsha met some artisans from nearby Mukuni village. A decade later, she has returned to this community, building relationships and creating a non-profit which helps support local crafts people and their families, as well as the Mama Bakhita Center for disabled children. Mukuni village and Victoria Falls are seven miles from Livingstone, where the center is located.
"My initial impetus was to help other artisans, being an artist myself," Marsha says. She started by selling a few crafts to her friends at Christmas and decided to send the profits back to help a service organization, within the same wider community as the Zambian artists. "I came across the Mama Bakhita Home," she says, "which was established in 1995 for disabled children by Franciscan nuns. Culturally, handicapped children were viewed as symbols of shame and failure, and it wasn't easy for these dedicated women to convince parents to try their services. For the past 20 years they have provided education, physical therapy, food, clothing and medical referrals as needed. They have shown that their 'differently abled' children could be valuable members of the community. It became clear that what the mothers and caretakers of these children needed most was a source of income."
"I really wracked my brains for something they could do, and three years ago we worked together to design a doll that could be made entirely by hand. I originally thought that each woman would make a doll that I would buy from her. But the level of skill varied greatly. Some took a whole week to make a doll, while others could make five in that time. With the help of Sister Agnes, they worked out how to be a true cooperative."
They are a close-knit group of 15 women of a variety of ages. They work together, each woman doing the part they're best able to do. If they get bored with a repetitive task, they change roles, so it's not a rigid assembly line. Part of the money from doll sales goes in their communal bank account, and used for small business and emergency loans among them. The rest gets divided between the women equally.
"In the beginning, whatever the quality of the dolls, I bought them all, just to get the project going. But each batch of dolls has gotten better, more salable. The last time I went, they had ninety dolls. We spent the whole two weeks working together on the dolls and improving them. They are incredibly motivated because they know that the more attractive the doll, the more I can sell. The goal for both of us is to have a steady income from this project for the women." Over the three years since the project started, it's made a big difference in these families' quality of life.
Back at home, Marsha developed a network of volunteers, drawing at first from friends and members of the West Tisbury church. Some of the dolls come here in need of a bit more work, so Island volunteers gather at Marsha's house to help adjust the sewing, make new clothes, or add earrings. Marsha calls them "doll parties" and that people have been eager to volunteer. "I could not do this all by myself," she says.
For the last few years, Marsha has had a donated Christmas shop in Edgartown. When she was looking for someone to set up a website for the African Artists' Community Development Project, a customer walked in and referred her to website designer Susan Taylor. "Susan had this brilliant idea to make the dolls in five different skin tone shades, and make boy dolls, too, so that people can order doll families in whatever colors and genders they want," Marsha says. Through her website she and Susan plan to market these dolls to libraries, museums and schools, as well as individuals, to benefit all the programs of her non profit, the African Artists' Community Development Project.
"My ultimate goal is that these women own the business and run it, using their cell phones and the website," Marsha says. She has collected contributions to send her Zambian associate, Sydney Mwamba, to business school in Zambia. When he graduates, he'll return to Livingstone and teach the women in the cooperative how to run the online part of their business. "With the right website, not only can they sell more dolls, but they become empowered. These are women who have had the hardest marginal lives. Strong and hardworking, they will earn income and respect for their skill and benefit from the cooperative format they have evolved.I am so impressed with their determination. " Marsha says. "I will work with these groups as long as it takes for them to run a business on their own, with their cell phones, using the web and digital wallets. I would also like to establish a craft export business right in Livingston, where the crafts are made, run by local people. These are ambitious goals for which I will seek help from business people experienced in such projects. I want to take myself more and more out of the picture, just maintaining a helpful overview. My personal hope is to be able to have time to make art again."
"When you see how resourceful and resilient these folks are, you want to help them find markets to sell their beautiful handwork and support their families," Marsha says, and she has done so, using her skills as a Vineyard artisan to help people on the other side of the world.
For more info click:
www.aacdpafrica.org