TRENDS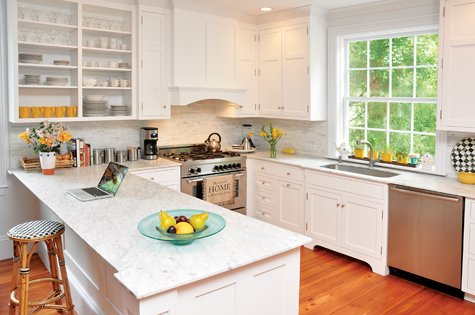 Quartz Counters

Worth Considering for Your Next Project
By Paul Lazes
Although much of the public isn't familiar with counters that are made from ground up quartz this product has been around for the past decade. Also known as engineered stone (manufactured by a variety of companies such as Silestone Cambria and Zodiaq,) this product is made of over 90% quartz held together by polymers. Tougher than granite, there are some stunning colors and surprisingly convincing reproductions of natural stone, as well. It is more durable and stain resistant than marble or granite. It is resistant to coffee, tomato, red wine, lemon and other ascorbic juices all of which can stain or damage granite. It is not as tolerant to heat as granite, so using trivets is necessary.

Price wise, engineered stone is in the same ballpark as marble and granite depending on the specific material selected and the amount of tooling required to complete the installation.

If you like light or white counters and are attracted to Carrera marble (as I am) quartz counters are a much safer way to go. There is no comparison between the stain resistances of marble to engineered stone.

When it comes to colors, engineered stone has a large variety with deep, rich colors as well as a good variety of designs – some including shards of glass ground flush with the surface of the counter.