COMMUNITY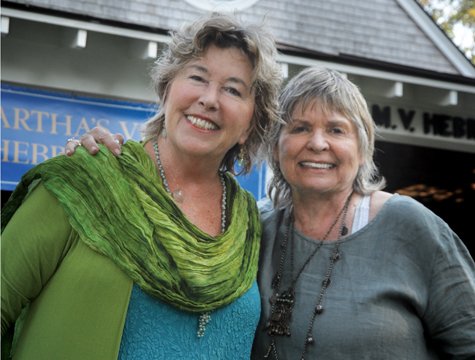 Repairing the World

Working Toward a Better World, One Disaster at a Time
By Amelia Smith
On April 25th this year, a major earthquake hit Nepal, killing more than 8,800 people, injuring tens of thousands more, and leaving hundreds of thousands homeless. Right away, people here on the Vineyard wanted to help, but they weren't sure what to do, or where to best donate their money. Zee Gamson of Chilmark called her friend Kanta Lipsky and suggested that they organize another fundraiser at the Martha's Vineyard Hebrew Center. About a month later, they packed the house at the Hebrew Center for a full Indian dinner and live music, raising more than $3000.
Kanta and Zee first organized a fund raiser together when they were both serving on the Social Action Committee of the Martha's Vineyard Hebrew Center in 2005, and it was for victims of another earthquake, in Pakistan. "We were just moved by the suffering that was going on," Kanta says, "and what got me with Pakistan is that no one was paying attention." International aid organizations were begging for help, but no one was giving. Kanta and Zee put together a potluck dinner to help raise some of those desperately needed funds. A few years later, they raised money to help people in Darfur, during the ongoing humanitarian emergency there.
"The Hebrew Center was totally behind it, and they donated the space, which was huge," Kanta says. The Social Action Committee continues to support the fundraisers, as a way of helping the world at large. Tikkun olam is a Hebrew phrase that means "repairing the world," which is understood as a responsibility for Jewish people to work towards a better world. "You are not preparing yourself for the future or even an afterlife but for what's here, now, in life," Zee says. "Pick a year, and there's a disaster. Kanta isn't thrown by these things. She understands that the world is impermanent, so she's ready to act when people are in need."
Kanta also participates in Kirtan, chanting practice from the Hindu tradition. "We're chanting for the benefit of all sentient beings. Doing something like this is just a small step away from all those prayers and mantras. For me, both the traditions of Bhakti Yoga and Judaism encourage us to be the best person you can be and at the same time help those in need. Creating an event like this is an opportunity to help everyone experience generosity and honor our interconnectedness in the human family."
Uma Datta, who met Kanta through Kirtan, brought a dish to the first potluck fundraiser they organized. She's now organizing all of the food for the event. "I grew up as a Hindu in India, so we were always doing some kind of spiritual work for the community." Cooking for over a hundred people fit right in with the traditions she'd grown up with. "This kind of work is teamwork, credit goes to all of the people involved," she says. Uma, her sisters-in-law, and her friend Kim Hilliard did most of the cooking. The bulk of the ingredients for the food was donated by Cronigs Markets, with smaller donations from the Vineyard Haven Stop & Shop, Reliable Market, and Uma's own kitchen.
"I'm a big fan of collaboration. Bringing in different threads of the community makes the event better and stronger," Kanta says. Her friends Greta Bro and Stan Strickland, whom she met in graduate school for Expressive Arts Therapies at Lesley University, contributed their music, accompanied by Steve Travis. Members of the Bodhi Path Buddhist Center contributed their efforts to some of the fundraisers, making it a multi-faith collaboration.
All of the money collected at these events goes to help the cause through the American Jewish World Service, a nonprofit international development organization which supports community-based organizations in the developing world and works to educate the American Jewish community about global justice. "They do a great job of getting a large majority of the funds to the people who need it," Kanta says. "They work with local organizations, many of them run by women."
Whether in Pakistan, Darfur, Nepal, or elsewhere, these donations can have a big impact on people's lives, by helping them get food, medical care, and helping them rebuild. Adrian Smith, a part-time resident of Vineyard Haven who works as an instructor at a study abroad program in Nepal, spoke at the event. He says that now, with the monsoon coming, people desperately need corrugated roofing to replace the temporary tarp shelters thrown up in the aftermath of the earthquake. In a country where the per capita GDP is just $730 (World Bank, 2013), a few thousand dollars can make a real difference in people's lives.
"The genius behind this is Kanta," Zee says. "She's the one who found the way to do this that people want to come to and that's fun." These crises call us to take action, and for some Islanders Nepal doesn't seem that far away. "I feel like, we are all humans," Uma says. "Nepal is so close to India, it's like in your own neighborhood."
Links:
www.mvhc.us
and
www.ajws.org