ARTIST PROFILE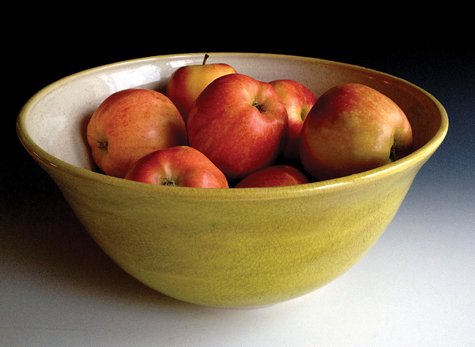 It Runs in the Family

The Inherent Creativity of The Freeman Millers
Profile by Amelia Smith
In a house on a quiet lane in Vineyard Haven, Leslie Freeman lives with her two grown daughters, Althea and Emily. They share a kitchen and living room, but each has their own work space. They not only enjoy each others' company, they also inspire and learn from one another, taking lessons from their overlapping crafts and areas of creativity. Althea and Emily's father, Laurie Miller, also an artist, lives elsewhere on the Island. He has been and remains a formative influence in
his daughters' creative lives.

Leslie Freeman: The Matriarch
Leslie came to Martha's Vineyard in 1978 and immersed herself in the laid-back artistic Island lifestyle. She began working at the Art Worker's Guild, an Island collaborative of artist studios and a gallery, first envisioned by James Taylor. Soon after, she met Laurie Miller, a fellow working artist.

Leslie learned to throw pottery from Joe McCarron, a ceramicist who worked at The Guild through the 1970s and into the 80s. "I apprenticed for Joe pretty intensely," she says. "I was in the studio all the time." But pottery wasn't her only craft; she also worked as a seamstress for Valerie Beggs (who designed the Woodland Waders line of hip wool vests).

Inspired by Valerie's success, Leslie began working on her own line of clothing, with her two young daughters in tow, she opened a studio and a storefront on Main Street in Vineyard Haven. "My girls grew up in studios. They didn't know until they were a little older that not everyone had a studio," Leslie says. Soon after, her children's clothing line took off, selling all over the country, as well as through her own store. At one point, she had 12 employees, but the outside forces of a weak economy, out-sourcing overseas, more business less art, all made the cottage industry harder and harder. Owing to that, and the difficulty of finding summer employees, after 20 years, she finally closed up shop.

Along the way, she bought the house where she and her daughters live now, establishing a solid home base for their ongoing creative enterprises. As she moved out of the clothing business, one of her former employees who had been a ceramics major in college suggested that she try pottery again. "Leah Cross, one of my good friends who worked with me before, got me excited about pottery again," Leslie says. She soon started selling at the Artisan's Fair in 2001. "I jumped in during the boom time and they gobbled me up. I was shocked at how much of my work people were buying. My main thing was dinnerware sets, by the end of the season I would have a whole winter's worth of orders to produce."

Years later, as Leslie's business at the Artisan's Fair began to slow, she opened a "shop" on Etsy.com, the e-commerce website focused on handmade artwork, which has become the mainstay of her business, so much so that she doesn't have time to do many local shows–only occasionally at the Chilmark Flea Market for her jewelry and pottery at the Labor Day Artisans Festival. "My business on-line has taken off," Leslie says. Now she sells her one-of-a-kind dinnerware to customers all over the world. An Australian company, Lane Wedding Designs features Leslie's pottery in their catalog photography. Leslie's stoneware is used exclusively at The SoHo Club, a trendy eatery and club in NYC. Emeril Lagasse's Farm to Fork and Cathy Walthers' Soups and Sides use Leslie's dinnerware in their cookbook photography. Her stoneware graces the tables at fine restaurants, including The OuterMost Inn restaurant in Aquinnah.

She prefers a very white stoneware, a clay body that's almost like porcelain. "I use bright colors as finishes, and I like making my pieces lightweight," she says. "I really like crackle glaze because of its antique and interesting look," she says. "I go for variations." She often adds surface texture using a variety of techniques from manipulating the thrown form to rolling fabric over the clay to transfer its texture and design. She also experiments with colors and formulates her own glazes. "Often what happens is that customers will want a particular color so I'm forced to work with that," she says. Being so busy cuts into her opportunities to experimentation, but she doesn't seem to mind too much, and does find time to create new things. "I have some new designs in mind but I'm going to have to fit them in between orders."

"My brain is always working. I have no problem with inspiration as long as I'm busy producing product." Despite her hard work over the years, she says that she's only begun to make a comfortable living as an artist in the past few years. She says that the internet has been a major boon to her pottery business. "It is far easier to be an artist these days with all the internet media that's out there. If I'd had all that when I was doing clothing, I'd probably still be doing apparel."

In the end, the transition to pottery has gone well. When her girls, Althea and Emily, moved back to the Island, it all came full-circle for Leslie. All three share a strong work ethic and get inspiration and support from each other. "It's really nice to have the girls back home," she says.

Emily Freeman:
Self-taught and Self-assured Leslie Freeman also makes jewelry, and credits her daughter Emily with introducing her to metalsmithing. "Emily getting into metalwork helped me get into it, too," Leslie says "She was my mentor for that."

"I first started beading with my mom, who's always made beaded jewelry," Emily says. "I learned how to do torch work before she did so I was able to help her with that. I was more of a sounding board to her ideas and showed her what she should buy so she could learn on her own."

Emily began working at Beadniks, a create-your-own bead store in Vineyard Haven, when she was 13, and stayed there for six years, making beaded jewelry as well as helping customers with their own designs. "That was how I got into jewelry design," she says. While there, she also learned good business sense and retail savvy from Beadniks' owner Sally Roesler.

"I never attempted to go to college," Emily says. Instead, she moved to Burlington, Vermont in 2006, where her sister Althea was living. She got a job at a jewelry and mineral store on busy Church Street called Global Pathways. "They were my college," Emily says. "They taught me pretty much everything I know about jewelry making." Tim Pratt, the owner of Global Pathways, was a mentor as well as an employer. "He's the kind of person who really wants you to succeed," Emily says. He supported his employees by buying them equipment and supplies so they could learn new techniques and experiment in their jewelry making.
"What was cool about the place was that we made the jewelry in the store, and we could work at the benches when it was slow, then switch to selling when customers came in."

She returned to the Vineyard a couple of years ago, when Althea decided to move back home. Since then, she's worked as a gardener, waitress, and bartender, while continuing to make jewelry that combines her skills in beading and fabrication. While her sister and mother have an internal drive to create, Emily is more inspired by her interaction with others. "In the winter, I pick at it, I do a couple of pieces here and there. I'm much more creative in the summer. I'm inspired by the whole process of interacting with people and talking about the pieces."

Emily begins her process of creation with a stone and an idea. "I have a vision in my brain which is not usually what comes out, because there's creativity at every step of the way. Sometimes I sketch during the process to figure out proportions, but everything just forms how it wants to and then you have to work with that." She likes working with natural stones and beads, including turquoise, pink tourmaline, pyrite, and moonstone.

Emily sells her work only at the Chilmark Flea market, where she shares two adjacent booths with Althea and Leslie. "I set it up every day. I place each piece on its rock that it belongs on. I want it to look like a store. I want people to be able to pick it up. Jewelry is very tactile – you want to touch it."

Althea Freeman: A New Kind of Traditional
When Althea Freeman graduated from Martha's Vineyard Regional High School in 2003, she said to herself: "I'm not going to be an artist like my parents, I'm going to get a real job!" Needless to say, it didn't quite work out that way. She majored in Elementary Education at Johnson State College, then embarked on a "career" of bartending and snowboarding. She says that she now prefers making art for a living. "I like waking up early and working at my craft all day."

Althea focuses her creative efforts on making linoleum block prints which often tell stories, or evoke memories. "People connect to my work in different ways," she says. "I really like when people respond to one of my prints because it reminds them of something or someone." One of Althea's prints shows two horseshoe crabs together, a small one and a large one, like a mother and baby. "My memory of horseshoe crabs is of playing with them on the beach as a little kid. They look like something you shouldn't touch, but you can, and they're not going to hurt you. I remember lining them up and playing with them like Barbie dolls, so for me they're prehistoric yet playful, and the big and little ones together suggest that."

Althea starts with pencil drawings of her ideas. She makes a charcoal transfer, tracing the sketched design onto the linoleum block, then carves it out with Japanese woodcutting tools. "They're nothing too fancy," she says. "I pretty much use a v chisel for everything." When the drawings become carvings they take on a new look, a folk art style of something completely original.

Moving on to the printing, she rolls out soy-oil based inks onto the blocks then places paper on top of the block and rubs it with a wooden spoon to make the print. "Some day I'd love to have a press and mess around with different kinds of etching and printmaking," she says. She then crops the print and mounts it on wood panels. "I get wood from job sites, and people give it to me. Cabinetmakers use nice smooth, dry, clean wood." Althea cuts and sands the wood then paints with colors that accent the print that's mounted.

"I just keep trying different things as subject matter," Althea says. "I try to keep a folky, simple, homey feel and have people be able to hang it anywhere." To make it easier and more affordable, she's found, though, that some people want to frame the prints themselves, so this year she'll be selling some unmounted. She really likes the versatility of her art "You can put it in your dorm room or you can put it in your mansion," she says.

Althea credits both of her parents with inspiring her work. "My mom is such a producer, she's always making something. I think I get that from her. With my dad, it's less about how much of it he makes than how he likes exploring the next thing. He's tried just about everything. I think my dad and I have a lot of similar ideas about what's beautiful in a piece of art, and about having a sense of humor about it. That sort of underlying message, something you get out of it rather than it being just a pretty picture."

Althea has dreams for expanding her output, doing more artisan shows, commissioned work, logos, and an Etsy on-line presence. She's love to start making larger prints, even illustrating a children's book in her distinctive style.

Laurie Miller: The Patriarch
Laurie Miller, Althea and Emily's father, has been on the Island since roughly the dawn of time. While you might not have seen Laurie Miller's paintings, chances are you've seen some of his commercial art. He's designed T-shirts for the Black Dog and has produced logos and carved signs for many Island businesses, including Chilmark Pottery, Heather Gardens, Mermaid Farm, and the Homeport restaurant. Laurie designed hot sauce labels for his brother's restaurant in Key West, Pepe's Café, plus posters for the Ag Fair and music concerts, as well as contributing art to the cover of James Taylor's 1971 album, Mud Slide Slim.

When the girls were little, they all lived in a house on Peacegate Way, a quiet lane in Vineyard Haven. "Our whole house was a studio," Althea says. She and her sister and her father all had desks in the middle of the room. "We used to play a game called Island Art." In the game, the phone would ring. It was a real phone, but it wasn't connected, so it only rang in the game. One of them would take a pretend order for a piece of art, then one of the others would make it and ship it out. As they grew up, they continued to make art side by side, occasionally taking inspiration from each other. Laurie says that Althea is one of his favorite artists.

Laurie works in a variety of media, painting, carving, furniture making and ink drawing. He has had a few gallery shows here and there during the years, but he produces a lot of his art for himself, some resides in flat files in his studio or hangs on the walls of his house.

"I start out with an idea, it could be a paint idea or a story idea or a joke," he says. "It's a process, and you don't always get where you're going. It's a little bit like dreaming. You can't take a picture of a dream, it's moving too fast. You're always on to a different dream by the time you end." Most of his paintings are lyrical and imaginative, but some are clearly inspired by life on the Vineyard. He's done a landscape painting of a shucking shed near his house, or a picture of someone hanging a blank painting in a heavily decorated interior. Another Vineyard story he's painted he calls "The Switch," which shows a local family driving away from a house in their truck while the summer renters arrive in a shiny red car with kids, bikes and a kayak on top.

"I call it "practice painting" and you hope that eventually you'll learn," he says of his art in general. Like his daughters, Laurie never went to college for art. "I was going to, but I never got around to it," he says. "My pictures sometimes confuse people and I always had to do other things besides the arts: carpentry, digging holes, driving machinery around." Still, he goes to his studio often. "Every chance I get," he says.