HOME PORTRAIT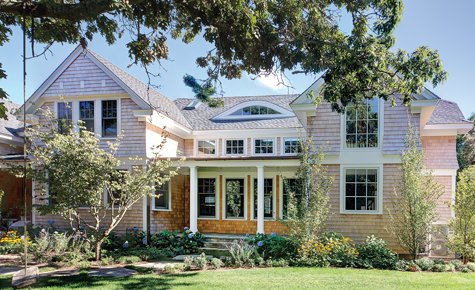 Sam Sherman Associates

Designing Homes As Individual As the People Who Live in Them
Profile by Catherine Finch
As I enter the office of Sherman Associates, a residential design firm founded by Sam Sherman, the space feels comfortable and oddly familiar. A centrally located conference table by a large sunny window is open to the receptionist and workstations, which creates a friendly atmosphere. In the far corner, a beautiful, wooden transit stands high on three long legs. Beyond the surveying instrument are two workstations that would have been drafting tables not too long ago, scattered with yellow trace, scales, triangles, and mechanical pencils. Today they hold two large computer screens apiece with the latest programs for architectural design and drafting.

The antique transit belonged to Sam's father, who was an architect. Sam recalls with fondness a photo of himself as a toddler scribbling at his father's drawing board, then being allowed to tag along to job sites once he became old enough. His early exposure to the building process gave him a good feel for construction and, instead of immediately following in his father's footsteps, he moved to the Island in his 20s and learned hands-on from the old timers how to build a house from the foundation to the roof and everything in between. Eventually, he ran his own crew and incorporated his artistic eye into a design-build construction company.

"I've always loved buildings," Sam says. "I can see merit in almost all styles, with certain exceptions," he clarifies with a twinkle in his eye. "I like both modern and New England historical, or vernacular, if you will. Hipped roofs, gable roofs, a farmhouse look, or gambrels. Even while driving, I'll exclaim, 'There's a barn, what a great shape!' I just love buildings. I think I'm like that with people, too."

I suspect Sam's delight in all variety of people and his ease of interaction is what drew him further toward the design end of the housing business. After ten years running his design-build company, Sam switched gears. He attended classes at Boston Architectural College and worked as a designer for Niels Gabel-Jorgensen, a wonderful Danish architect on the Island.

A year after Sam, I joined Niels's design team. The sight of the antique transit in Sam's present office reminds me that one of the first things he taught me when we met 30 years ago, was how to use a transit to determine the varying elevations of a piece of property. To this day he still speaks in the same clear, thoughtful manner that can put the most nervous person at ease. Sam's a natural-born teacher and leader.

A couple years after Niels's sudden passing, Sam established Sherman Associates. With more than 23 years now as head of his own firm, designing new houses, additions, and renovations, Sam still refers to the influence Niels had on him. Rather than making a name for himself with a particular style, Sam has made it a point to cater his designs to the particulars of the people who will be inhabiting the homes, much as Niels did.

"Our office doesn't have a given look or feel," Sam says. "It goes back to Niels, who's one of the greatest listeners I've ever known. That's one of the main things I took away from working for him—the importance of listening."

To design for individuals requires the ability to listen and ask questions in a manner that puts people at ease and draws out information. The financial commitment required to build a new home can cause people to feel pressured to get things exactly right, even though they may not know exactly what it is they want. Sam has the ability to transform the anxiety of home building into a fun exploration and creative adventure.

"Even after so many years, I still get excited about a new project. It's a blank canvas, a new personality, a new opportunity," Sam says with enthusiasm. "The business never gets old, I do, but the business doesn't," he laughs.

Kind and considerate, Sam is also good at getting his point across. When helping clients make a decision, he gets familiar with their vantage point, while leading them up a gentle arch of a hill without them even knowing they're making the climb, and then he explains the whole picture. With the bigger perspective, clients can make informed choices and stride down the other side, confident in their decisions. I've admired this gift of his for decades.

"Design is a process, not a formula or mathematical thing," Sam explains. "There are thousands of solutions to any given problem, but unless you listen, you have no way to get close to what a client will feel attachment to and passionate about."

After talking with a client and getting a sense of them as individuals or as a family, Sam visits the land. I ask him how he listens to a site.

"When I walk a site, I get the biggest flash of an image of a building. It has to do with light and views, but also with a deeper feeling—at least for me—of what belongs there. What fits there. I want to make sure the structure is not imposing upon, but marrying into the site. I might get a sense of a gable roof or maybe a hip roof to try to stay low."

Next he returns to the office and sorts out the clients' lifestyle and tastes and puts those together with the characteristics of the land and the zoning requirements to come up with a house they will feel a connection to. "That connection is what makes clients happy." A testament to their happiness is the number of repeat clients, to which Sherman Associates has a sizable count. "We've done three or more projects with numerous clients," Sam notes.

I look around the office and realize the layout of Sherman Associates reinforces the notion of connection and listening. The conference area is centrally located with no walls. Everyone in the office can hear the conversations. This gives a feel of support and care, of camaraderie.

"I've kept the firm deliberately small," Sam says. "Everyone in the office knows all the clients. We enjoy working together, collaborating."

I suggest we gather at the conference table, so I can meet everyone. As the four others (plus one missing) who make up Sherman Associates sit, it becomes apparent that everyone truly enjoys each other's company. Tristan Atwood, the newest member of the team, informs me that they all meet every Monday morning to discuss projects and plan out the week. I'm impressed. These are strong individuals who appreciate and take advantage of their differences, which makes for excellent collaboration on projects.

Tom Carberry is the Senior Associate, who's been with Sam more than ten years. His background includes being a boat rigger and his passion is sculpture. "He's got a great working knowledge of wood and materials and how they go together," Sam says. ­

I look at Tom who states he's got the permitting niche in the company, explaining that they do a lot of work in the shore and coastal zones. I suspect he's deflecting the compliments, but Sam takes off with the permitting comment.

"That starts with day one," Sam says, sounding proud. "When we meet with a potential client, we already know the zoning issues."

Tom's detailed research and preparation ensures that there will be no fantasizing with clients about ideas that cannot happen. By the time a design is drawn up and Tom presents it to a town board, he's confident in its compliance and ability to pass. Having a team member with a strong record in getting permits, is a real plus for a design firm working on an island with extensive regulations.

Sam and Tom usually begin the initial drawings for a project. Sam still uses bubble diagrams, a pencil, and tracing paper when needed, but five years ago they learned to draw on computer. Both are comfortable with getting floor plans up on a screen, but after that the younger team members, Tristan and Ezra Sherman (Sam's oldest son), take over.
"Ezra and Tristan wail on SketchUp," Sam says, beaming. "Five days into a design, we have a 3-D building to look at and tweak." He marvels at the advances in technology where one can test out a gable or Nantucket dormer against a shed roof dormer in a matter of minutes.

Ezra isn't with us at the conference table, but I'm told he is the computer whiz of the firm. They show me a 3-D interior of a kitchen he created, and it's exquisite.

Tristan is also a go-to computer guy, but he went to school for Environmental Design at Colorado University in Boulder, where he wasn't allowed to touch a computer at first. He learned about the fundamentals of drawing—using line weights and hatching to make a form pop, which warms my traditional drawing heart. I ask him about sustainable design and he says, "If you design well and build well, that is the best form of sustainability." Everyone applauds him.

I comment on how friendly and supportive of each other everyone is. Jenn Zizzamia, the firm's administrator, laughs and says, "We all eat lunch together. I thought that was weird at first, but now it feels very normal."

"The feel is welcoming," Tristan says. "It's family style." They do have a lunchtime rule—no talking about work.

Kate Sherman, Sam's wife and the office manager, has never minced words in all the years I've known her. She had returned to the reception desk at some point during the group conversation, but now stands up and states, "Everyone kicks in here. There are no prima donnas."

Tristan adds to Kate's point. "It's more about a team effort, not about yourself and how high you can get yourself."

Jenn gets a serious look. "Before moving to the Island," she says, "I worked for a big family business, but I never felt as appreciated as I do by Sam and Kate. They go out of their way to let you know how they feel."

Sam adds to the conversation, in his down to earth manner. "Think about the amount of time spent with colleagues. If you can't be relaxed around co-workers that you spend a third of your life with, then what's the point?" Everyone nods in agreement.

"It's a big reason for our success," Kate says. "Also, Sam used to be a builder and knows how things go together. Tom and Tristan, too."

"Practical experience," Sam says with a shrug.

I smile at them all. They are definitely one happy family of hard workers. Remembering how welcomed I felt the first time I walked into the office, it's easy to comprehend how their sense of teamwork and trust must translate well to a new client.

When I think of Sam, the shape of an easy, gentle arch has always come to mind. I tell him this at the end of our interview. He laughs and shows me a small piece of wood he's kept for years in his office. Just a few inches long with the exact curve I see in my mind. As I'm about to leave, Jenn passes me a business card. I turn around and hold it up to Sam. "Look," I say. "You even have the arch on your card." He looks surprised, not having made the conscious connection before.

Leaving, I remember the office Sam and I worked in for Niels, and realize why Sam's space felt familiar when I entered it the first time. Niels also had the conference table centrally located and out in the open. Niels would have been proud of what Sam has built, design wise and business wise.

Sam has cultivated a gifted group of individuals who take pride in pooling their varied talents to create homes that people feel happy in. A group that enjoys getting to know their clients, and equally important, enjoys each other and their work–which translates into the lovely and livable designs that Sherman Associates is known for.