MADE ON ISLAND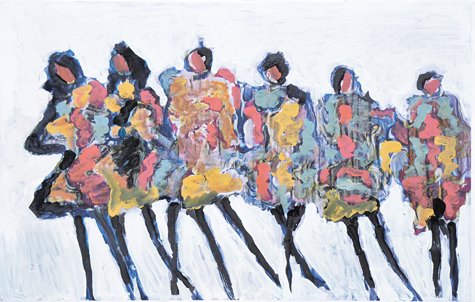 Under the Radar

The Emerging Art of Ed Schulman
Like the first plant that emerges from a barren and seared forrest landscape is how to describe the spark in the mind and artwork of Ed Schulman.

Ed is somewhat new to painting. "I have been painting for just five years" he says. Yet the talent and ease is evident in his work, expressing in color and form what takes some artists a lifetime to achieve. Ed works out of his home studio, which doubles as a gallery, on Martin Road, off State Rd., in Vineyard Haven.

"I call my studio, 'Art Corner', and invite the public to stop in and browse." he says. Ed likes to read the reactions from viewers, it gives him a sense that he's somehow connecting.

"Working in the arts is a full time endeavor" he states, "which leads me to self awareness and gives me a unique way to communicate with others."

Ed was born and raised in Midtown Manhattan. He arrived on the Vineyard in the late sixties, with a friend who was delivering sails to boatbuilders and marinas. Ed was smitten. "I've never left, or would ever consider it," he says. He raised a family and plied himself at different trades. To this day he assists his daughter in her interior design business when needed, which gives him plenty of time to paint. And paint he does.

"I paint a wide variety of subject matter including figure studies, dancers, seascapes and city vistas" he says. "I like to show motion in my figures and try to convey a sense of joy and freedom of movement." His dance and figure paintings have a dreamy and mysterious quality. His cityscapes capture a certain mood expertly.

Dancers appear often in his work and he especially likes the "turn-of-the-century" period of time. "This period represents transition of the old to the new and an associated burst of human energies," he says.

Ed uses a full range of surfaces for his paintings and drawings–canvas, wood panels and paper–including reclaimed items of all sorts. He even does his own framing. Ed will be part of the MVAA Show at The Old Sculpin Gallery in Edg, Sept 5-11th.