DRAWING BOARD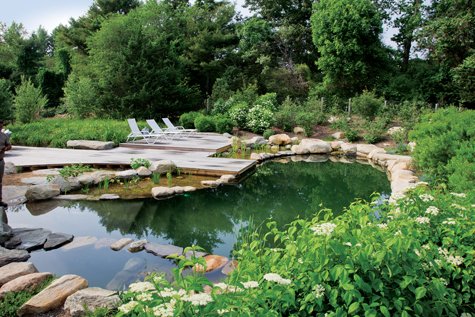 The Design, Build and Mechanics of a Natural Pool

Creating a Living Habitat in West Tisbury
Story and Photography by Robert Morrison
Natural Swimming Pools (NSP) are built to operate using the same biological principles and functions that Mother Nature uses to clarify and purify natural bodies of water like ponds, streams and lakes. An NSP is a biologically active living system which provides the conditions for an ideal mix of beneficial microorganisms, aquatic flora, and fauna.

For some, when recalling the experience of swimming in a typical pool, it brings to mind burning eyes, itchy skin and the smell of chlorine.

A typical pool is a chemically treated vessel of water. The creation of a chemically treated pool is, in effect, the sterilization of a habitat and all living things in and possibly around it, creating a dead space.

A natural pool using European FFL Standards, is a living habitat and regenerates everything in and around it - creating a living space.

Theexperience of swimming in a natural swimming pool is like swimming in a pristine lake. The experience of being in nature. Chemical free, mineral rich and nourishing water that feels good on your skin. A natural environment with the visual aesthetic, colors, textures and sensory experience of crystal clear water, aquatic plants, flowers, shrubs, trees, stonework, and the sounds of nature.

How It works
Natural Swimming Pools have a clearly defined swimming area and a constructed wetlands (regeneration zone) which consists of deep water, shallow, and marginal zones.

In each of these zones there are carefully selected aquatic plants which extract excess nutrients from the water and help with the cleaning of the pool. These plants are hydroponically rooted in gravel and other special aggregates. Water from the swimming area is pumped through these biological and botanical filters where the plants, microorganisms, and other small life forms clarify and purify the water. Skimmers and overflow channels remove leaves and other debris from the surface.

By mechanically circulating the water using controlled, directed flow through the regeneration zone, impurities are broken down the way Nature intended without the use of harmful chemicals. A patented, eco-friendly constructed wetlands technology replicates and optimizes Mother Nature's natural processes.

Benefits of a Natural Swimming Pool
The human body is 90% microbial cells and relies on microbes for many aspects of health. Without these helpful microbes, our bodies are not able to ward off infections, and we might actually get sick more often.

Much like the human body, a Natural Swimming Pool utilizes beneficial bacteria and microbes to keep the water clean, and healthful for swimming. This begs the question, "Is it really necessary or even in our best interest to kill all of the microbes in recreational bathing water?"

Case in Point
In West Tisbury, there was a homeowner, contemplating building a natural pool, she wanted to create, a sustainable space that was in rhythm with the nearby habitat which included a pond and brook within 150 feet.

While exploring options she discovered Waterscapes Natural Pools and owner Jesse Dutra who designs and builds Natural Pools implementing the green technology of German Company Bio Nova using their patented, green, water filtration technology and standards.

Jesse is a trained Bio Nova partner creating pools on Martha's Vineyard, Nantucket and Cape Cod. He works with local design and landscape teams, uses local materials and plants. He is an accredited organic land care professional and, a Massachusetts State certified horticulturist.

Jesse's company built the first Bio Nova Natural Swimming Pool in the USA in 2011 on Nantucket and finished the first on Martha's Vineyard in 2014.

Jesse has his hands in the soil at a very young age and has been shaping the earth with stone, plants and water ever since. He started his business on Nantucket in 1997 designing and building landscapes, pools and outdoor living spaces. Since then he has designed and built hundreds of pools and gardens for clients on properties ranging from seaside cottages to sprawling estates.

Jesse believes chlorine is not a people and plant friendly substance. Having created dozens of chlorine pools he understands the health and environmental differences between chemically treated pools vs. natural pools.

Given his his passion for creating sustainable habitat he was compelled to offer his clients a natural alternative. The increased desire of many clients to create chlorine-free swimming pools and surround them with sustainable habitats, led Jesse to research and discover "Natural Swimming Pools."

As a pool builder and environ-mentalist, the idea of designing and building "Natural Swimming Pools" was in harmony with Jesse's passion to create sustainable landscapes.

When Building a Natural Pool with a Naturalistic Design.
There is Much to Consider.
The journey from the first conversation with the homeowner thru the design, permitting, excavation, building structure, shaping the earth, stonework and water channeling, to create a swimming pool that will look and act like mother nature, is no small task.

Jesse was fortunate to have a client who had a good idea of what she wanted and knew who she wanted to work with. Together, they put together an A-team of local professionals, including John & Peter Keen of Keen Brothers Excavation, who demolished the existing pool and helped shape the Natural Pool site. Dan Imbrogno (The Lawnmower Man) and Allan Hartman (Drifted Stone Fire) sculpted the stone, and the landscaping together with Jesse and the landowner. The team ultimately created an FFL, European Standard Natural swimming pool, the first of its kind on Martha's Vineyard.

The Approval Process
Wetlands are a sensitive habitat and subject matter when it comes to construction.Though a chlorine pool had existed on the build site at one time, Jesse still had to go through the same permitting process as any new pool project would. Due to the existing structure's close proximity to a sensitive habitat the project required approval from the Local Conservation Commission.

Intrigued by project goals and the facts about this water treatment style, they approved the design and were pleased to see a swimming pool that created living habitat utilizing a green technology.

The West Tisbury Conservation Commission worked with Jesse to select native aquatic and landscape plants to surround the Natural Pool. The plant selection included all native aquatic and landscape plants, which require less water and fertilizer. Most plants were edible or had medicinal values.

This ecosystem and plant selection helps to create natural habitat which looks and acts like mother nature.

Together, with a vision, a conservation commission, land owner, contractor, landscaper and excavator, have created a model swimming pool which is generating natural habitat in West Tisbury.