CUISINE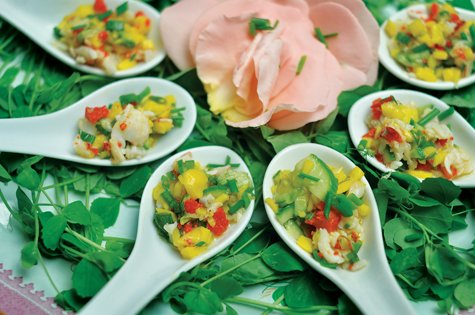 You've Got It Coming.

Jaime Hamlin Caters to the Palate and the Heart
by Lisa Belcastro
Summer is here. Finally! After the long, cold, snow-packed winter, it's time to get out and enjoy all the Island has to offer. Cocktail parties, weddings, anniversary celebrations, artist openings, birthday extravaganzas, and if you're lucky, V. Jaime Hamlin and Sons will be catering at least one of the events you attend during the next few months. If not, you'll have to hire them to delight your guests.
Have you tasted Jaime's shrimp and orange-cumin 'slaw tacos? Or her tomato vinaigrette tart? What about the sirloin on potato chip? Personally, I'm looking forward to her swordfish entrée!
Whatever she's serving, the name Jaime Hamlin is synonymous with delicious food, great service, and perfectly executed gourmet affairs. Ironically, Jaime is the first to admit that cooking and catering were not in her early repertoire of achievements.
"When I was young, we had a nanny. My mother never knew we had a kitchen. She was not what you'd call a cook," Hamlin said with a chuckle. "When my father died, I went to live with my sister, Cynthia. She taught me how to cook."
Though Jaime enjoyed the time in the kitchen with her sister, who at the time owned two restaurants in New York City, Jaime attended Northwestern University, majoring in radio, television and film. "I really wanted to be on the radio," Jaime said.
As fate would have it, Cynthia had a summer home on Martha's Vineyard and Jaime came for a visit. She worked at Martha's Cheeses in Edgartown. When Carol Brush, then owner of Martha's Cheeses, said she wanted to expand to offer dinner, Jaime jumped at the chance. Though her knowledge of cooking wouldn't have filled a small cupboard, Jaime found what she loved – creating gourmet meals.
"I knew nothing. Someone would arrive with a bluefish and I was clueless. I'd call Cynthia and ask her what to do. She would talk me through it."
Life intervened when Carol and Jaime each got married. Then life got crazy. Jaime became pregnant – with triplets! "My whole life has been very graced and blessed. Whatever the situation, something good happens at the last minute. I've learned to trust the grace."
While dealing with motherhood, Jaime, along with her former husband, opened Feasts, a grocery store patterned after New York's famed Dean & Deluca. From Feasts, they opened The Feast of Chilmark, a restaurant across from the Chilmark General Store. A fourth son joined the family, and so did another restaurant – the famous Oyster Bar at the top of Circuit Avenue in Oak Bluffs.
After her divorce, Jaime dedicated her life to her sons and her passion for cooking. In 1994 she left the restaurant business and opened V. Jaime Hamlin and Sons Catering. The five of them worked together and worked hard. Summers were busy, but it was also great bonding time. "My boys are the most fun thing I ever did!"
Today, Jaime's sons, 33 and 30, are still in the business. Their season begins in June and goes through October. They'll have about 60 functions during those five months. "It's fun. I meet interesting people. Some parties have three hundred and fifty people. I'm lucky to have an amazing crew. Patrie Grace does all management and staffing. She whips everybody into shape. I couldn't do this without her. We've worked together for 36 years," said Jaime, who in June won the Best of Vineyard Best Caterer award for the eighth year in a row.
With business booming, Jaime also found love again. In 2012, she married Paul Lazes, an architectural designer.
From those early days in the restaurants to the fast-paced weekends of catering, Jaime's zeal for preparing and presenting exquisite meals hasn't wavered. "I can't think of anything else I'd rather do than cook for other people."
As food trends come and go, Jaime is keen to keep abreast of what is new in the various cooking magazines and cookbooks. "I use the winter months to experiment. I have dinner parties, and my friends are the guinea pigs."
One should be so lucky as to be a taste tester of one of Jaime's new entrees or appetizers. Fortunately, Jaime has shared a few fabulous recipes with Vineyard Style. Before you plan your next dinner party, take a look at the menu Jaime has created: Chilled Lobster-Mango spoons; Crispy Brown Rice-Nori Cakes with Spicy Tuna Tartare, Salade Rouge, Grilled Swordfish over Basil Polenta, and a Passion Fruit Panna Cotta aka Crème Celeste.
The lobster-mango spoons are easy to prepare. The nori cakes and tuna tartare "are a little more complicated. You have to sauté the cakes. Also, freeze the tuna first for about fifteen minutes, and then it will slice cleanly."
The colorful salad is unusual. "I made it for a friend's birthday and it was delicious. The light orange vinaigrette is the perfect touch."
The pièce de résistance, though, is the swordfish on the basil polenta. "The roasted tomato-basil beurre blanc – Oh! – you could eat paper bags with this sauce. It is that good!"
I don't know about you, but I'm heading out to my garden to pick some basil and whip up a nice dinner of swordfish over polenta.
If you're planning a special occasion this summer, check out Jaime's website and give her call:
www.vhamlincatering.com
.
Chilled Lobster–Mango Spoons with Lime and Cucumber
Makes: 36 hors d'oeuvres
Ingredients:
1/3 lb. cooked lobster meat
1 mini cucumber
2-3 tsp fresh lime juice
¼ tsp minced jalapeno chili
1/3 cup finely diced ripe mango
2 tbs finely chopped scallion
2 tbs finely chopped fresh cilantro
1 tbs olive oil
Salt and pepper to taste
Method:
Coarsely chop lobster and set aside in refrigerator to chill.
Combine rest of ingredients and when ready to serve add lobster.
Place on spoons and serve.