GARDENER'S NOTEBOOK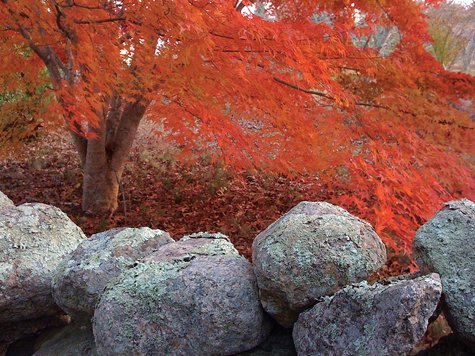 The Wisdom of Plants

A Tribute to Polly Hill
By Mariko Kawaguchi
In the eighties I lived around the corner from Polly Hill. Polly and I became garden friends with many meaningful chats as she toured her plant kingdom on her golf cart. This gentle gardener welcomed me to come to her plant menagerie any time I wished, before it became the public Polly Hill Arboretum. Having this beautiful landscape to walk through allowed me to decompress privately or to entertain my garden savvy houseguests. As the old saying goes, "cobbler's children have no shoes", my gardening is always limited because of time constraints and my avocation as a designer, orchid lady, or one of the many horticultural advisors at Donaroma's Nursery.

Polly had a major influence in my professional life. Neither of us cared about titles; both of us were more interested in plant labels and Polly taught me to have courage, perseverance and observation. Most importantly, she taught me to accept failure and then replant. Many plant gurus expound and amplify through omnipotence in their field, but Polly's humility was an awakening to me. To my amazement, she wanted to engage in a garden dialogue, Polly presuming that you could grow the plant in question better than she. I have embraced this virtue by listening to others, a skill that will take you far in the pursuit of gathering information in how to grow your plants. To dig a hole and place a sapling in an expanse of soil, with a vision of its role in the landscape decades later, is a gift of a very special gardener.

Polly's interest in planting seeds to select diversity in the traits she was seeking in a particular plant was her legacy. The seed she planted at the age of 50, knowing full well it would take decades of growth before the tulip poplar would share its first flower, is a tribute to her patience, confidence and tenacity to see another day. It seems like planting a seed of a tree and waiting for a tulip poplar to emerge is far more effective than the infomercials selling gym equipment or longevity supplements. Polly lived to see her tree bloom and experienced many more plant wonders for decades, until she finally passed away at the age of one hundred. She left behind an enduring footprint in her botanical knowledge, methodical research and guardianship of the land. The new stewards of Polly Hill perpetuate her ideals and hard work, making a public park for conservation, artistic inspiration, meditation, education, and child's play for all Islanders
and visitors to enjoy .

Our centurion's genius as a grower was to divide her land like an architect to design many "rooms" surrounded by towering evergreens and stone walls to shield the harsh winds. This created several micro climates, using the heat that the rocks absorbed during sunny days, allowing different zones to be created. I remember being in awe at the sight of a clump of blooming, over wintered Agapanthus, also known as Lily Of The Nile in full majestic flower.

Gardening is equal parts science, courage, and an artisans eye; to go past normal boundaries, taking risks or just having plain luck. Polly had all three of these attributes: seeder of her plant collections, visionary as a creator of space and practical gardener.

Polly realized she needed to protect her breeding stock, and thus created "Polly's Play Pen." This was a practical enclosure to keep deer and other creatures out of her North Tisbury Azaleas. This is an example of a "garden room", which I mentioned earlier in this piece. A functional place for pollination, seed formation and the gathering of cuttings, it is also an elegant planting of many types of plant materials: Camellia japonica that are borderline hardy on the Vineyard; under-growth of hardy cyclamen; a highlight of tree peonies; miniature narcissus all within her textures of the line of rhododendrons and her world famous North Tisbury Azaleas. I have gone through the Play Pen in all four seasons, as it is a quiet, serene place and it never disappoints the horticultural or artistic part of me.