SCEEN & SCENE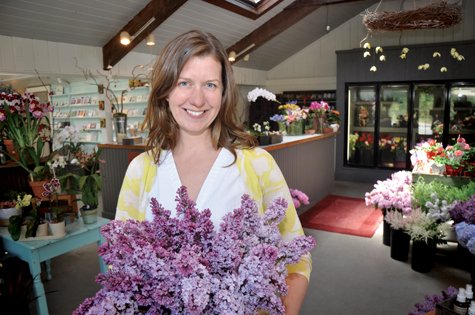 Out of the Blue

When Opportunity Called, Emily Coulter Answered
Little did she know, when Emily Coulter answered the phone more than a year ago, that call would set in motion a series of events and an opportunity she had only dreamed of.
On the line was Kim O'Callahan the owner of Morrice Florist. Kim is the granddaughter of James Morrice, the Islander who started the floral business on State Road in Vineyard Haven 75 years ago.
"Out of the blue" says Emily, "Kim asks me if I would like to take over the business." Kim was ready to move on and had chatted with her friend and insurance advisor Bill Brown who happens to be Emily's father. He suggested Kim consider an offer to Emily.
Surprised but not afraid, Emily said yes.
"Immediately the wheels in my head started to turn," Emily says. "I could imagine myself taking this opportunity to the next level, not only in my life, but for the possibilities it presented as a business venture." The first thing she decided to do was not change the name of the shop.
Emily is a mother of two, ages 3 and 5, and as if that isn't enough responsibility she's willing to take on more. With much encouragement from her husband Ben, she was ready.
Fast forward one year and we find Emily at the helm of a dynamic enterprise. Confident and self-assured, she has transformed the floral business into a "One stop wedding shop" including flowers, gifts, furniture rental and full-service event planning. She even offers the shop as an event space. "This shop just goes on and on" she says, "there's several large sky-lit rooms, one that was once the actual greenhouse, along with an attached "dreamy" garden in the back."
Emily has an extensive resume, and was always involved in some sort of artistic endeavor. She grew up on the Vineyard, following high school she studied Interior Design at Newberry College in Boston. After graduation she took a design job in The Big Apple but was soon overwhelmed by the city's pace. Seeking a "quieter" lifestyle. She returned to the Vineyard a year later and waitressed at some trendy restaurants, all the while trying to decide what was next for her. Well known Island caterer Jann Buhrman offered Emily a chance to be her Events and Wedding Coordinator which she did or three years.
That's when the call came in.
Now, on any given day you will find Emily at Morrice creating floral arrangements with her staff, buying inventory, shipping and receiving, even doing the books, and an occasional delivery.
The shop is full of thoughtful and groovy gifts, including books, art, cards, candles and pottery. "I'm trying to create a new experience for everyday shopping, weddings and gifts," she says, "and I'm having a lot of fun doing it."
148 State Road, Vineyard Haven, 508.693.0392, and online at:
www.morriceflorist.com